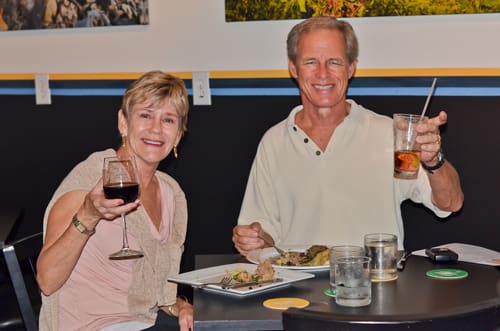 Long-time St. John residents and business owners Susan and Miles Stair enjoy a meal by Allen Lancaster at his Gastrogrub restaurant at The Marketplace.
After more than year, there's finally a restaurant in Love City serving up the kind of home cooking you always wished your mom would make.
Gastrogrub is back! Allen Lancaster's culinary collision of refined gastronomy and traditional English "pub grub" has resurfaced on the St. John dining scene after more than a year.
Lancaster originally started Gastrogrub in August 2008 cooking up his signature dishes like "Lil' Gangsta Mac'n Cheez" and Meatloaf Wellington in the kitchen at the Inn at Tamarind Court on Thursday nights.
Gastrogrub enjoyed a loyal following at Tamarind and the night enjoyed a year and a half run at the restaurant.
A veteran in the hospitality business, Lancaster worked at Stone Terrace for seven years before helming the bar at Waterfront Bistro and La Plancha del Mar during Gastrogrub's absence.
"I had been looking for a venue for this concept of serving people good food and drinks," said Lancaster. "After a year of talks, we couldn't reach an agreement, but this time around we worked out all the details."
Last week, Lancaster took over the old, first La Plancha del Mar and then Black Sand Bistro, location on the second floor of The Marketplace and started serving dinners from 5:30 to 9 p.m-ish.
"We're very proud of the 'ish,'" said Lancaster. "We'll just see how it goes at that time. If there are people here, we'll stay, if not, then we'll go."
The chef should also be proud of Gastrogrub's fare. Back alongside Lancaster is St. John Catering executive chef Steve Yerger, who has been a part of Gastrogrub since its inception in 2008.
Yerger is "functioning in the role of culinary consultant right now and helping us get up and running," said Lancaster.
And it looks like the two are having  a lot of fun too. The space itself hasn't changed since Black Sand Bistro closed its doors a few months ago, which Lancaster said will come in time.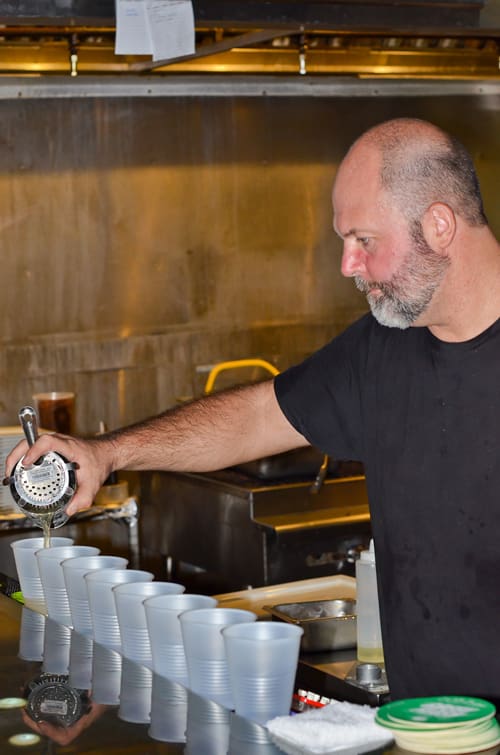 While many restaurants are taking a break for the off-sesaon, Allen Lancaster, above, opened Gastrogrub on the second floor of The Marketplace last week, serving up hearty pub fare with his distinctly unique twist.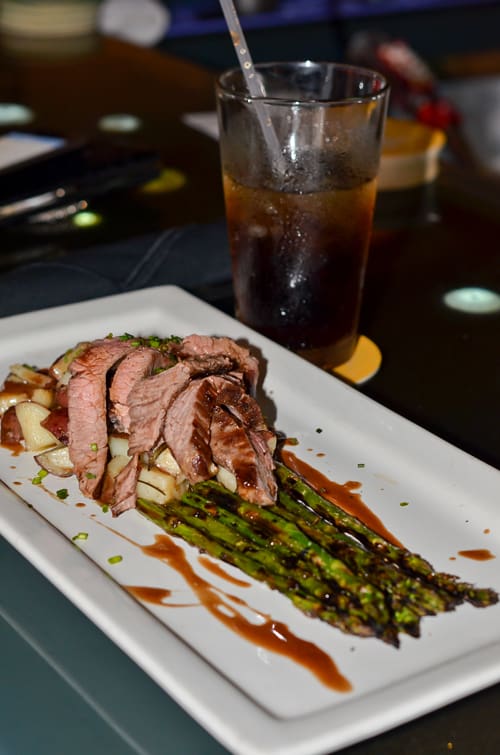 "Conceptually it's really Gastrogrub operating in Black Sand Bistro at the moment," he said. "We're going to remodel and have a Grand Opening in November. We'll have some aesthetic enhancements and change in decor, but we needed to just get open and get running."
With its open kitchen layout, diners at the bar get a great view of what Yerger and Lancaster call "culinary theater." And while the show is worth the price of admission, the real star at Gastrogrub is the fare. Lancaster recently created the restaurant's first "semi-permanent" menu and it's sure to be a crowd pleaser.
Small bites run from  $3 for spicy candied pecans to $11 for Summer Ale Shrimp "Scampi" served with tomato, garlic and grilled brioche. Other small plate highlights include the fresh baked pretzel bread served with Lancaster's wickedly good "cheez wiz" made from spiced and melted cheddar and Monterrey jack cheeses — a vast improvement over the original.
Don't miss the famous "Gangsta Mac'n Cheez," for $5 made from scratch with a secret combination of seven cheeses and Lancaster's take on a scotch egg, $7, made light with panko bread crumbs and served with a grilled tomato and cheddar and mango ale "rarebit."
Bigger appetites will want to dig into the pork chop for $26, served with corn griddle cakes, sauteed spinach and a Coca-Cola gastrique or the Grouper, which on a recent night was served with "some kind of starch, some kind of sauce and some vegetables," and looked fabulous.
Gastrogrub fans will not want to miss Lancaster's signature Meatloaf Wellington for $20. A moist meatloaf with traditional mushroom duxelle and haricot verts all wrapped up in a flaky puff pastry and served with sweet corn whipped potatoes and truffle-shroom gravy; it's a show-stopper.
Vegetarians should not fear, while the menu is meat heavy, Lancaster is happy to cook up special veggie plates and there are two great salads —a grilled ceaser with pumpernickel bread crumbs and a warm spinach with feta and roasted peppers — and a buffalo tofu dish served with blue cheese, carrots and celery.
The fun doesn't end at the food either. Gastrogrub features St. John Brewers beers and many of the ales are used in Lancaster's dishes too. The chef has already created a signature green tea libation, the Hulk Bomb.
Made with green tea-infused vodka, St. John Brewer's energy drink Green Flash, house-made limeade and Mountain Dew, it's billed as "triple mean, triple green and with triple the caffeine."
Save room for dessert, because no one should miss the FlufferNuttella, a decadent seven layer peanut butter, Fluff and Nutella, banana tempura fried sandwich for $7. It's as good as it sounds.
Gastrogrub is currently only accepting cash and serving dinner only Monday through Saturday from 5:30 to 9 p.m-ish. For more information call the restaurant at 779-1998.