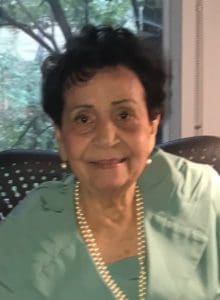 Aurea G. Stamatakis, age 88, of Fairborn, Ohio, passed away Feb. 4.  She was born on June 16, 1932, on St. Croix, U.S. Virgin Islands, the daughter of the late Regino Avillan Maisionette Gomez and Adela Benitez Gomez. Aurea was a member of Mary, Help of Christians Church in Fairborn, Ohio, and a longtime member of St. Patrick's Church in Frederiksted, St. Croix, where she participated in the Sacred Heart Society, taught Baptismal Classes, and lectured regularly.
She enjoyed listening to jazz, attending her granddaughter's orchestra and choir concerts (WSU), traveling and shopping. In addition to her parents, she is in heaven with her siblings: Isabel, Julia, Gloria, Delia, Maso, Juan, Luis, Cruz, and Beulah.
Aurea is survived by her three children: Constantine "Dean" (daughter-in-law, Terra Stamatakis), William "Bill" Stamatakis and Adele Erbacher; grandchildren: Aurea, Jah-Haile, Malachi, Zedekiah, Isis, Maxwell, Ethan, John (granddaughter-in-law, Angelica), and Gabriella; great-grandchildren: Kami and Asher; and her sister, Maria Van Putten; as well as nieces, nephews, and extended family.
A Catholic Funeral Mass will be held at 10:30 a.m., Friday, Feb. 12, at the Mary, Help of Christians Church, 94 N. Maple Ave., Fairborn, with celebrant Father Thomas Nevels.  Burial will follow at the Fairfield Cemetery in Fairborn.
Arrangements are in the care of Belton-Stroup Funeral Home.  Condolences may be made to the family at www.BeltonStroup.com.