By Chuck Pishko
St. John Tradewinds
Nyimah Jacobs and Cid Hamling celebrate Guy Benjamin's 97th birthday with the island elder at Fred's.
Monday, October 18, 2010 was a Red Letter Day in the Cruz Bay community. The occasion was Guy Benjamin making his 97th birthday! It was a momentous event for all of St. John.
Mr. Benjamin presided over a large gathering of well-wishers, both family and friends, at Fred's Restaurant/Bar and Cut Rate Store. The party started at 4 p.m. and lasted well into the night.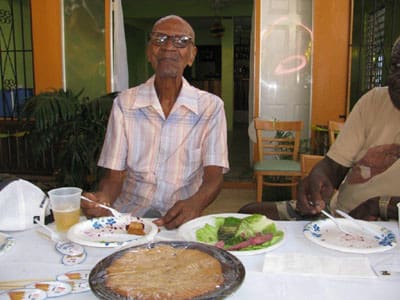 The birthday honoree.
Friends celebrate with Benjamin.
Even before the party began, Fay Samuel fed Guy and Milton Samuel their favorites, corned beef and berry pie. There would be no time to eat as they greeted everyone.
No sooner had the guests started to arrive when the domino table was set up by Omar Stephens and the games began. There were plenty of drinks but no birthday cake.
Kim "Cupcake" Edwards, owner of Baked in the Sun, donated 11-and-a-half dozen frozen peanut butter chip and chocolate chip cookie dough with the proviso that Cid Hamling bake them! Well baked and delicious cookies were enjoyed by all.
"Trinidad Charlie" Deyalsingh joined the festivities.
Mr. and Mrs. George January were among the first to arrive and George was the first to sing "Happy Birthday" to Guy. Friends and family who are no longer with us were fondly remembered, especially Fred Samuel, the proprietor of Fred's and a close friend of Guy's.
Fred Samuel was no doubt there in spirit and well represented by his daughter, Fay, his twin granddaughters, Persha and Dawn, and great-granddaughters Kasia Cornelius and Nyimah Jacobs. Kasia arrived late in her spiffy school uniform while Nyimah had already serenaded Guy with her precious rendition of "Happy Birthday."
God willing, next year at the same time and place our primo culture-bearer will make 98. Plan on being there to help him celebrate.