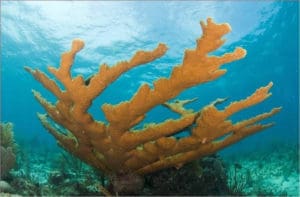 The United States Department of the Interior's Office of Insular Affairs (OIA) has announced that applications for fiscal year (FY) 2022 funding under the Coral Reef and Natural Resources (CRNR) Initiative may now be submitted to www.Grants.Gov for funding consideration to support the U.S. territories of American Samoa, Guam, the Commonwealth of the Northern Mariana Islands and the U.S. Virgin Islands, as well as the freely associated states: the Federated States of Micronesia, the Republic of the Marshall Islands and the Republic of Palau.
"This grant is meant to help improve the health of coral reef ecosystems, to bolster coastal resilience, and to protect other natural resources in the U.S. insular areas for their long-term economic and social benefit," said Deputy Assistant Secretary Keone Nakoa. "Priority will be given to projects that help the insular areas address a variety of threats to coral reef ecosystems and to eradicating invasive aquatic and terrestrial plants, insects and animals while supporting native species."
Coral Reef and Natural Resources Initiative funding is available for projects intended to better protect and manage the coral reefs within the U.S. insular areas.
Insular government entities, educational institutions and non-profit organizations whose grant proposals directly benefit the four U.S. territories or the three freely associated states are eligible to submit applications, in accordance with 2 CFR 200.
More information about financial grant assistance may be found on the Office of Insular Affairs website along with the specific CRNR 2022 instructions. To apply, visit www.grants.gov and use CFDA # 15.875. The deadline for submissions is April 1, 2022; however, it is highly recommended that applications be submitted as early as possible. Applications will be reviewed beginning May 2022 once the Office of Insular Affairs receives full-year appropriations.