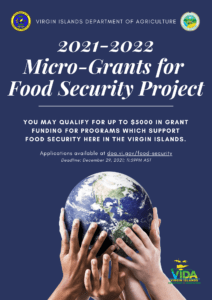 The Virgin Islands Department of Agriculture has announced the availability of applications for the 2021/2022 Micro-Grant for Food Security Project. Individual farmers (both crop and livestock), backyard gardeners, federally-funded Head Start, elementary, middle, high school and youth detention center gardening clubs and programs all qualify to apply for the $5,000 individual competitive sub-grants.
The objectives of this program are to increase the quantity and quality of locally grown food for food insecure individuals, families, neighborhoods and communities; to increase food security for at-risk members of the community through the development and enhancement of local agricultural resources and strategies, and to provide knowledge of food security.
Initiatives that enhance food production, food purchasing and food preparation skills qualify for this award. Applications for this funding opportunity will be reviewed and ranked by an independent committee. The total grant award of $120,000 will be distributed in two phases of $90,000 in year one and $30,000 in year two.
Applications are available at https://doa.vi.gov/food-security and VIDA offices territorywide. Completed applications may be submitted to the cashier at VIDA offices or via email: grants@doa.vi.gov by Dec. 29, at 11:59 p.m. (AST).  Late applications, applications with missing information or applications incorrectly submitted will not be considered or accepted.
All questions about the application can be submitted via email to info.doa@doa.vi.gov or by calling 778-0993.