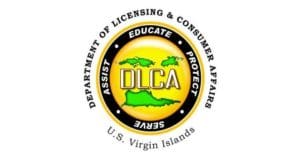 In accordance with the Government Sunshine Act, the Department of Licensing and Consumer Affairs' Office of Boards and Commissions is notifying the public of the following upcoming board meetings that are open to the public:
Date…Board…Time: Zoom Link
8/2/2022…VI Board of Barbering & Cosmetology… 9:30: https://us02web.zoom.us/j/86014523087?pwd=Wm1BV296eEtrMUtHZXFuMytYTjVUUT09
8/5/2022…VI CPA Board… 10:00 https://us02web.zoom.us/j/87073773319?pwd=K1F5Z0V6UEpaVDlUVVVteStKNkpHUT09
8/9/2022… VI Board of Contractors…10:00 https://us02web.zoom.us/j/83112373257?pwd=RldwMGpYUlBIcXkzQ3owcGs4YUpUQT09
8/10/2022…VI Board of Social Workers… 10:00 https://us02web.zoom.us/j/86127027787?pwd=OGtzMnVYU2JUUUNhMG1DY1FUQ2RlZz09
8/16/2022…  VI Board of R.E. Appraisers… 10:00 https://us02web.zoom.us/j/89908289675?pwd=OCtaa0V1SGVjYzNRbWhxWXVTdG9QUT09
8/18/2022…VI R.E. Commission…10:00 https://us02web.zoom.us/j/83188465700?pwd=czU4VUFzNFE0eGRJcUQ1TzdiMXkzQT09
8/19/2022…VI Board of Architects, Engineers, Land Surveyors… 9:30 https://us02web.zoom.us/j/83830796408?pwd=K3kzS2ZoOHpOM1Q5T3BYMG1ndldRdz09
8/25/2022… VI Board of Licensed Counselors… 2:00 https://us02web.zoom.us/meeting/register/tZwtceqhqTgpHtXXn3JNbduk0vssVHzKKTyY
The meetings will be virtually conducted via Zoom, a software-based platform for video and audio communications. Interested individuals can join the meeting through the abovementioned Zoom link. Registration in advance is required for the meetings.
Be advised that the Board/Commission may go into executive session with respect to any decision at any time during the meetings as provided by Virgin Islands law.
For more information, contact the DLCA at 713-3522 on St. Croix or 714-3522 on St. Thomas.