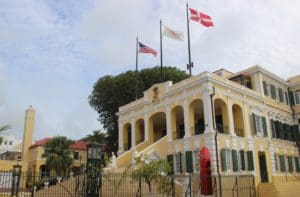 As part of Governor Albert Bryan Jr.'s commitment to open government and transparency, here is a list of upcoming radio appearances by Gov. Bryan, Lt. Gov. Tregenza Roach and Bryan/Roach administration Cabinet members.
Governor Bryan encourages residents in the community to tune in and call in with questions, ideas or comments.
****************
Governor Bryan
Tuesday, August 4
7 p.m. Governor Bryan will be on Veterans Affairs Director Patrick Farrell's program about issues relating to veterans on Da Vybe WLDV 107.9 FM
Government House
Thursdays
5:30 p.m. "The Press Box," featuring casual interviews with Bryan/Roach Administration officials and streaming live on the Government House Facebook page. Previous episodes can be found at facebook.com/GovernmentHouseUSVI
August 6:
Governor Albert Bryan Jr. speaks with young entrepreneurs.
 Department of Licensing and Consumer Affairs
Wednesday, August 5
11 a.m. Commissioner Richard Evangelista will be on "Straight Talk" with Holland Redfield on Caribbean Country WVVI 93.5 FM
Economic Development Authority
Saturday, August 1
2 p.m. Ted Gutierrez, state director of V.I. Small Business Development Center, and Monique Samuel, acting director of Lending, Economic Development Bank, will be on "Community Digest" with Abdul Ali on WSTX 970 AM
Division of Personnel
Thursday, August 6
11 a.m. Director Dayna Clendinen will be on "Straight Talk" with Holland Redfield on Caribbean Country WVVI 93.5 FM
Veterans Affairs
Tuesdays
7 p.m. Veterans Affairs Director Patrick Farrell hosts a program about issues relating to veterans on Da Vybe WLDV 107.9 FM
Department of Labor
Wednesdays
8 a.m. Labor Department officials discuss Labor issues on "Workforce Wednesdays" on Isle 95 WJKC 95.1 FM