Kharid Wallace and Marcus Stevens Win Conest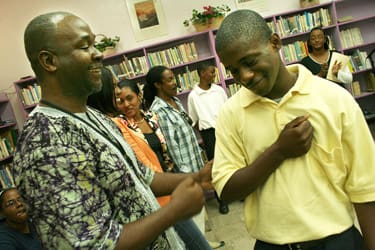 Seven budding poets at the Julius E. Sprauve School went word for word in a battle of recitation on Thursday afternoon, November 29, as part of the national Poetry Out Loud competition.
J'Waun Athanase, Jorge Payan, Sean Claxton, Marcus Andrews, Miriam Jones, Marcus Stevens and Kharid Wallace performed moving poems before a crowd of parents, teachers and students, packed into the school's library.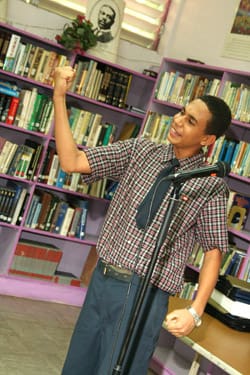 All of the competitors displayed confidence and poise as they perfectly delivered poems by the likes of Robert Hayden, Langston Hughes and Robert Frost. But at the end of the day it was a tie for first place between Maya Angelou as read by Wallace and James Johnson as read by Stevens.
Words By Angelou and Johnson
Stevens did not miss a beat while reciting "Lift Ev'ry Voice and Sing," and Wallace moved people to tears with her rendition of "Still I Rise." Athanase's
"Those Winter Sundays" by Hayden took second place and Payan — who is not a native English speaker — wowed the crowd with Hughes' "Harlem" to take third place.
All of the winners took home medals and prize money from the V.I. Council on the Arts. In addition to the prizes, Wallace and Stevens earned the chance to go head to head with Poetry Out Loud winners from other high schools throughout the territory on March 5 at the Reichhold Center for the Arts in the state competition.
The winner of that recitation contest will go on to Washington, D.C. in April to compete in the national Poetry Out Loud championship for a chance to win $20,000 in scholarships.
VICA Supported Locally
The competition, now in its second year in the states, is sponsored by the National Endowment for the Arts and the Poetry Foundation. Organized locally by the V.I. Council on the Arts, this is the first year the contest is open to Virgin Islands high school students.
"The program is designed to promote recitation skills, literacy and public speaking," said Tasida Kelch, special projects coordinator for VICA. "We are so pleased to be able to have our high school students involved in this exciting competition."
The students were judged by Elroy Sprauve, Owsin Sewer, Shelley Williams, Kimberly Todman and Elaine Jacobs, on the basis of physical presence, articulation and pronunciation, appropriateness of dramatization, level of difficulty, evidence of understanding, overall success and accuracy.
JESS vice principal Brenda Dalmida and principal Mario Francis beamed with pride during the competition and the opportunity to address the crowd.
"I am so proud of our Sprauve students," said Dalmida. "We have a tremendous amount of talent here. We know it and we continue to encourage it."
Francis, who usually has no problem speaking at length, was almost at a loss for words.
"Awesome," Says Francis
"All I can say is 'awesome,'" said Francis. "Every student strives to do their best every day and these young people were awesome. It didn't take a lot of time to get this together and they did a great job."
"We hear a lot of negative about kids these days but a lot of positive is happening," Francis continued. "These students are heroes and she-roes."
Even younger emerging poets in seventh and eighth grades, who were too young to participate, impressed the crowd with performances of original poetry.
Young Talent Coming Up
Leia Liburd read "Do Not," about a young girl who doesn't appreciate what she has. Jhelisa Krigger performed her poem "Who is You" about being comfortable in your own skin and Khadijah Lee recited "Life As A Slave" about the horrors of servitude.
Meshaun Wilkinson, Alejah Raimer and Okyeame Browne performed a rhythmic poem called "Positive Youths," about the potential of young people.
Poetry Out Loud contestants next year should watch out, as there looks to be some serious recitation competition coming out of JESS.