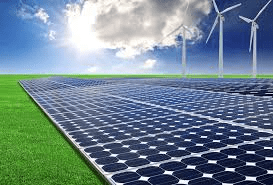 People need electricity for everything now. They need it to keep food cool, to ventilate houses and to charge laptops and cellphones. Businesses depend on it for transactions and to operate the necessary equipment. Electricity is everywhere all the time, and people feel it most when the power goes out.
Fortunately, the Virgin Islands has plenty of sun and wind, so solutions exist that can help at all times and fit all budgets. From energy efficiency equipment to off-grid or grid interconnected systems, to solar-powered generators or even solar cellphone chargers, many options exist that allow people to increase the ability to operate when small or large disturbances occur.
October is National Energy Awareness Month. Come learn and celebrate the wonder that is electricity. Whether to become more energy independent, lower electricity bills or use renewable energy, if not sure where to start, then join the Energy Month webinar.
This October, the UVI Caribbean Green Technology Center will host a series of webinars with the goal of learning everything about energy for a household or small business in the U.S. Virgin Islands. Tune in each week to the "Lunch & Learn" series to listen to and engage with a range of experts that include solar installers, engineers, architects, community solar organizers, the V.I. Energy Office, renewable energy experts and top energy consultants in the Caribbean.
The month kicks off with "Back to the Basics: Renewable Energy 101" on Wednesday, Oct. 7. Then the series moves on to solutions for the home taught by ProSolar expert PV installers, "Renewable Energy Systems: From Inquiry to Reality" on Oct. 14. Next, on Oct. 16, join the V.I. Energy Office for a tutorial on the Solar Savings Calculator. On Oct. 21, listen to "Powering Through a Blackout," which provides solutions at different price points that can build energy independence. The following week on Oct. 26, tune in to a discussion among Energy Director Kyle Fleming, Caribbean energy consultant Martyn Forde and green architect Doug White on "Energy Futures of the Caribbean."
The Energy Month series will close on Oct. 29 with a presentation from the USVI Hazard Mitigation and Resilience Plan team and Keep Safe Enterprise on household energy and water resilience to help keep people prepared for disruptions.
The Energy Month webinar series is free to attend.
For more information, check out the following website www.cgtc-usvi.com/energy-month. To sign up as a volunteer for technical support at any of the webinar events, email [email protected].