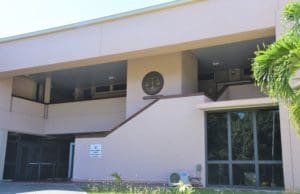 Administrator of Courts Regina Petersen advises the public and members of the Virgin Islands Bar Association that the limited resumption of in-person proceedings in the Judicial Branch of the Virgin Islands shall be extended, as modified, through 11:59 p.m. on Friday, May 14.
All judicial branch facilities remain open to judicial officers, court staff, attorneys, litigants and members of the public for the purpose of conducting official business. No individual, including court staff, shall be authorized to enter any judicial branch facility without wearing an appropriate face mask, submitting to a temperature check, and complying with all federal and territorial public health guidelines, unless excused for demonstrated medical reasons.
All previously scheduled remote hearings shall continue to occur remotely, and judges and
magistrate judges of the Superior Court may schedule in-person hearings in matters other than criminal and civil jury trials and criminal non-jury trials, with the approval of the presiding judge or the administrative judge. The public is further advised that marriage ceremonies performed by a judge or magistrate judge of the Superior Court may also be conducted in-person at the Superior Court but shall comply with all federal and territorial public health guidelines, as well as any other protocols adopted by the administrator of courts.
Additionally, to the extent permitted by both federal and territorial law, the Superior Court may resume full or partial consideration of all foreclosure and eviction matters upon the authorization of the presiding judge. Pursuant to the most recent order, oral arguments and bar admission ceremonies may also be held in-person at the Supreme Court of the Virgin Islands, subject to the approval of the chief justice of the Virgin Islands.
The Board on Professional Responsibility, the Commission on Judicial Conduct, the Board on the Unauthorized Practice of Law, the Committee of Bar Examiners, and the Office of Disciplinary Counsel may also, in their discretion, hold any hearing and other meeting in-person, provided, however, that if the hearing or meeting is to occur at a judicial branch facility, the entity must receive the prior approval of the administrator of courts and conduct the proceeding in accordance with all pertinent health and safety orders, protocols and administrative directives.
The public is reminded that the Office of the Clerk of the Supreme Court and the Office of the Clerk of the Superior Court remain open for the acceptance of filings, and electronic filings and payments continue to be accepted through the Virgin Islands Judiciary Electronic Filing System (VIJEFS) in all eligible cases. Litigants, attorneys and the public are further advised that all filing and other deadlines remain in effect and are not automatically suspended, tolled or extended by virtue of this order. Individuals whose personal circumstances require an extension of time or other accommodation must file an appropriate motion with the court for such relief.
For more information, contact:
Regina Petersen, Administrator of Courts
Judicial Branch of the Virgin Islands
P.O. Box 590
St. Thomas, U.S. Virgin Islands 00804
Fax: 774‐2258; TTY: 774-2237
Call: 774‐2258; TTY: 774-2237