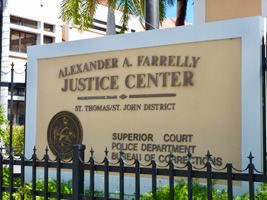 Administrator of Courts Regina Petersen advises the public that pursuant to Administrative Order No. 2020-0019 issued by the Supreme Court, the judiciary has postponed the resumption of jury trials in the courts of the Virgin Islands until Dec. 31.
The judiciary will reconvene the COVID-19 Task Force for recommendations to be issued to the Supreme Court on or before Dec. 15 for a plan to resume jury trials.
The judiciary reminds its employees and the public to continue to follow guidelines issued by the Center for Disease Control and Prevention and the V.I. Department of Health. Remain vigilant in social distancing and wear masks in public.
For more information, contact:
Regina Petersen, Administrator of Courts
Judicial Branch of the Virgin Islands
P.O. Box 590
St. Thomas, U.S. Virgin Islands 00804
Fax: 774‐2258  TTY: 693-4118
774‐2258  TTY: 693-4118