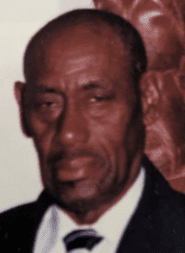 It is with deep sorrow that we announce the passing of Kenrick Alfred Thomas on March 30 at the age of age 88.  He was born to the late William and Celestina Agusta Lettsome Thomas of Long Look Tortola, the sixth of 13 children.
Kenrick was preceded in death by both of his parents: William and Celestina Agusta Lettsome Thomas; brothers: James Alpheus Thomas of New York and Samuel "Gateman" Thomas of Long Look Tortola; sisters: Geraldine Leonard and Nora Coumabatch: brothers-in-law: Ezekiel "Coakey" Leonard, Eric Roumou, Allan W. Brown Sr., Alphonso Edward Brown and Alfred Brown of New York; sisters-in-law: Martha Thomas of New York, Agnes Bernier, Maisielyn Peets of St. Kitts, Beryl R. Richarson and Caroline Elizabeth Parsons.
He is survived by his wife, Dr. Arthurlyn Brown-Thomas; daughters: Averyl Thomas-Fabian and Sandra Thomas-Mason; sons: Cecil, Ian and Kenrick "Butch" Thomas; sons-in-law: Irvin "Putna" Mason and Leonard R. Fabian; daughters-in-law: Diane Thomas and Roshanda Thomas; seven grandchildren Arthurlyn Sullivan, Jeanelle Stamers, Jelani Thomas, Irvin Mason Jr. (aka RJ), Adia Thomas, Ian Thomas Jr. and Ianna Thomas; three great-grandchildren: Jamore, Jacent and Jaheel Crooke; six sisters: Keturah Stout, Delmina Canton, Irene Roumou, Henrietta Letticia Thomas, Elterah Lettsome and Erineta Gibson; brothers: Arthur (his twin) and Euric Thomas; sister-in-law, Gretchen Thomas; and brothers-in-law: Whitmore Lettsome and Lt. Alvin W. Brown (retired).
He is also survived by 32 nieces: (Stout) Aslita, Ruthelma, Marilyn, Terion, (Leonard) Claudia Hughes,  Jennifer, (Coumabatch) Elmira, Lauretta, Valencia, (Canton) Annette Bertrand, (Roumou) Susanna, Natalie Sherita, (Lettsome) Justine, (Gibson) Gwendolyn Stout-Williams, (J. Thomas) Denise Moolenaar, Deidra Hill, Neckia Morton, (S. Thomas)  Magarite David, Eveanne "Girly," Patresia, Norma Bart-Williams, (A. Thomas) Mona Smith, Juliene Allen, Sharleen Fahie, Ertha, Melanie Donovan, Stephanie James, Patricia Lindsey, Brigette Vaughn, (E. Thomas) Yolanda and Leonicia; and 29 nephews: (Stout) Kenneth, (Leonard) David, Louis, Melvin, Elroy, (Coumabatch) Lawrence, David, Jira, Cyril, (Canton) Wilburn, (Roumou) Wendell, (H.L. Thomas) Julian George, Charles Bastian, (Lettsome) Clyde, (Gibson) Curtis Penn, (J. Thomas) Wayne, James Jr., Vincent Sr., Gene, (S. Thomas) Cedric, Willis, Eric, Vaneto, Delvin, Nevil, (A. Thomas) Patrick, Hebert, Oscar and Kayron.
Other survivors include 61 great-nieces; 59 great-nephews; many great-great nieces and nephews; and members of the Thomas, Skelton, Sprauve, Rabsatt, Frett, Stout, Penn, Lettsome, Stevens, Ottley, Callwood, Chesterfield, Peets, Brown, Parsons and Richardson families too numerous to mention; special cousins: Bernard Thomas, Olive Testamark, Wayne Callwood and Rueben Richardson; and special friends: John Fleming, Clement Gift, Edwin Stapleton, Joseph Caines Esq., Dr. Wilbur Callendar, Albert George, Steven and Arnold van Beverhoudt, William Williams, Whycliff and Julian Hart, Lennard George, Frankie Smith, Lubin Roberts, Clinton Charleswell, Pedrito Lanclos and Freeman Dawson.
The first viewing will be held from 4-6 p.m., Tuesday, May 2, at Turnbull's Funeral Home.  The second viewing and tributes will be at 9 a.m. followed by the service at 10 a.m., Wednesday, May 3, at Wesley Methodist Church.  Interment will be at Eastern Cemetery in Smith Bay. On the day of the church service, the family requests shades of blue be worn.
Persons desiring to contribute a written tribute for the booklet should send it to kenrickthomastributes@gmail.com no later than Saturday, April 22.
Expressions of sympathy to the family may be made online at www.turnbullsfuneralhomevi.com.  Professional services have been entrusted to Turnbull's Funeral Home and Crematory Services, 3815 Crown Bay, Suite 10, Charlotte Amalie, St. Thomas, U.S. Virgin Islands 00802. Office: 340-779-6565 and Fax: 340-779-6566.