Mares Crane offers an eclectic style with European sensibilities.
There is a new caterer on island who brings more than 20 years of experience, an impeccable palate and extreme attention to detail to her business.
Mares Crane recently launched Mares By La Mer, a full service catering company available for everything from an elegant hors d'oeuvres party and lunches to dinners for 20.
The Cordon Bleu trained chef has been working in kitchens across the globe for more than two decades. From running director's dining rooms in London to working for one of the largest catering companies in Australia, Crane has helmed kitchens of all sizes and prepared meals for all types of functions.
"I've always been a team player and been able to work in so many different atmospheres," she said.
Hesitant to name one specific type of cuisine she specializes in, Crane instead strives to always make her clients happy.
"I don't really have one particular style," said Crane. "I might be a bit eclectic, but my fulfillment comes from meeting the desires of my clients. I get satisfaction from preparing and serving my clients meals."
"It's not about what I want, it's about what my client wants," she said. "I can do whatever is asked of me. What I love to cook varies with time and is typically whatever I am focused on."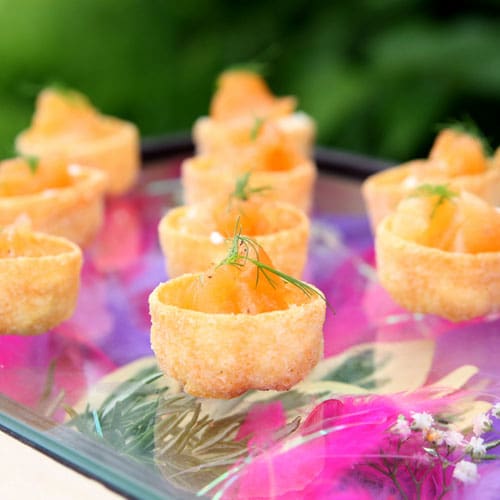 Smoked salmon and creme fraiche in a thin pastry case topped with fresh dill.
One undeniable element Crane brings to each menu, however, is her impeccable palate honed by her undeniably European sensibilities.
"I definitely think of the menu as a whole," she said. "I look to ensure complimentary flavors throughout the entire menu. I look at it as one big picture."
Crane also brings her discerning eye to each individual dish, she added.
"I look at every plate and every dish and it has to be perfect," she said. "I don't overlook any part of the meal."
When booking a party, Crane will send over a proposed menu to a client and then work with the host or hostess to create the perfect fare for the event.
"I just don't fit into one theme or one box because I love everything," she said. "I do what the client asks for."
She cut her island chops late last year when she prepared much-praised cuisine for a Governor John deJongh reelection campaign fundraiser. Since obtaining all her necessary licences, Crane has hit the ground running, having prepared fare for several dinner parties already, and she hasn't even launched her website yet.
Crane's cooking and business are also very personal affairs. In naming her new venture, the chef honored her dear friend Ruth "Sis" Frank, who passed away on Thanksgiving 2010.
"Sis always spelled my name 'Mers' so I had to include something with that in the name of my business," she said.
While unwilling to pigeon-hole her art, clients can expect a peerless meal, custom tailored to fit their exact party needs. Meeting her client's needs is exactly why Crane launched her new venture in the first place.
"I started this business because it's what I've always wanted to do," she said. "I like to make people happy and people get joy from my cooking. That makes me happy."
To book Crane for a party or for more information, call the chef at 244-6992 or email mares28@hotmail.com. Mares By La Mer's website should be up soon.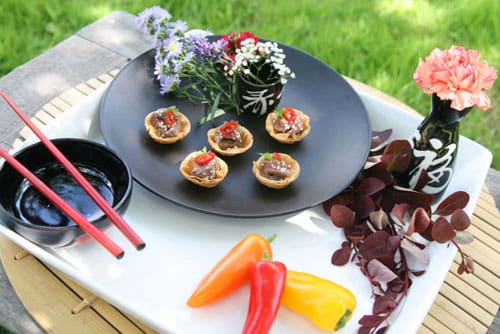 Thai beef tartlets with sesame, cilantro and chili.