Offshore Marine, the Yamaha distributor and Caribe Inflatables importer to the U.S. and British Virgin Islands as well as the AB dealer for the USVI, has been named the official supplier of Outboard Engines and Inflatable Dinghies by organizers of the USVI Charter Yacht Show, set for Nov. 12 to 15, at IGY's Yacht Haven Grande.
Also, of key importance, Virgin Islands Professional Charter Association (VIPCA) releases its USVI Charter Yacht Show COVID-19 Safety Protocols, designed to assure the well-being of event attendees and island residents alike.
Offshore Marine, located in Sub Base on the western side of the Charlotte Amalie harbor, is a premier marine company and principal USVI Charter Yacht Show sponsor that also services what it sells. To introduce their newest addition to their line of quality boats, it is offering an AB 13 VS Inflatable paired with a Yamaha F40 with tiller steering, power trim/tilt and electric start – a practical and versatile yacht tender rated for 7 people and with enough horsepower for watersports – for this year's silent auction. The auction will open during show days to show attendees only, with proceeds benefiting VIPCA.
Offshore Marine, which started as Offshore Inflatables in the 1980s, to this day lives up to its heritage and affiliation with Inflatable Boats. Selling a reasonably priced and reliable product helped Offshore Marine become one of the largest sellers of Caribe Inflatables in the Caribbean.
"A tender, especially the size and power of the one being auctioned by Offshore, is a hugely important component of a charter. It's integral to everything from providing a steady platform for guests when traveling from the boat to shore to offering watersports like pulling kids on tubes, traveling to a remote dive spot, or serving as a chase boat for kiteboarding," said Michael 'Hank' Hampton, co-owner along with Steve Schlosser of Paradise Yacht Management, based in Red Hook, St. Thomas.
"We have 18 yachts, all catamarans and ranging from 45- to 80-foot, entered in this year's show. One we're especially excited to show is new to our fleet, Lagoon 56, A3, with seasoned crew Captain Colleen Korona and Chef/First Mate Matt Proto. All of our vessels showing will adhere to the full COVID-19 protocols in place," said Hampton.
USVI Charter Yacht Show COVID-19 Protocols Now Available
In this climate of the COVID-19 pandemic the organizers of the USVI Charter Yacht Show, the Virgin Island Professional Charter Association (VIPCA), are taking the matter of protecting its show attendees, exhibitors, vendors and staff very seriously. In preparation for the Nov. 12-15 show. VIPCA has developed a revised schedule of events with crowd-free alternatives to gatherings and protocols for a safe, hygienic, productive, and high-quality organized event. VIPCA carefully developed its Show protocols to provide charter brokers and yacht crew with the necessary assurance that they will be able to safely connect during the event.
These protocols will include compulsory COVID-19 testing and thermal screening for all participants, the use of personal protective equipment, heightened cleaning and personal hygiene, physical and social distancing, as well as individually (compostable) pre-packaged food and beverages. For the full text of the protocols, please visit https://vipca.org/covid-19-safety-protocols/
Boat and Broker Registration Open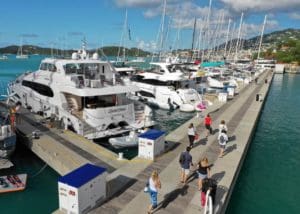 More than 40 yachts were registered for the USVI Charter Yacht Show as of Aug. 1, with over 70 yachts expected to show. The show fleet includes a diverse mix of vessels: sailing monohulls and catamarans up to 80-feet and longer and motor yachts in the 100- to 150-foot range. To register, visit: https://vipca.org/vessel-registration/
Over 150 individual charter brokers from the Caribbean, U.S. and Europe attended the 2019 USVI Charter Yacht Show, and over 100 are expected to attend this year's 'must-do' show for international yacht charter professionals.
Bluebeards Castle, located on Bluebeard's Hill in Charlotte Amalie and within walking distance of the show, is offering charter brokers the 20 percent discounted rate of $189 per night. The discounted accommodations are available on a first-come-first-serve basis and are limited. Brokers must call the hotel directly to make the reservation. (340-774-1600; www.bluebeardscastles.com ). For more information or to register for the show, brokers can visit: https://vipca.org/charter-broker-registration/
New for 2020
The theme of this year's USVI Charter Yacht Show Culinary Competition, scheduled for Nov. 12, is 'Lunch and Dessert on Arrival.'
Registration for the Culinary Competition starts Sept. 1, 2020, and is first-come-first-served: https://vipca.org/culinary-competition-2020/. Judging takes place on individual yachts at pre-arranged times on Nov. 12.
Sponsors of the USVI Charter Yacht show include the USVI Department of Tourism; Yacht Haven Grande; IGY Marinas; Offshore Marine; the Gowrie Group; Denison Yacht Sales; Moe's Fresh Market; Grey Goose, distributed by West Indies Company; Veuve Clicquot and Captain Morgan, distributed by Bellows International; the Charter Yacht Broker Association; Cardow Jewelers; Harbor Shoppers; and, La Royale Cosmetics.