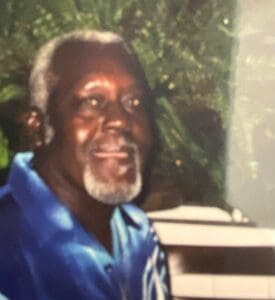 Oliver A. Cornelius Sr. of Estate Mon Bijou died on May 15. He was 76 years old.
He is survived by his daughters: Sherlene Cornelius, Deanna Cornelius and Victoria Cornelius; son, Oliver A. Cornelius Jr.; grandchildren: Kadeem Simon, Delisha Encarnacion, Shahanna Graham, Amir Parrilla, Lamar Golden Jr., Mazi Cornelius and Journii Johnson; great-grandchildren: Kayden Simon, Katelyn Simon, Am'ira Encarnacion Athill and Amir Encarnacion Williams; and godchildren: Akeem Reynalds, Kadejah Christopher and Reneja Skepple.
He is also survived by special friends: Lloyd "Lloydee" Henry Sr. and family, James "Jimmy" Weber, Jeffrey B.C. Moorehead Esq., Aymee Santana and family, Jennifer Parris Mcfarlane, Bertil Hobson, Alexander Wilson, Pamela Harris, Luz Armstrong, Angela Mayo, Rodney "Bread" Thomas, the Mingo/Springette family, the Christopher family, Garfield "Edgie" Christian, Franklyn Freeman, Evannie and Deroy Jeremiah and family, Joan and Samuel Joseph, Eulander Carr, Hubert Acoy, Paul Arnold, Agatha Canton, Linda Adams, Gerard Luz James Ii, Victorine Farrelly, the Johannes family, Aaron Buntin, Sylvia Sajous, Rabel Simmonds and Paulette Gordon.
He is also survived by sisters: Esmeralda Cornelius, Augustina Henry, Theresa "Aganara" Sobratae, Agneta Sylvia Cornelius, Lolita Sanders, Bernice Cornelius-Reynolds, Clothilda Cornelius and Mercedes Scotland; and brothers: Richard Cornelius, Warren Cornelius, and Robert Joseph Sr.
He is also survived by nieces: Sharon O. Jackson, Barbara Acoy, Laura Acoy, Melba Williams, Delta Harris, Debbie Richards, Erma David, Dale Elvin, Darrell Williams, Marjorie Williams, Safisha Cornelius, Keisha Cornelius, Janet Matthews, Desiree Charles, Denise Charles, Elizabeth Martinez, De'anna Cornelius, Daria Cornelius, Desirae Cornelius, Eleanor Smith, Shivonne and Shereese Joseph, Desiree Sanders, Erica Sanders, Katherine Allen, Cynthia Walton, Jacintha Felix, Vanessa Peter, Jashana Scotland and Kiara Salami.
Other survivors include his nephews: Herman "Aliboo" Jackson Jr., Aaron Buntin Sr., Larry Williams Sr., Richard Cornelius Jr., Douglas Pompey, Stevens Sanders, Dennis Cornelius Jr., Shawn Sobratae, Robert Joseph Jr., Kareem Joseph, Jarryl Joseph, De'angelo Charles, Dion Charles, Randall Rawlins, Terrance Rawlins, O'neal Allen, Emile Allen, Peter Scotland, Marcel Scotland Jr., Jefferson Scotland, Harold Scotland and Coloni Mcglashan; as well as other friends and family too numerous to mention.
 A viewing will be held from 5-7 p.m., Monday, June 6, at James Memorial Funeral Home Chapel.
A second viewing will be held at 10 a.m. followed by a funeral service at 11 a.m., Tuesday, June 7, at Christus Victor Lutheran Church (Estate La Vallee). Interment will be at Kingshill Cemetery.