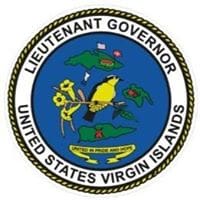 Lt. Gov. Tregenza A. Roach Esq. has informed all notaries in the territory by letter that there has been no increase in the fees charged to notarize documents and that consistent with the V.I. Code they are authorized to charge a fee of $5.00 for each seal affixed to a document. Any person who is charged a fee in excess of $5.00 per seal is asked to inform the Notary Public Division.
Notaries engaged in increased pricing are in violation of Virgin Islands notary laws and subject to action being taken by the Office of the Lieutenant Governor. Failure to comply with said laws may result in the cancellation of a notary commission in accordance with section §773 (g) of Title 3 of the VI Code.
The Office of the Lieutenant Governor is the regulating agency for all registered notary public in the Virgin Islands. A notary commission may be suspended, revoked or fined if a notary overcharges a customer. Overcharging for notarization is a violation of the VI Code Title 3.
Notaries are encouraged to check their emails for information and updates regularly shared by the Notary Public Division. Notaries can confirm their email address on file with the Division by calling 774-2991 ext. 4120. Information regarding notary services can also be found on the website at www.ltg.gov.vi.