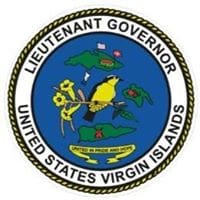 Lieutenant Governor Tregenza A. Roach Esq. reminds business entities of the upcoming June 30 deadline to submit annual filing requirements for profit and non-profit corporations, all partnerships and limited liability companies.
Franchise taxes and filing fees are due to the Division of Corporations and Trademarks and are necessary for all entities to remain in active/in good standing status and to conduct business in the territory.
The Division of Corporations and Trademarks is providing access to its offices by appointment only. COVID-19 safety protocols remain in effect.
For additional information or to schedule an appointment, contact the division on St. Thomas-St. John at 774-2991 or on St. Croix at 773-6449.
Payments and filings can be made on the division's online Catalyst system at: www.corporationsandtrademarks.vi.gov. The Catalyst system is accessible 24 hours a day, seven days a week. Instructions on how to create a user account, request authority over existing businesses, complete the Update Profile Service or submit filings are available at https://ltg.gov.vi/departments/corporations-trademarks/.
The Division of Corporations and Trademarks is also hosting a virtual information series. Sessions are open to current and prospective business owners, service providers, resident agents, as well as the public, private and non-profit sectors. The series began in March and will conclude on June 23.
Persons interested in registering for the virtual information sessions are asked to email denise.johannes@lgo.vi.gov with selected date and topic no later than 5 p.m., Tuesday, before the session. Webinar information will be sent to participants.
The presentation schedule and topics are:
Wednesday, May 19, from 4 p.m. to 5 p.m. EST
Trade Names
Wednesday, May 26, from 4 p.m. to 5 p.m. EST
Getting Started Online Catalyst System
Wednesday, June 9, from 4 p.m. to 5 p.m. EST
Franchise Tax and Annual Report Filings
Wednesday, June 16, from 4 p.m. to 5 p.m. EST
Limited Liability Companies
Wednesday, June 23, from 4 p.m. to 5 p.m. EST
Profit Corporations