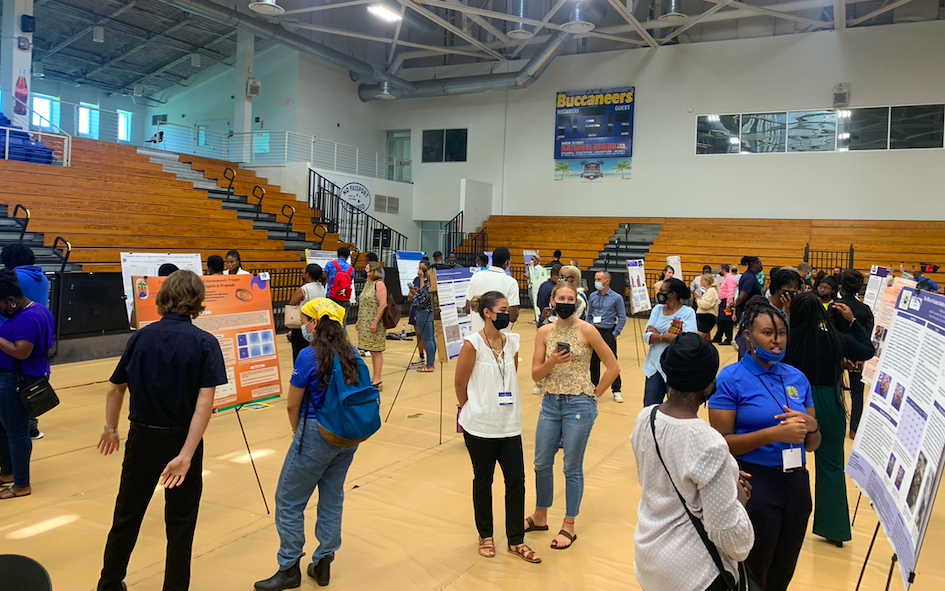 On Aug. 28, the University of the Virgin Islands (UVI) held the 23rd Annual Fall Student Research Symposium featuring undergraduate and graduate students.
"This symposium was hosted by the Emerging Caribbean Scientists program, which facilitates our student's participation in research supported by funding from a number of sources, including the National Science Foundation (NSF), the National Institutes of Health (NIH), and the National Aeronautics and Space Administration (NASA)," said Dr. Sandra Romano, Dean of College of Science and Mathematics.
This year featured undergraduate and graduate presentations, interactive skill-building workshops, virtual reality demonstrations, and a planetarium show. Attendees had the opportunity to interact with facilitators and keynote speaker Dr. Ester Ellis, USVI territorial Epidemiologist, who presented on the theme, Resilience through Research.
Students' presentations consisted of topics regarding marine and animal sciences and biomedical and environmental sciences. Each student had the opportunity to work with mentors on and off island to assist with the development of their research topic and presentation.
"Our students are so well versed in their research topics and consistently impress me with the knowledge and insights they have mastered in such a short period of time. The posters they display take a lot of time to develop, and the research behind the display is a major investment for your students," said David Hall, President of UVI.
"This symposium represents much of the University's strategic plan goals. It is through research that we push knowledge forward and venture into areas where others have not gone before. The work reflected at this symposium embodies the heart of academia-pursuit of knowledge", said Camille McKayle, Provost and Vice President for Academic Affairs.