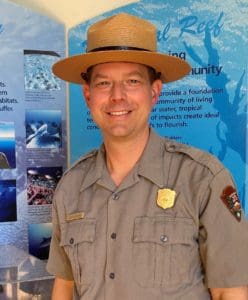 On Feb. 22, Scott Simmons began a six-month assignment as deputy superintendent of Virgin Islands National Park and Virgin Islands Coral Reef National Monument. Simmons recently completed his second year as one of the National Park Service's (NPS) Bevinetto Fellows.
This past year he worked for the U.S. Department of the Interior's Great American Outdoors Act Program Management Office, the assistant secretary of Fish and Wildlife and Parks, and the NPS's Office of Legislative and Congressional Affairs. Prior to his selection as a Bevinetto Fellow, Scott was the assistant director of design and construction for the White House and President's Park.
"Scott's leadership and specialized experience with complex construction projects offers timely expertise to the park as we ramp up our hurricane recovery efforts," said Park Superintendent Nigel Fields. "We welcome Scott's methodical and collaborative approach to managing operations, problem solving and ensuring high quality experiences for all park visitors."
Throughout his NPS career, Simmons has also served as the Branch Chief of Facility Maintenance for the National Mall and Memorial Parks, and as a Project Supervisor for the National Capital Region. Scott is a graduate of the NPS's award winning Facility Manager Leaders Program and was a recipient of the Roger Kennedy Fellowship that allowed him to obtain a Contexts of Environmental Policy Graduate Certificate from The George Washington University.
"I am so fortunate for the incredible opportunity to join the outstanding staff of Virgin Islands National Park," said Simmons upon arrival. "In a park where cultural and natural resources are woven together, it is an honor to be entrusted with the responsibility to protect and preserve these amazing treasures."
Simmons enjoys spending time with his wife Beth and their two kids, Eloise and Rollie. He also enjoys hiking, camping and sailing when he can find the time.