Four African-American women are hosting a book signing and reception at Parrot Fish on Strand St. in downtown Christiansted on Tuesday, July 19, 6 p.m. to 8:30 p.m. Their first book, "I AM Prayer Warriors Sista Circle," is a collection of 90 daily declarations written to inspire, motivate, heal, and support the reader. The event is free and open to the public and located across the street from Crucian Gold.
Co-authors Samimah Aziz, Yaa Hatcher, Germaine Jennings, and Tyree Thornton began their prayer circle in 2011 in support of the personal need of one of the sisters. They prayed with her as she experienced her beloved sister dying of stage 4 cancer, and they continued every day for a month until her sister passed.
The circle tapered off, but they later realized there was a need for the spiritual support they gave each other in 2011. They began a New Year's challenge in 2021.
The prayer circle is their spiritual place to be for 15 minutes in the morning. They begin with breathing…sometimes guided…sometimes quiet. Two to three in the circle offer prayers. They read or meditate. Then they move to the I AM statements, which cover whatever is happening in their lives personally.
"I am trusting my intuition." "I am thankful for my parents." "I am enjoying the fruits of my labor." are some of the I AM offerings that are said with an explanation for each one's own personal I AM.
"The circle closes with 'Word Wisdom from our ancestors.' These are quotes we remember from our grandmothers, aunties, uncles, and other loved ones," Samimah Aziz said.
This month is devoted to "Self Care" in the Sista Circle. The co-authors are longtime sisters and friends who are diverse in their religious backgrounds and focus solely on the spiritual support they give each other.
Aziz said, "It's so powerful and so spontaneous and so beautiful. It was I who said, let's put this in a book. We need to share these I AM statements with other women. It's a place to be supported and inspired; that's what we do."
Two of the authors have familial links to the island. Co-author Yaa Hatcher is family to Ovilda Williams-Haynes and the late Geraldine Juanita Hector. She is also a cousin to Charles Mereday, owner of Parrot Fish and the Galleon Steaks & Seafood in Christiansted. Hatcher is a member of the Delta Sigma Theta Sorority and reached out to the St. Croix sorors who are welcoming the Sista Circle to the island. Co-author Germaine Jennings has maternal roots on St. Croix; her grandfather is the late Arthur James, and she is celebrating her 60th birthday.
"All of these inspired our decision to do our first international book signing and reception on St. Croix," Aziz said.
A fifth woman joined the circle after the book was published. There will be a new challenge ranging from 10 to 15 people. Women can be anonymous when they join. The Sista Circle will lead the circle of participants. It will be a way to give back, they said.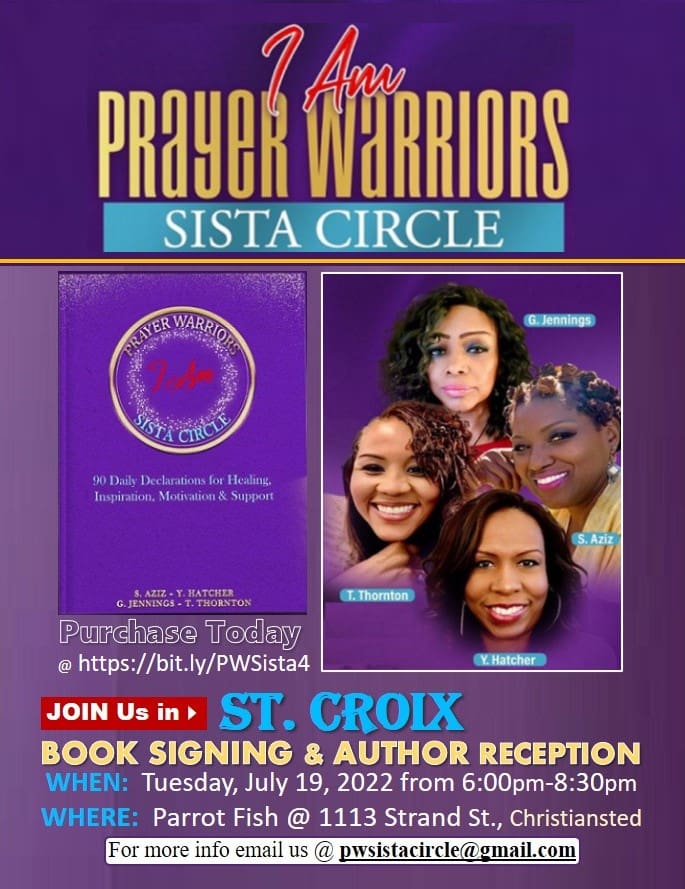 The Sista Circle has plans to publish a journal book based on the I AM statements for individuals to journal and complete their own I AM statements.
For more information:
Bit.ly/PWSista4 to purchase paperback
Amazon.com to purchase e-book
email: pwsistacircle@gmail.com