"Hurricane does blow all skin one color" – Lito Vals, Ole Time Sayings
It will be years until a September 6th passes in the Virgin Islands without any special recognition of its significance: the day Hurricane Irma tore through the islands with sustained winds of 185 mph and gusts well above 200 mph.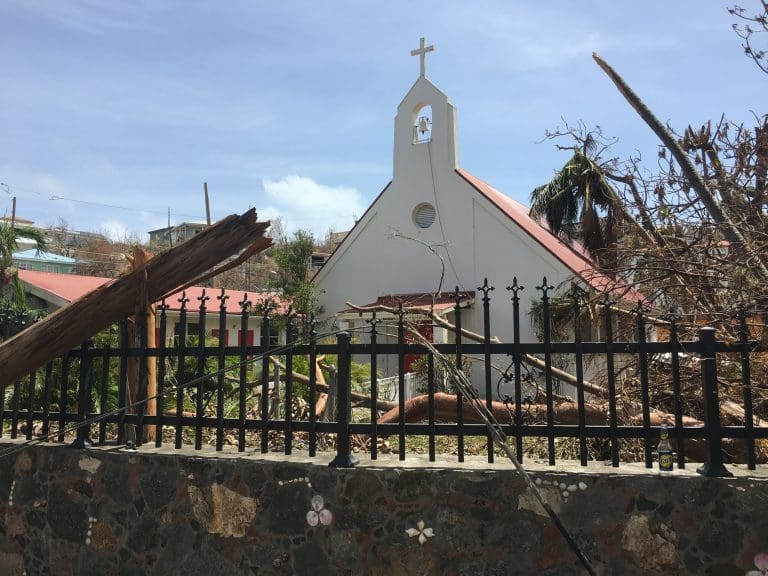 For those who missed the storm and are now just getting back, St. John may look ravaged. Indeed, there are entire hillsides along the road to Coral Bay where every tree lays flattened. Familiar landmarks, like the Battery – now without its roof – seem unrecognizable. Galvanized metal dangles in twisted trees, and buildings disgorge their contents immodestly. Damaged boats lay piled, helpless, on shorelines.
But for those who have been on island, each day is more beautiful than the last. Ask anyone who was there through Irma, and her sister storm Maria on September 19, and they'll tell you what a difference a day makes. Now that four weeks have passed, the progress seems nearly miraculous.
[adrotate group="6"]
As of October 4, there is much to celebrate.
FEMA's Disaster Survivor Assistance Program has begun, and St. John residents may now apply for grants and loans from FEMA personnel stationed at the National Park Service in Cruz Bay and the Fire Station in Coral Bay.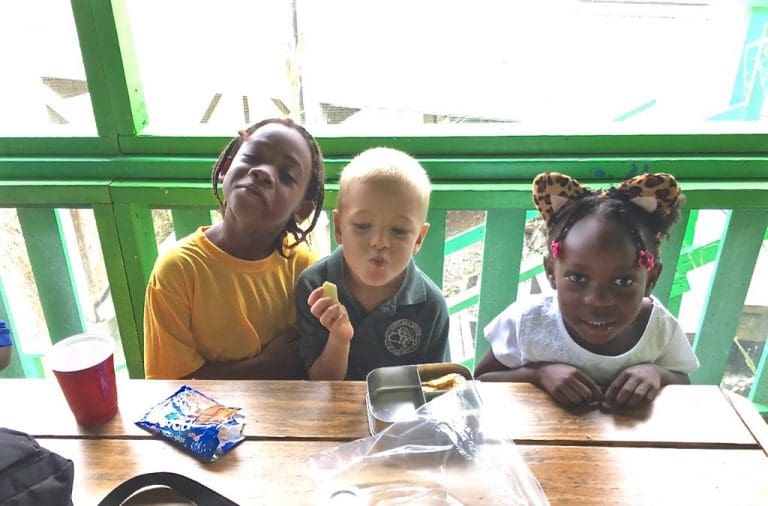 The enrollment at the Gifft Hill School has grown from 39 to 125 in just over a week. Fees are being deferred for now so that every child who wants to attend school can, according to Dr. Laurie Bottiger, head of school. Gifft Hill School students sent FEMA, Red Cross, and other agencies handmade cards of thanks.
The last shelter residents have moved out of the Julius E. Sprauve School in Cruz Bay, and only 14 displaced people remain in a consolidated shelter. FEMA and VITEMA officials are discussing the number of generators it will take to keep the school running if WAPA misses its target date of mid-October for energizing Cruz Bay.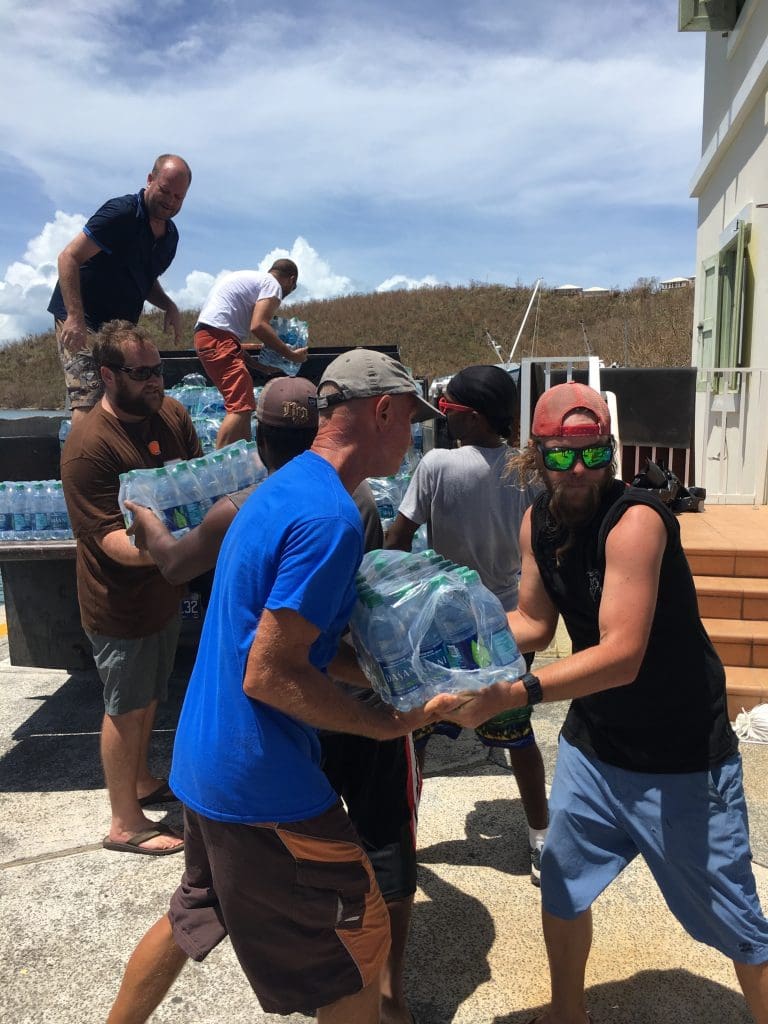 The first inspectors from the U.S. Army Corps of Engineers, contracted by FEMA to repair salvageable roofs, have begun to inspect properties where owners have applied for help under the Blue Roofs Program. VITEMA has another program for roofs with more severe damage.
Ferry service between Cruz Bay and Red Hook runs on a modified schedule from 7 A.M. till 5:30 P.M. and will no doubt extend its hours as the curfew is relaxed. As of Monday, October 2, the official curfew runs from 7 P.M till 6 A.M. Free shuttle service between Cruz Bay and Coral Bay began on Monday, October 2.
The two remaining barges are running throughout the day, carrying containers, fuel trucks, and private vehicles. Inter-Island Boat Service is operating a ferry to Crown Bay that leaves Cruz Bay at 6:15 A.M. and returns at 4 P.M. Ferry service to West End, Tortola, is expected to resume within a day.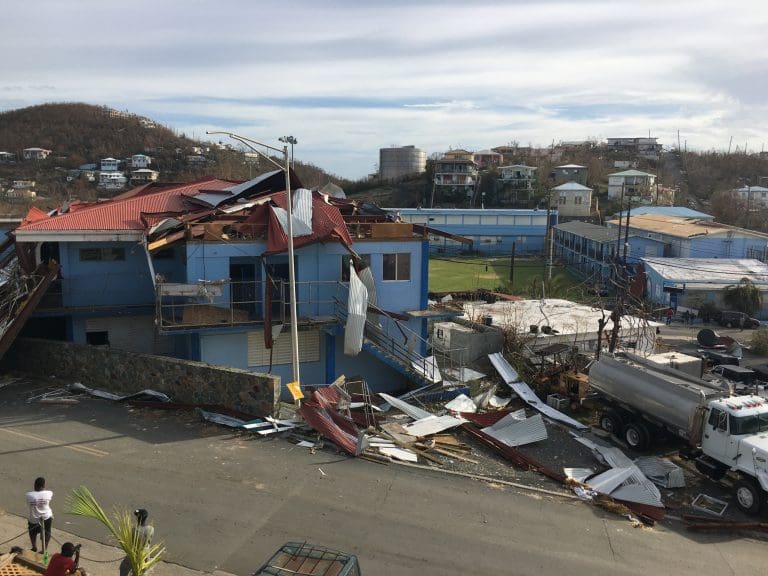 A team of more than 30 New York State Troopers is assisting the Virgin Islands Police force and is patrolling the entire island day and night. There have been no reports of major crimes since the immediate aftermath of the storm. A team of New Jersey Troopers arrived to support Emergency Medical Service operations.
More than 90 pets, many of them left behind when their owners departed the island, were airlifted to New England on October 3, thanks to the untiring efforts of Ryan Moore of the Animal Care Center, Dr. Heidi Stout of Canines, Cats and Critters, and a cadre of dedicated volunteers.
Debris has been cleared off most major roads although what to do with it all remains a puzzle. The transfer station at Susannaberg, otherwise known as the dump, will be closed on Wednesday, October 4 through Thursday, October 5. Waste Management Authority and Public Works personnel are trying to figure out what to do with all smashed roofs, soggy mattresses, uprooted trees, and ruined artifacts that were once the essential elements of so many people's lives.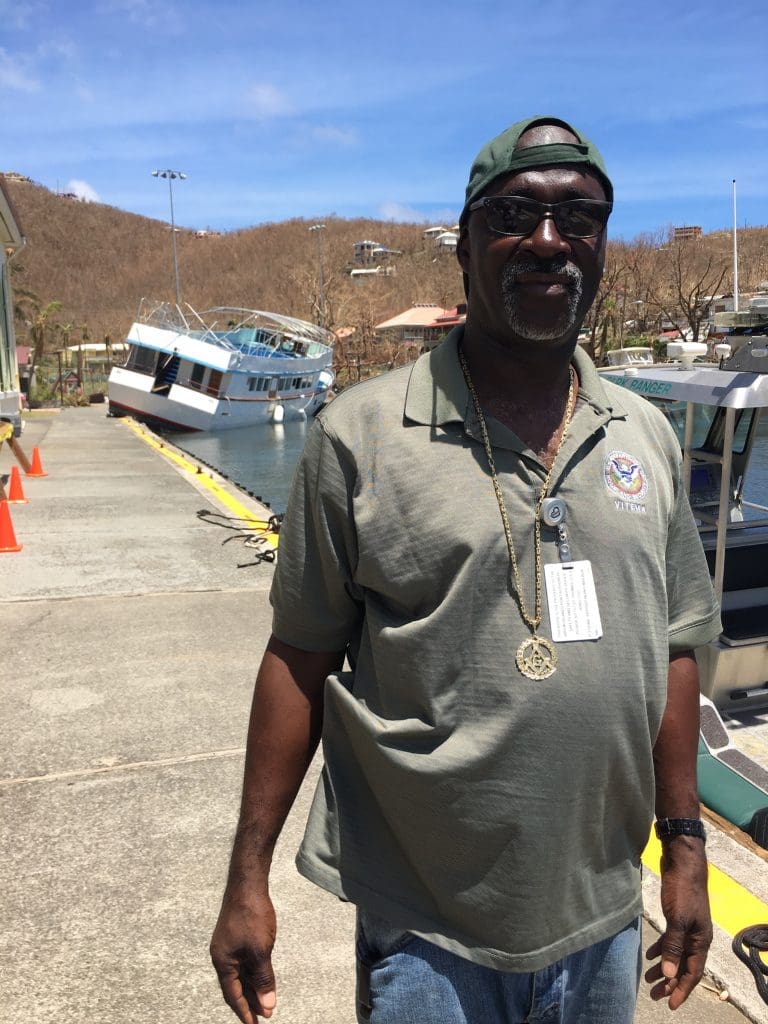 Fortunately, there are a lot of people who love St. John and are willing to fight for its recovery. The heroes include doctors Joseph DeJames and Elizabeth Barot and the nurses at the Myrah Keating Smith Community Health Clinic, who stayed on site throughout both storms while the building shook and water poured through the damaged roof.
Government medical services on St. John have now been moved to the Morris DeCastro Clinic in Cruz Bay. St. John's medical staff has been supported by Disaster Medical Assistance Teams (DMAT) and by experts in emergency response from Johns Hopkins University brought in by the Bloomberg Group.
A team from the U.S. Public Health Services with expertise in post-trauma counseling arrived Sunday afternoon, October 1. No doubt they were somewhat taken by surprise by the sight that greeted them when they stepped off the ferry in Cruz Bay.
Instead of the decimated island filled with traumatized people that has been portrayed in much of the national media in the past several weeks, the team arrived instead to an island party in Frank Powell Park.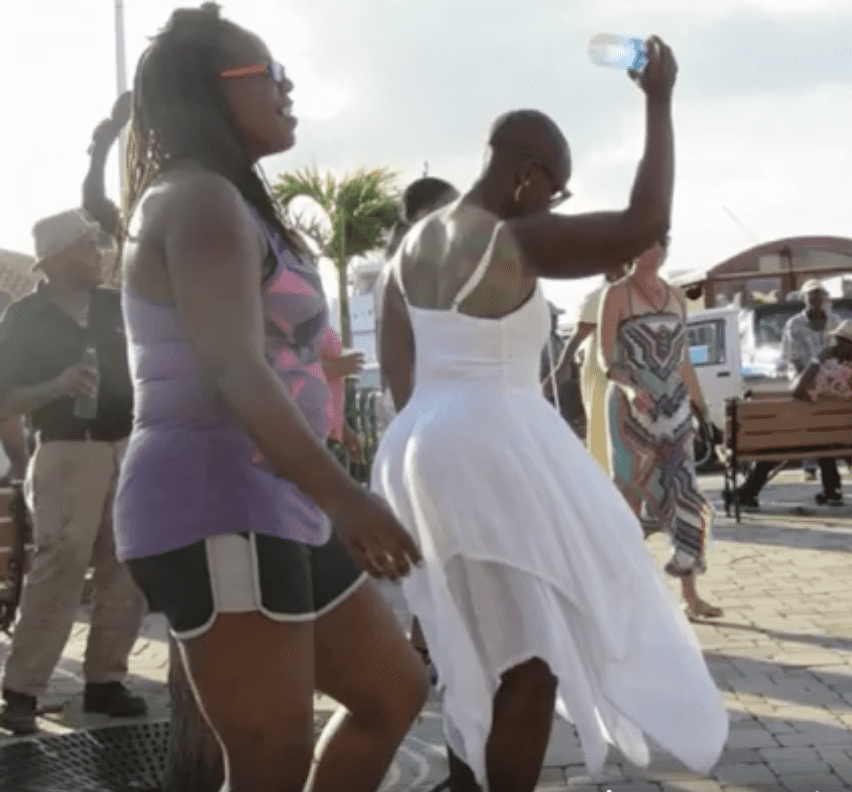 People of all ages and colors swayed to the sounds of Cool Sessions. St. John Brewers handed out bottles of cold beer, ale, ginger beer and root beer, collecting only donations to pay the band. The music started a couple of hours later than planned – the result of generator problems which explain much of the breakdown in services these days. But no one complained, even when the band stopped at 5:40 P.M. to provide ample time to get home before the 6 P.M. curfew which was still in effect.
The party was orchestrated by Irvin Mason Sr., the ever-upbeat VITEMA official from St. Thomas who has won the loyalty of those who have worked with him since his arrival on island the day before Irma. "This is not a VITEMA party," he said. "It's an Irvin Mason party."
Mason facilitates a gathering on weekday mornings of territorial and federal government officials, representatives from NGO's, and locals who have been involved in the disaster response and recovery efforts. Anyone can attend these meetings held at 7:30 A.M. at the V.I. National Park headquarters.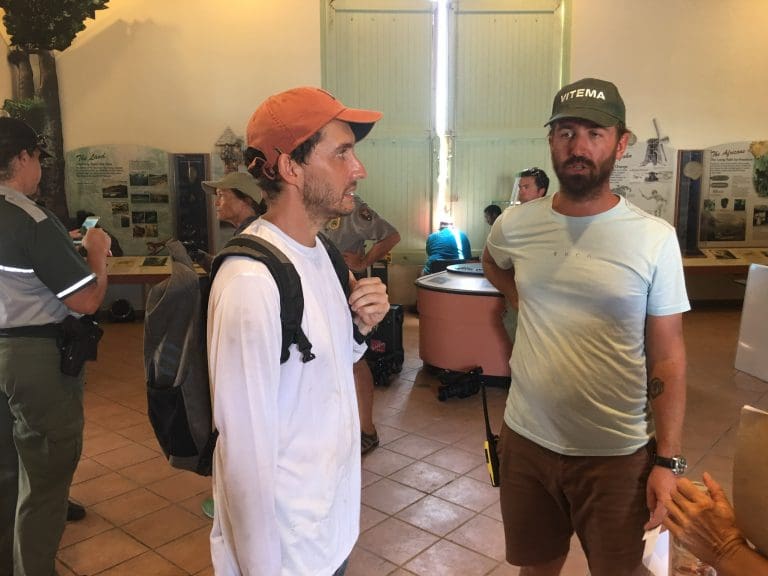 Details from this briefing are then brought to a public meeting facilitated by Ryan West of Love City Strong at Mongoose Junction at 10 A.M. Love City Strong (LCS) is an organization made up of young community members (some with deep roots in the island) which came together after the Irma to organize volunteers and pass on critical information.
Within days they found an important niche they could fill, finding transportation for people who needed or wanted to leave the island. In the two weeks between the two hurricanes, LCS marshaled private planes and charter boats on St. Croix and Puerto Rico in transporting nearly 1,200 evacuees from St. John without charge.
A similar but smaller effort was organized by community members in Coral Bay. For several days following the storm, passage on the road between Coral Bay and Cruz Bay was impossible because of debris and landslides.
Even four weeks after the storm, communications between the two towns remains tenuous. Federal and territorial agencies now have satellite communications throughout the island, but ordinary citizens in Coral Bay still feel cut off. WIFI connection in Coral Bay is sporadic and cell phone service nonexistent, but the situation could change any day.
Cruz Bay has had sketchy-or-better cell phone service since two days after Irma. The main effort to improve communications has been the result of an unusual collaboration by public agencies and private individuals.
Daryl Wade of the V.I. Next Generation Network called on St. John tech experts Matt Gyuraki (of Love IT) and Jason Monigold (of Computer Express) to piece together a free public access WIFI system. They have engaged local technology talent to work with Viya and other phone service providers to improve signal and assisted members of the NGO known as "DIRT" (global Disaster Immediate Response Team) to hook up communications among first responders. They brought in GATR, a provider of inflatable globes for satellite communications technology.
DIRT was brought in by the Bloomberg Group, the philanthropic arm of Bloomberg Communications. Their primary focus has been clearing roads, enhancing communications, and restoring the island's energy infrastructure. Their involvement is somewhat a matter of luck: one of their founders, Tom Secunda, owns a home on St. John and is deeply interested in the island's recovery.
Another St. John homeowner – one with a higher level of name recognition- is Kenny Chesney, the country music superstar. Chesney has set up a foundation to raise funds for St. John and has played an integral role by flying in supplies, flying out residents with medical emergencies, and assisting local business owners with their reconstruction.
Local businesses still face serious challenges. Governor Mapp has said the islands will be ready for cruise ships within the month, but others say tourism should be discouraged until electricity has been fully restored, which may take up to a year. Although the National Park Service hasn't officially closed its beaches, it does everything it can to discourage anyone from swimming in the sea until water safety tests have been completed; no water testing has been scheduled.
The islands two major resorts, the Westin and Caneel Bay, aren't making any promises about when they'll reopen. Inquiries to the general managers have been directed to their corporate public relations offices.
With the tourist season in question, job displacement is rampant. The V.I. Department of Labor began meeting with those who wish to apply for unemployment on Monday, October 2. Staff members are holding office hours at the Legislature Annex in Cruz Bay from 10 A.M till 2:45 P.M. on Mondays, Wednesdays and Fridays.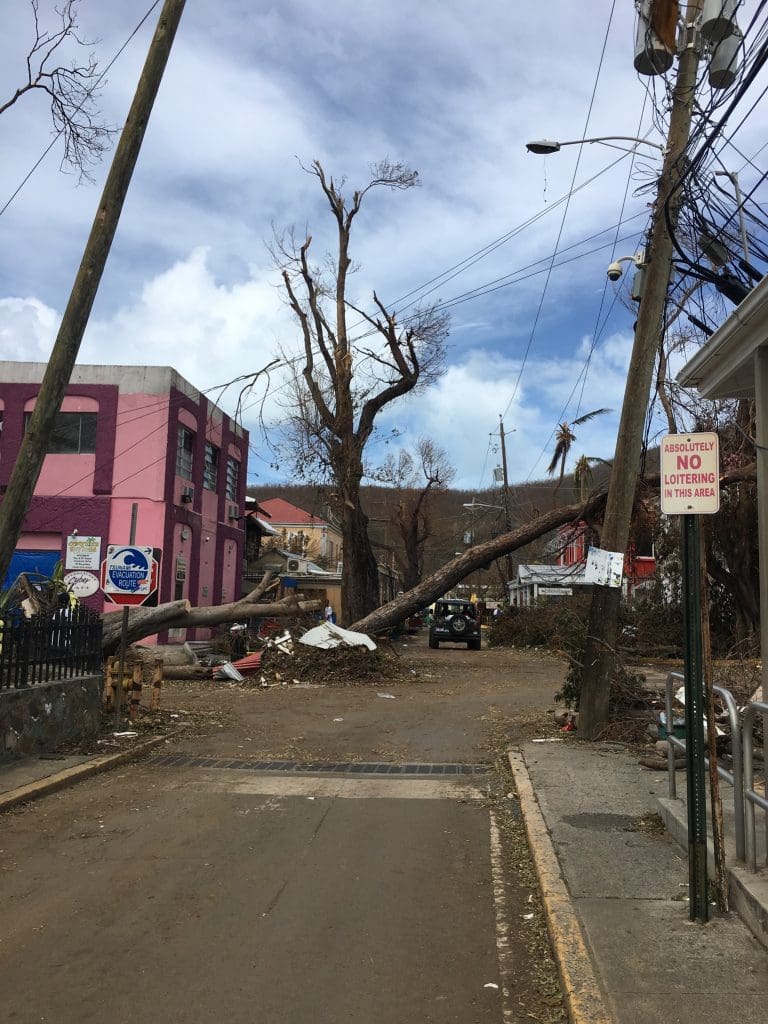 Money has been in short supply, and "cash only" rules because the absence of working phone lines makes credit card authorizations nearly impossible. Banking was brought to a halt for nearly four weeks because of damaged communication lines. First Bank became fully operational for an entire day on Monday, October 2. Merchants Commercial Bank still has not opened because of connectivity issues.
Western Union based in Connections in Cruz Bay has been operating somewhat reliably for nearly two weeks. Residents line up to send money to family on other Caribbean islands and receive money, usually sent from the States.
Every day more shops and services open. The last day of Red Cross-sponsored free meals at Longboard and Cruz Bay Landing is Monday, October 11. Every day the island becomes a little greener as plants and trees send out new shoots. Every day, homeowners arrive carting new generators. Every day, there's something more to be grateful for.
As Mary Mike, a centenarian living on St. Thomas has said, "Hurricane blow off your shirt? Thank God for your skin."