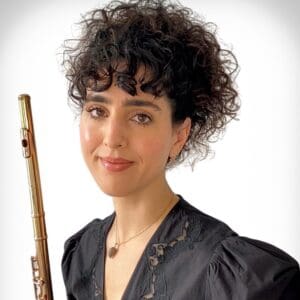 The Forum will present The Alex Sopp Trio, featuring Carlton Holmes and Victor Provost on Saturday, Dec. 3, at Prior-Jollek Hall, Antilles Campus, St. Thomas, U.S. Virgin Islands.
The trio presents a variety of contemporary pieces from South America, original pieces and compositions of Arts Music adapted for the trio of local composer Bill LaMotta. (Sponsored by Fintrac)
The Alex Sopp Trio:
Alex (Alexandra) Sopp – Flute and Vocals
Carlton Holmes – Piano
Victor Provost – Steel Pan
Line up of Events at the Prior-Jollek Hall, Antilles School Campus:
5 p.m. Kids Concerts
The Forum's one-hour kids' concerts will start at 5 p.m. The Courtyard will be open at 6 p.m. to enjoy small meals and desserts by Amalia Café.
Live music will be provided by the music students of the Antilles School Music Department under the direction of Band Director Brandon Reburn
7 – 8 p.m. Live music in the Courtyard will be provided by the UVI Steel Pan Ensemble under the direction of LéRoi Simmonds
8 p.m. – Live Event in the Prior Jollek Hall
Main act: The Alex Sopp Trio featuring Victor Provost and Carlton Holmes
Tickets: adults $30, teachers $10 and students $5; children under 10 years old are for free but need a ticket to secure a seat.
Ticket Sale Online:
Visit the website: www.theforumusvi.org or google: The Forum – Promotix
Information
Alexandra (Alex) Sopp, a musician and artist, living in Brooklyn, grew up on St. Croix and completed both her bachelor's and master's degrees at The Juilliard School.
As the Music, The Knights and NOW Ensemble flutist, the New York Times has praised her playing as "exquisite" and "beautifully nuanced." Comfortable in many genres, Sopp has commissioned, premiered, toured and recorded with some of the most exciting composers and songwriters of our time, including Paul Simon, Nico Muhly, Sufjan Stevens, Ben Folds, Jonsí of Sigur Ros, Philip Glass, Andrew Norman, Bruce Hornsby, Son Lux, Gabriel Kahane, St. Vincent, Anohni, Judd Greenstein, José González, My Brightest Diamond, The Dirty Projectors and The National.
A sought-after soloist, she made her Carnegie Hall debut with the New York Youth Symphony and has appeared as a soloist with the New York Philharmonic under the direction of David Robertson. In addition to her three prominent musical families, she frequently plays as a guest with the International Contemporary Ensemble (ICE). She has made regular appearances with the New York Philharmonic, Deutsche Kammerphilarmonie Bremen, the Mariinsky Orchestra, the Los Angeles Chamber Orchestra and the Louisiana Philharmonic.
In addition to playing the flute, Sopp is a singer and a visual artist. Most recently, she was a member of Paul Simon's band for his 'Farewell Tour,' providing flute, whistles and vocal harmonies to the iconic songwriter's body of work. She has appeared as a multi-disciplinary performer and singer in theater director John Tiffany's production of "The Ambassador," a staged song cycle written by Gabriel Kahane.
Carlton Holmes has a st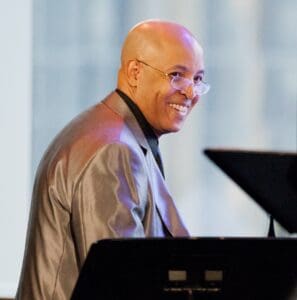 rong connection with the U.S. Virgin Islands through working with drummer Dion Parson and 21st Century Band since 2000, an artist in residence on the USVI since 2014, and holds the piano chair at the University of the Virgin Islands since 2021.
Holmes is a pianist of exceptional talent, musicality, and creativity. His sensitivity and inventiveness have made him one of the most sought-after musicians in the New York area. An increasing number of students seek him out because of his knowledge and experience.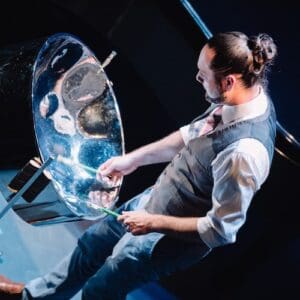 Victor Provost, born (on January 20, 1981) and raised on the island of St. John, V.I., is widely regarded as one of the world's leading voices on the unique, often misunderstood steelpan.
Through appearances at concert halls, clubs and stages worldwide, he has developed a reputation as a "dazzling" soloist, crafting an impressive improvisational voice and style.
The Program
South America (Piazzola, Villalobos, Pixinguinha, et al).
Contemporary – an adaptation of two flutes or flute/clarinet w/piano.
An original piece was "commissioned" for this concert by Victor Provost.
Local Composer Bill LaMotta Art Music compositions adapted for the trio by Victor Provost.