Three more lionfish were spotted and captured off St. John recently, bringing the total number of the invasive predatory fish found in local waters to seven.
The first of the recent lionfish haul was captured in 60 feet of water at Lameshur Bay, according to V.I. National Park's Chief of Resource Management Rafe Boulon.
The second fish was nabbed in 10 feet of water at Solomon Bay and the third was found in about six feet of water in Fish Bay, Boulon explained.
All three of the fish measured between five and six inches long, meaning they were juveniles, just like the first four lionfish caught off St. John were.
Since no adult lionfish — which can grow to more than 15 inches in size — have been found in waters off Love City, scientists believe they are drifting into the local area.
"All we've found so far are juveniles still," said Boulon. "That is an indication that they are drifting in as larvae and growing up here."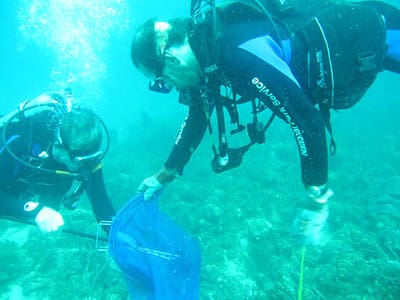 Scientists are watching the increasing numbers of captured lionfish with wary eyes. The fish, which are native to the Pacific, have no natural predators in the Atlantic Ocean or Caribbean Sea and have been wreaking havoc on reefs north of the Antilles.
The first lionfish in the territory was caught off St. Croix in 2008. Since then, the big island has seen the highest number of the species, with divers capturing about 20 specimens. Several more have been speared in waters off St. Thomas as well.
Lionfish prey on reef fish and can decimate native fish populations in a frighteningly short amount of time. The Bahamas have seen the number of lionfish skyrocket to about 1,000 an acre, while local reef fish populations have dwindled to near extinction, Boulon explained.
By devouring reef fish populations, the lionfish are also potentially devastating to the already vulnerable local coral species.
"Reef fish play an important role in the health of coral by eating algae," said Boulon. "The fish are the first to go, then if there are no fish, the reef tends to suffer because of algae growth."
While the long-term impacts of lionfish are difficult to predict, the future does not look rosy to local scientists.
"Long-term, it's hard to say what the impact these fish will have," said Boulon. "It depends on how dense the population becomes. They do pose a huge threat to the coral reef ecosystem of the Virgin Islands."
"The native fish populations are essentially defenseless in the face of this threat," Boulon said. "And once established, lionfish are very difficult to control."
National Oceanic and Atmospheric Administration officials, however, are launching an ambitious new campaign designed to reduce the Atlantic Ocean lionfish population.
Through their "eat lionfish" campaign (see related story on this page) NOAA officials are working with chefs, fishermen and wholesalers to promote a culinary market for the edible, and reportedly delectable, fish.
In the meantime, divers and swimmers are urged to carry a lionfish identifying marker — red flagging tape tied to a simple washer — at all times. Lionfish spines are extremely poisonous, so inexperienced divers who spot a lionfish are encouraged to deploy the marker and report the sighting to Boulon at 693-8950, extentsion 224.
Lionfish markers are available at the Friends of VINP Store in Mongoose Junction.