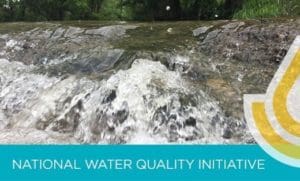 The USDA-NRCS Watershed Assessments funding notice for the National Water Quality Initiative has been posted to www.grants.gov and is open for applications through March 31, according to an announcement by the United States Department of Agriculture — National Resources Conservation Service.
Caribbean Area NRCS has designated four target watersheds: Three watersheds: Rio Grande de Añasco and Rio La Plata in Puerto Rico and Northwest St. Thomas in the U.S. Virgin Islands are the focus of the www.grants.gov watershed assessment funding notice.
This funding announcement is a key component of a strategy to leverage resources with partners to create watershed management plans to help NRCS apply conservation in the Caribbean Area. The goal is to obtain measurable outcomes that impact not only farmers but also have a considerable impact on the communities around them.
"We see positive impacts when we partner with producers to deliver conservation practices to critical watersheds," said Luis Cruz-Arroyo, NRCS Caribbean Area director.
"These focused partnerships allow us to maximize the delivery of our conservation efforts and achieve greater improvements to water quality, which benefits participating producers, the public and our islands' natural resources," Cruz-Arroyo said.
The National Water Quality Initiative was initiated in 2012 to address agricultural contributions to surface waters impaired by nutrients, sediment and pathogens. It is a partnership between NRCS, state water-quality agencies Puerto Rico Department of Natural and Environmental Resources and V.I. Department of Natural Resources, and the U.S. Environmental Protection Agency that collaborate to identify and address impaired surface water bodies through voluntary conservation.
Through the National Water Quality Initiative, NRCS provides targeted funding for financial and technical assistance to help farmers apply conservation practices to protect water resources. The National Water Quality Initiative includes protection for both surface and ground sources of drinking water. Technical and financial assistance from NRCS helps farmers to apply practices that avoid, control and trap nutrients and sediment that can impair water quality. Practices include, but are not limited to, filter strips and buffers, cover crops and manure management, which promote soil health and reduce erosion and nutrient runoff.
Participating in the National Water Quality Initiative
For more information on conservation programs and landscape initiatives in the Caribbean Area, visit www.pr.nrcs.usda.gov.