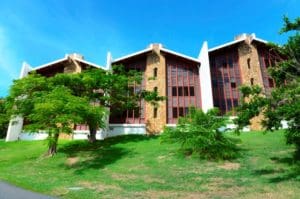 UVI Closed for Good Friday on April 2 The University of the Virgin Islands will be closed in recognition of Good Friday on Friday, April 2.
Classes and administrative offices will resume on April 5, at their regularly scheduled times.
Grant Writing Course Being Held for Non-Profit and Faith-Based Organizations Developing a competitive grant proposal can be a daunting task, but understanding the elements of a successful proposal can mean the difference between a proposal being funded or rejected.
UVI-CELL is encouraging non-profit and faith-based organizations to take advantage of this unique opportunity to learn effective and successful grant writing strategies. The course – Winning Grants: Essential 21st Century Proposal Writing Techniques – will be held from 6-8 p.m., Tuesdays and Thursdays starting April 6 via Zoom.
This action-learning lab is designed for grant writers and development staff who work in non-profit and faith-based settings. It is open to both novice and experienced grant writers who would like to enhance their skills in response to heightened competition for available funds.
The course covers a range of topics such as organizing the grant writing process, preparing letters of interest and concept papers, techniques to create competitive grant proposals, preparing the essential elements of a grant application infusing best practices and 21st-century research, and data sources and tips for writing fundable grants.
For fees or more information, visit http://cell.uvi.edu or call 693-1100.
Virgin Islands veterans can qualify for free tuition for this and other UVI-CELL courses through the Office of Veterans Affairs.
Veterans who wish to apply can send an email to cell@uvi.edu.
UVI Marine Debris Action Plan Team Published in National Blog The University of the Virgin Islands Marine Debris Action Plan Team has been published as a special guest contributor in the National Oceanic and Atmospheric Administration's blog.
The article, titled "The Tide is Turning on Marine Debris in the U.S. Virgin Islands," was written by Howard Forbes Jr., extension specialist at the Virgin Islands Marine Advisory Service, and Elisa Lacatena, communications specialist at the Virgin Islands Established Program to Stimulate Competitive Research.
"An island in the middle of the Caribbean Sea is an idyllic place to live and visit, but islands can be particularly vulnerable to marine debris. The effects of marine debris can be seen in everyday life in the U.S. Virgin Islands, from the visible debris on our beaches, to the economic toll that it can take on our tourism industry."
Read the entire article on https://blog.marinedebris.noaa.gov/.
UVI Communication Students Take Home Awards at National Conference Communication students at the University of the Virgin Islands won top awards at the 70th annual Southern Regional Press Institute virtual conference last month. Jada Roberts, George Francis and Kalyna Nielson received third place for 'Best Public Service Announcement' for their video presentation on the Jerusalema Dance Challenge. Kendrekus Jackson received third place for 'Best Radio Podcast' and M'Kayla Sullivan received second place for 'Best Photograph' in a feature story. The conference, hosted by Savannah State University, had participants from Bethune Cookman University, Georgia Highlands College, Augusta University and North Carolina Central University.
"I am grateful and thrilled to know that SRPI believed our video was deserving of an award," said Jada Roberts, senior biology major and communication minor. "I am happy I had the opportunity to attend this conference and I look forward to future conferences."
"I give all the glory to God, firstly. I didn't really expect to be nominated and chosen, so I am grateful to represent the University in such a wonderful way," said Kendrekus Jackson, senior communication major.
"Who knew that pressing buttons on a camera could be so fun and rewarding," said M'Kayla Sullivan, senior communication major. "I'm overly excited and grateful."
More information is available in a news release on the Media Section of the UVI Website www.uvi.edu/.
FEMA Hazard Mitigation Grant Program Awards UVI $4.1Million The Federal Emergency Management Agency, through the Hazard Mitigation Grant Program, recently awarded up to $4,123,164 to the University of the Virgin Islands to retrofit the dormitories and library on the Orville E. Kean Campus on St. Thomas.
The wind retrofit of all five residence halls (North, South, East, West and Middle) and the Ralph M. Paiewonsky Library will encompass the hardening of structural components to include the roof, entry doors, window openings, gutters, electrical and mechanical equipment, lighting, security systems and other at-risk elements in accordance with current building codes. These enhancements will also be constructed to meet the 180 mph Design Wind Speed requirements for the USVI and the American Society of Civil Engineers.
"After the passage of hurricanes Irma and Maria in 2017, the University's facilities were compromised," said Shirley Lake-King, vice president for administration and finance and chief financial officer at the University of the Virgin Islands. "This project will ensure that students can remain in the residence halls during and after the passage of a storm. UVI is grateful for the efforts of FEMA and looks forward to the impact that this grant will have on its facilities and improved conditions for our students."
A firm will be procured to complete Phase 1 – engineering and design. Once complete, a final determination will be made on the actual cost, and a contractor will be solicited for Phase II – construction.
More information is available in a news release on the Media Section of the UVI Website at www.uvi.edu/.
National Association of African American Studies  Recognizes UVI Undergrad for Literary Research In a virtual conference last month, UVI undergraduate student Maribel Cruz-Guadeloupe was selected by the National Association of African American Studies to present two research proposals at their 25th annual conference. Cruz, who is currently pursuing an associate of arts degree in criminal justice, was granted the opportunity to present two research proposals that focused on Hispanic and Latino studies.
Her research proposal was entitled: "Racism, Prejudice and Discrimination by Simply Looking at Skin Color, Linguistics, and Place of Origin" and "Linguistic Socialization and Cultural Identity for Hispanic Students at an HBCU: 'Watch es ran es you mi son, Waah wrong wid yuh mi son.'" Cruz received widespread accolades from participants and attendees for her research.
"Thank you so much for sharing Maribel," said Karen B. Moore Ph.D., retired professor of Spanish at Xavier University of Louisiana. Following the virtual presentations of Cruz, Moore said, "She was outstandingly victorious in both her presentations, which was very daring and commendable for a first-time presenter."
Established in 1957, NAAAS is the flagship membership organization devoted to enhancing the exchange of information about Africa.
For more information contact, Dr. Sharon Albert-Honore, Ph.D., at sharon.honore@uvi.edu.
UVI Communication Students Display University HBCU Pride at Kennedy Center Theatre Festival
Seven students in the UVI Communication Department participated in the 53rd annual Kennedy Center American College Theatre Festival Region IV in mid-February. They were selected as part of the initial Institute for Theatre Journalism and Advocacy program. Chosen primarily for their demonstration of strong oral and written communication skills as well as leadership traits, Kendrekus Jackson, Jada Roberts, Gretlyn Joseph, Hope Charles Pierre, George Francis, and Nadege Barber represented UVI as the only HBCU school in the ITJA division.
During the intense sessions, Nadege Barber, a business major and communication minor, engaged with specialists who embrace technology and social media of the 21st century. She successfully promoted inclusion, diversity and race relations on college campuses. UVI students utilized journalism and advocacy skills to critique, observe and intrinsically interpret original playwrighting, dramaturgy, and technical theatre productions by college students and established an impressive collaborative with the ITJA coordinator and representative of the RED initiative (Representation, Equity, Diversity). Their critique of the play, Pipeline, is featured on the KACTF website.
For more information contact, Dr. Sharon Albert-Honore at sharon.honore@uvi.edu.