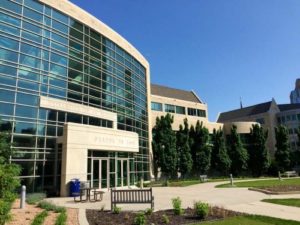 UVI Receives $250,000 for Permanent Endowment Fund from Diageo North America The University of the Virgin Islands has received $250,000 from Diageo North America to create a permanent endowment fund and provide financial aid grants to talented students across different disciplines and majors. This is part of a broader innovative program that Diageo North America announced to support 25 Historically Black Colleges and Universities, focused on building opportunities to develop future leaders and help shape a more equitable society. The initiative is expected to benefit thousands of students across the country over the years.
The Diageo North America Endowed Scholarship Fund will be used to provide scholarships to at least 10 students each year in perpetuity. Eligible students must be enrolled as a full-time student in an academic program of the university. Students can pursue a degree in any major, but preference will be given to engineering, chemistry, marketing and communications majors. Additionally, students must maintain a grade point average of at least 2.75 and meet the university's general scholarship requirements, such as academic standards and code of conduct.
"We are thankful Diageo North America is investing in HBUCs and the University of the Virgin Islands. This partnership is a message that the private sector and the public sector must come together to ensure that HBCUs are supported at the appropriate level so we can fulfill our special and unique mission to society," said UVI president Dr. David Hall. "This endowment shows how Diageo is embracing a vision of student support and institutional transformation."
More information is available in a news release on the Media Section of the UVI Website www.uvi.edu/
VI SBDC Partners with UVI Creativity Lab to Assist Small Businesses affected by COVID-19 The Virgin Island Small Business Development Center in collaboration with the University of the Virgin Islands' Creativity Lab will assist small businesses affected by COVID-19.
Join the VI SBDC and UVI's Creativity Lab for an informational session on services that equip small business owners to "dream, plan and achieve more." The VI SBDC will host an informational webinar about the UVI Creativity Lab at 4:30 p.m. (AST) on  Tuesday, Feb. 9. This webinar will introduce, encourage and enhance creative techniques and thinking in the workplace.
Please visit https://sbdcvi.ecenterdirect.com/events to sign up.
For more information about the UVI Creativity Lab, people can visit its website at
https://www.uvi.edu/administration/provost/creativitylab/default.aspx
More information is available in a news release on the Media Section of the UVI Website www.uvi.edu/
Afternoon on the Green 2021 to be Celebrated Virtually Afternoon on the Green goes Virtual! Join us from March 15-21 as we celebrate one of our most highly anticipated events.
Hosted under the theme "We Stream Green Afternoon on the Green 2021" you will be but a click away from all the exciting activities.
Afternoon on the Green promises to be great so save the date.
St. John School of the Arts Collaborates with UVI for Evening of Classics and Jazz St. John School of the Arts in collaboration with the United Jazz Foundation will virtually present an Evening of Classics and Jazz with the University of the Virgin Islands Music faculty, students and special guests on Friday, Feb. 12. There will be a "Mingle with the Musicians" event starting at 7 p.m. via Zoom and then the virtual concert begins at 7:30 p.m. This concert is part of the annual Sis Frank Concert Series that has been bringing world-renowned musicians to St. John. This year SJSA is offering all concerts in the series for free but is asking for donations to help cover expenses.
With Dion Parson as head of UVI's Music Department as well as his plethora of accomplishments and collaborative music performances, this concert should not be missed. Parson is an educator, composer, and one of New York's finest, Grammy-award-winning drummers whose musical foundation ranges from classical, reggae, calypso, jazz, African, and pop music. He has performed globally in Asia, Europe, Canada, the West Indies, Africa and the Middle East. Parson has recorded for several major labels, including Columbia, Sony, Gramavision, Arabesque, Blue Note, High Five, Verve, Enja, Koch Records and Concord Records.
More information is available in a news release on the Media Section of the UVI Website www.uvi.edu/
UVI School of Agriculture Weekly Live Updates Set for Wednesdays at 3 p.m. Anyone interested in learning more about UVI's School of Agriculture, including the Cooperative Extension Service, Agricultural Experiment Station and new Academic Programs, can tune in weekly via Zoom or Facebook live Wednesdays at 3 p.m. The weekly updates are recorded and made available for watching or listening on the UVISOA blog.
The weekly live program is co-hosted by the University of the Virgin Islands School of Agriculture communications team staff sharing information and lively interviews about UVISOA staff, administrators, community partners, stakeholders or current and past clients as they share experiences and examples of how they all work together in responding to the needs of the community.
The update on Feb. 3 included Louis E. Petersen Jr., Ph.D., speaking about the history of UVI's grant program as well as the AgDiscovery 2021 summer program. Also shared was an update on AgriFest 2021, CES publications and staff information.
For more details, visit uvisoa.blogspot.com or contact Dara M. Cooper at 693-1081 or email at dcooper@uvi.edu.
Don't Wait.  Vaccinate. Protect Yourself and Others From COVID-19; UVI Launches COVID-19 Vaccination Drive
The University of the Virgin Islands launched a COVID-19 vaccination drive for employees on both campuses. This effort was made possible by partnerships with the V.I. Department of Health, VITEMA, Red Hook Family Practice on St. Thomas and Plessen Urgent Care on St. Croix.
Appointments were made for over 160 employees to receive their vaccinations. UVI President Hall and UVI Provost Camille Mckayle, Ph.D. were among the UVI employees to be vaccinated last week. "It is imperative that persons in the community and world make an effort to receive the coronavirus vaccine," said Hall. "This deadly virus has taken so many lives and changed the very fabric of our existence."
"The coronavirus has killed over a million people worldwide. Protect yourself, your family and the people around you by getting vaccinated," said Nereida Washington, director of Campus Operations on the Albert A. Sheen Campus on St. Croix and COVID-19 point of contact for the vaccination effort.
According to the CDC, the COVID-19 vaccine will be an important tool to help stop the pandemic. Vaccines work by training and preparing the body's natural defenses – the immune system – to recognize and fight off the viruses and bacteria they target. Concerned about taking the vaccine? Educate yourself. Visit the World Health Organization and CDC websites for more information. Vaccines save millions of lives each year and are simple, safe and effective.
Visit https://www.covid19usvi.com/vaccines for information on COVID-19 in the Virgin Islands and vaccine providers in the territory.
Don't Wait. Get vaccinated to protect yourself, those you love and the community from contracting COVID-19.
Contact Washington at nwashin@uvi.edu if you have any questions.