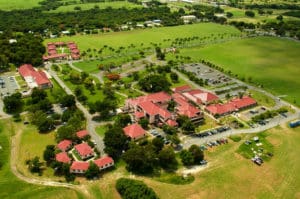 WUVI Students to Host Black History Month/ HBCU Special Program on Feb. 24 UVI students interested in attending an interactive learning activity with faculty and alumni are invited to attend the WUVI student Black History Month (BHM)/HBCU Special Program from 4 p.m. to 5 p.m. on Wednesday, Feb. 24, via Zoom. Interested participants can also watch along and comment on WUVI Radio's Facebook Live video.
Theme: "At an HBCU, Black History Month is 365," the activity will provide viewers and participants with information about historic figures and their contributions, a different way to educate about Black History Month, what they learned about the significance of HBCUs, and the uniqueness of UVI as an HBCU. Students will also have an opportunity to hear from and speak with WUVI alumni about their experiences from the past.
The activity will be recorded and shared on YouTube thereafter as part of the students' monthly assignments to practice producing live content by developing audio and using other multimedia to produce topics in an engaging manner that is relevant to their peers and general community audience.
For more information contact Dara M. Cooper at 693-1081 or email at wuvi@uvi.edu.
VI SBDC Increases Training Activity to Accommodate Entrepreneurs and Small Businesses affected by COVID-19 The Virgin Islands Small Business Development Center (VI SBDC), the territory's premier provider of free consulting, low-cost training and technical assistance, has recruited experts from both the public and private sector to provide business education training during Covid-19.
"Distinguished as one of the most challenging times for small businesses across the nation, our territory has not been exempted," said Ted. J. Gutierrez, state director of the VI SBDC. "We want our clients to know that we are prepared to help their businesses grow and succeed. USVI entrepreneurs, small business owners and non-profits are encouraged to utilize our live and published webinars at their leisure."
More information is available in a news release on the Media Section of the UVI Website www.uvi.edu/
CFVI Awards Grant to Make Accessible Revised Organic Act of 1954 — Sekou and Leary to Undertake Task Virgin Islanders everywhere will soon have user-friendly access to the founding documents of the U.S. Virgin Islands.  University of the Virgin Islands Professor of Political Science and History Malik Sekou, Ph.D., has been awarded a grant in the amount of $20,000 from the Community Foundation of the Virgin Islands (CFVI) for the purpose of creating an integrated, easily accessible, plain language brochure of the Revised Organic Act of 1954, that provides both the legislation and its amendments in both electronic and hard copy formats. This project is a collaborative effort between Sekou and professor emeritus Paul Leary, Ph.D. He served as professor of political science at the university for 25 years before retiring in 1997.
The Revised Organic Act of 1954 declared the Virgin Islands to be an unincorporated territory and it completely reorganized its government, abolishing the two existing municipals with their separate municipal government councils and joint legislative assembly, and creating a single territorial government with a single legislature. This Act made comprehensive and complete provisions for the legislative, executive and judicial branches of government, defining their duties and imposing many specific limitations upon them.
More information is available in a news release on the Media Section of the UVI Website www.uvi.edu/
Distinguished Culture and History Lecture Series to be held Via Zoom on Feb. 25 The offices of the president and provost present the Distinguished Culture and History Lecture Series featuring the Virgin Islands Studies Collective. The UVI community as well as the wider Virgin Islands community are invited to the upcoming Distinguished Culture and History Lecture Series, which will be held in four parts this semester.
The first part will be held at 1 p.m. (AST) on Thursday, Feb. 25, via Zoom and will feature Tami Navarro, Ph.D., UVI's scholar-in-residence as the guest lecturer.  Navarro will present on the topic: Offshore Banking as Development: Engaging the EDC Program.
Please register at this link:
https://zoom.us/meeting/register/tJckceyuqTooHNQWJZyq5HMFzI-Ir2HSfXmd
After completing the registration, you will receive a confirmation email with the Zoom meeting ID.
For more information, contact Caira Isaac at 692-1401 or by email at Caira.isaac@uvi.edu
Afternoon on the Green 2021 to be Celebrated Virtually Afternoon on the Green goes Virtual! Join us from March 15-21 as we celebrate one of our most highly anticipated events.
Hosted under the theme "We Stream Green Afternoon on the Green 202," you will only be but a click away from all the exciting activities.
Afternoon on the Green promises to be great, so save the date.
UVI School of Agriculture Weekly Live Updates set for Wednesdays at 3 p.m. Anyone interested in learning more about UVI's School of Agriculture (UVISOA), including the Cooperative Extension Service, Agricultural Experiment Station and new Academic Programs, can tune in weekly via Zoom or Facebook live Wednesdays at 3 p.m. The weekly updates are recorded and made available for watching or listening on the UVISOA blog.
The weekly live program is co-hosted by the University of the Virgin Islands School of Agriculture (UVISOA) communications team staff sharing information and lively interviews about UVISOA staff, administrators, community partners, stakeholders or current and past clients as they share experiences and examples of how they all work together in responding to the needs of the community.
The update on Feb. 3 included Louis E. Petersen Jr., Ph.D., speaking about the history of UVI's grant program as well as the AgDiscovery 2021 summer program. Also shared was an update on AgriFest 2021, CES publications and staff information.
For more details, visit uvisoa.blogspot.com or contact Dara M. Cooper at 693-1081 or email at dcooper@uvi.edu.