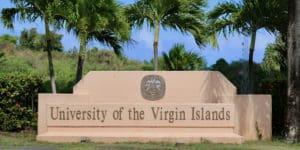 UVI Closed for Martin Luther King Jr. Holiday on January 17 The University of the Virgin Islands will be closed in commemoration of the Martin Luther King, Jr. holiday on Monday, Jan. 17.
Classes and administrative offices will resume on Jan. 18, at their normal regularly scheduled times.
Virgin Islands Water Resources Research Institute Call for Proposals FY 2022-2023 The Virgin Islands Water Resources Research Institute (VI WRRI) is soliciting proposals that address water resources issues in the U.S. Virgin Islands, especially those that are focused on providing water quality and quantity information, understanding water availability, addressing the influence of climate on water resources, and responding to water-related emerging needs. Projects must relate to freshwater resources or understanding how watershed processes affect immediately adjacent nearshore coastal waters. Projects must advance water-related science, management and/or education in the territory and be strongly linked to community needs.
Those with strong training and/or outreach components are preferred, especially training of students. In 2022, VI-WRRI is especially interested in supporting research assistantships ($24k/year), tuition and/or project funding support for UVI Masters of Marine and Environmental Science students on the types of issues and projects described above.
All faculty and staff of the University of the Virgin Islands are eligible to apply for these funds. Collaborations with other territorial and non-territorial stakeholders (non-UVI personnel) are allowed and encouraged. Those seeking UVI collaborators are encouraged to reach out directly to those individuals. Proposals up to $55,000 will be accepted for 2022-2023. This grant does not allow IDC on the federal portion, so project budgets may go further than expected.
For a proposal application packet, contact kristin.wilson@uvi.edu.
Proposals are due at 4 p.m. AST, Thursday, Jan. 28.
For more information, contact Kristin Wilson Grimes by email at Kristin.wilson@uvi.edu
The Agriculture and Food Fair Board of Directors Announces Postponement of 50th Annual Agriculture and Food Fair The Agriculture and Food Fair Board of Directors announces the postponement of the 50th Annual Agriculture and Food Fair of the Virgin Islands. The 2022 fair is now scheduled for May 28, 29 and 30.
Vendor applications will be available beginning Feb. 1.
The board wants the 50th Jubilee to be celebrated in grand fashion, keeping the safety and wellbeing of the Virgin Islands community in mind. It anticipates the fair can be safely executed in May 2022 in a manner that truly represents its golden jubilee.
Due to the ongoing uncertainties of the COVID-19 pandemic and the recently discovered new variant, The board has made this decision. Agricultural and Food Fair Board apologizes for any inconvenience and disappointments this may cause and thanks the Virgin Islands community for its understanding and continued support throughout the years.
For additional information, contact Marthious Clavier at the School of Agriculture by email at mclavie@uvi.edu
The UVI Library Invites Both the VI and the UVI Community to Participate in a Bi-monthly Virtual Book Club  Tiphanie Yanique's first novel, "Monster in the Middle," will offer an opportunity to celebrate a local author and read an interesting story and connect with others through shared interests. Join the library staff as they delve into the lives of "Fly and Stella" who discover their identities, passions and what it means to love one another.
Copies of the novel will be available at both campus bookstores: Bookstore 340 on St. Thomas, and the Under Cover Books and Gifts in Christiansted on St. Croix.
The first meeting is scheduled for the end of January via Zoom.
Sign up here to participate and to receive more information as the UVI Library continues to plan.