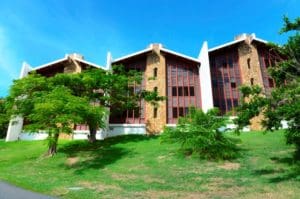 UVI Closed for Thanksgiving Day and Fortsberg Day Holidays; Nov. 25-26 The University of the Virgin Islands will be closed to commemorate Thanksgiving Day and Fortsberg Day on Nov. 25 – 26, respectively.
Administrative offices will resume on Monday, Nov. 29, at their scheduled times.
The UVI Library Invites VI and the UVI Community to Participate in a Bi-monthly Virtual Book Club Tiphanie Yanique's first novel, "Monster in the Middle," will offer an opportunity to celebrate a local author and read an interesting story and connect with others through shared interests. Join the library staff as they delve into the lives of "Fly and Stella" as they discover their identities, passions and what it means to love one another.
Copies of the novel will be available at both campus bookstores: Bookstore 340 on St. Thomas and the Under Cover Books and Gifts in Christiansted, St. Croix.
The first meeting is scheduled for the end of January via Zoom.
Sign up here to participate and to receive more information as we continue to plan:
https://forms.office.com/Pages/ResponsePage.aspx?id=nphFJVUI_ECJhY071BbpAaShcGT-zBdBrIlQdR_-r3BUME9TUk9PRlpLN0dIR1IxNUlJVVVFRUdGSy4u
Miss UVI Reigns Supreme at National College Queens Competition Jackeima Flemming Crowned Miss NBCA Hall of Fame 2021-2022 University of the Virgin Islands Student Ambassador Miss UVI Jackeima Flemming was crowned Miss National Black College Alumni (NBCA) Hall of Fame 2021-2022 on Saturday, Nov. 13, in Atlanta, Ga. Flemming competed against 19 other contestants from other Historically Black Colleges and Universities (HBCUs) and is the third UVI queen to bring the coveted crown and title home.
"I am happy that I achieved my ultimate goal of making UVI proud as a goodwill ambassador and  Student Government Association president," said Flemming. "I hope that I have inspired my student peers to remain resilient and rooted in the legacy of those before us. Despite the adversities, I am proud to say that UVI with its culture of student care and support made this happen."
Contestants vying for the NBCA Hall of Fame title were judged in the following segments: personal interview; oratory, poise and projection, which included the evening gown segment; talent; and question and answer. Flemming was selected as a top 10 finalists and then as a top five finalists before being crowned Miss NBCA Hall of Fame. "I am proud that my HBCU prepared me to excel, and I can now use what was instilled in me, as a national ambassador for all HBCU's," added Flemming.
More information is available in a news release on the Media Section of the UVI Website www.uvi.edu/
VIUCEDD Open House: Reopening of ADDRC and Clinical Services The Virgin Islands University Center for Excellence in Developmental Disabilities (VIUCEDD) is hosting an open house for the reopening of the Autism and Developmental Disabilities Research Center (ADDRC) and a preview tour of the Physical Therapy and Gait Mobility Clinic from noon to 2 p.m. on Friday, Dec. 3, at the VIUCEDD office on St. Croix.
This is an invitation only event.
For additional information, contact Dr. Kimberly Mills, Ph.D., at 692-4265 or email Kimberly.mills@uvi.edu.