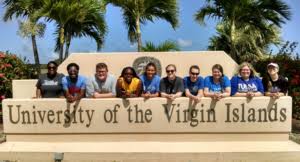 2021 Free Virtual College Fairs The Virgin Islands community is invited to join The University of the Virgin Islands (UVI) at the National Association for College Admission Counseling (NACAC) Virtual College Fairs.
The 4-Day Fairs will take place on the following dates: Sunday, Oct. 3; Sunday, Oct. 24; Tuesday, Nov. 2 and Sunday, Nov. 14.
Attendees will have the opportunity to get a detailed look into the degree and certificate programs offered by UVI and other universities as well, meet with the housing director and gain a clearer understanding of UVI's admissions process.
To register click the following link: https://virtualcollegefairs.org/conventions
For more information, call the Orville E. Kean (OEK) Campus – Admissions Office at 693-1097 or the Albert A. Sheen (AAS) Campus – Admissions Office at 692-4158.
Coastweeks Cleanups Continues Through October The Virgin Islands Marine Advisory Service (VIMAS) is seeking volunteers to assist with upcoming Coastweeks cleanups through October on both St. Thomas and St. Croix at various beaches.
Interested volunteers should register for cleanups using: https://forms.gle/NMjEo6bkRMvKpsUU9
These cleanups help to remove trash found on coastlines and roadways that could negatively impact valuable wildlife and ecosystems of the U.S. Virgin Islands. Students are eligible to receive community service hours for attending these cleanups.
For more information, contact Howard Forbes Jr. at 693-1672 (STT), Marcia Taylor at 692-4046 (STX) or email howard.forbes@live.uvi.edu.
UVI Communication Student Recognized at White House Press Briefing A University of the Virgin Islands (UVI) communication student made history last week as a participant in a special White House briefing. UVI senior, communication major and contributing writer for UVIVoice2.0, George Francis, joined other student journalists from 21 Historically Black Colleges and Universities (HBCUs) in a virtual White House briefing with Deputy Principal Press Secretary Karine Jean-Pierre on Sept, 10. In the half-hour live streamed event, Francis had the opportunity to directly interview Jean-Pierre as a professional journalist would in a White House press conference. The event was part of the first ever White House HBCU Week held in collaboration with the White House Initiative on HBCUs. The week's activities marked debut demonstrations of initiatives put forth by the new administration.
Jean-Pierre interacted with student journalists in a question-and-answer format. Each student interaction averaged four minutes, and schools were called in alphabetical order, with UVI being last on the list.  "I was humbled to be granted this opportunity to interview the deputy press secretary from our nation's highest office," said Francis. "To be quite honest, I was really nervous as I sat waiting for my name to be called, but I knew I would have to do my best to represent the territory, my university, the UVI Communication Department and our student newspaper, UVIVOICE 2.0."
More information is available in a news release on the Media Section of the UVI Website www.uvi.edu/
UVI School of Agriculture to Observe World Food Day    On Sunday, Oct. 17, the University of the Virgin Islands School of Agriculture (SOA) Cooperative Extension Service will observe World Food Day from 1 p.m. to 6 p.m. This event is open to the public. Join us in our second virtual experience of this event. The program will include a formal opening ceremony, workshops, demonstrations, entertainment, and free vegetable seedlings. This year's World Food Day theme, selected by the Food and Agriculture Organization (FAO) of the United Nations, is "Our actions are our future – better production, better nutrition, a better environment and a better life."
Each year, three agricultural products are highlighted, and this year's selections are pepper, papaya and goat. The seedlings distribution will start at 1 p.m. and end at 3 p.m. on the grounds of the V.I. Department of Agriculture.
The World Food Day opening ceremony will begin at 4 p.m. followed by educational workshops on pepper, papaya and goat, until 6 p.m. via Zoom.
The Zoom ID is: 993 3904 8458.
Persons who attend the educational workshops will be eligible to receive additional seedlings. World Food Day, which is officially celebrated on Oct. 16 but observed worldwide during October, brings attention to the plight of the hungry and undernourished in the territory and the world.
More information is available in a news release on the Media Section of the UVI Website www.uvi.edu/  
The Virgin Islands Marine Advisory Service (VIMAS) to resume Glass Collections The Virgin Islands Marine Advisory Service (VIMAS) will be resuming the collection of glass beverage bottles however, this will be done by appointment only.
E-mail Howard Forbes Jr. at howard.forbes@uvi.edu to schedule a drop-off of glass beverage bottles. Bottles will be collected at the University's MacLean Marine Science Center and not at the former West Bay Super Market's parking lot.
For additional information, contact Howard Forbes Jr. at 693-1672.