Dinosaurs and masks were just a few of the exciting features of the impressive St. John School of the Arts original musical production "World of Dreams" fundraiser at the Westin Resort and Villas on Friday night, January 27.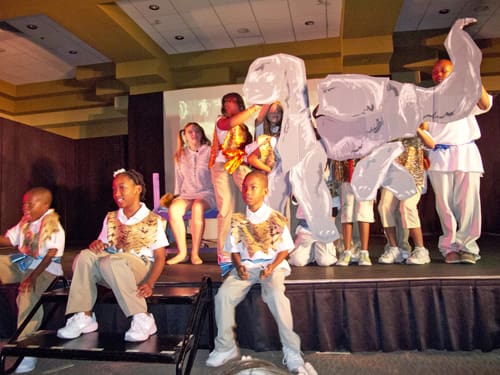 "Amazing," "stunning," and "incredible," were just a few of the pronouncements made by the audiences which filtered out of the Westin Resort and Villas ball room on Friday night, January 27, following both performances of "World of Dreams."
After three weeks of tireless work — all donated by five esteemed Broadway actors who also paid their own airfare to the island and spent about 40 hours each week with students — fourth grade students from across St. John amazed their family members, friends and St. John School of the Art supporters with impressive performances of the original musical production of "World of Dreams."
Fourth grade students from Gifft Hill School, Julius E. Sprauve School and Guy Benjamin School, along with St. John School of the Arts students, led the audience on a wild, wonderful, scary and fantastical journey through the dream world.
From pirates and colorful fish, to zombies and fairies, "World of Dreams" kept the audience on the edge of its seat and alternating between bouts of laughter and fighting the urge to jump up and dance along.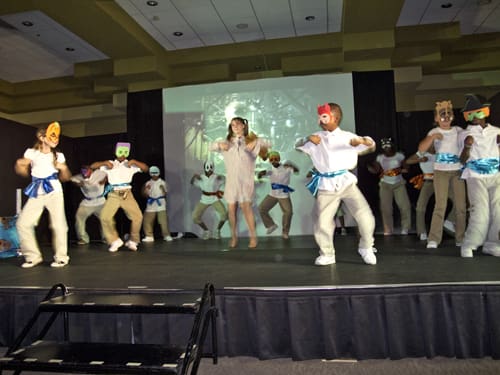 Students from JESS, GBS and GHS and SJSA thrilled the audience during two sold-out performances of "World of Dreams."
The brainchild of SJSA board of directors member Ronnie Lee, who has extensive ties to Broadway dating back to his teen dancing years, last week marked the second Broadway Comes to St. John SJSA fundraiser.
The program funds the only St. John arts school, which in addition to offering an array of classes at its facility also leads arts classes at schools across the island. Each school agreed to work with SJSA on the program which imparts cooperation, coordination and camaraderie along with the actual learning of the dances and songs, not to mention being a part of a critically acclaimed show.
Five professional Broadway actors, John Tartaglia, Laura Barnao, Rhonda Miller, Michael Shawn Lewis and Donna Drake, arrived on St. John in early January and dove head first into the task of teaching each step in each dance and each word to each song to the students. The actors also worked closely with SJSA dance students who rounded out the January 27 performance, taking the lead in the crowd favorite "Thriller" number.
There was no one star in "World of Dreams," instead each student played a vital role in the show which added up to one impressive evening. SJSA sold angel tickets for $200 each for the 6 p.m. performance, which also included a champagne reception and dinner at one of Cruz Bay's top restaurants, and school officials had no problem selling out of the 100 seats set aside.
The 8 p.m. performance was open to the public for a suggested, but not mandatory, donation and the community came out in force. There was standing room only for the 8 p.m. show, but not one member of the audience was heard complaining about having to stand.
SJSA also sold raffle tickets for a three-night New York City stay, tickets to three Broadway shows, and dinner at several top restaurants and Miles and Susan Stair were the big winners! SJSA board of directors member Lee also auctioned off two tickets to the widely popular Tony-winning Broadway show "Book of Mormon," which fetched SJSA about $2,000, thanks to Andy and Joy Stillman who won the bidding war.
Before the last piece of glitter even fell to the carpeted floor of the Westin ball room, the night was proclaimed a rousing success! Bravo!