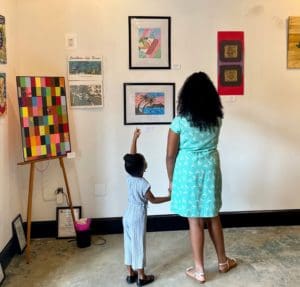 The 13th annual Youth Art Month Student Exhibit will take place on St. Thomas at the Virgin Islands Children's Museum located in Buccaneer Mall on Saturday, March 20, and on St. Croix at CHANT (Crucian Heritage and Nature Tourism) located in Frederiksted on March 27. Both events will take place from 5-8 p.m.
Even after experiencing an entire year of social distancing, sickness and deteriorating mental health, art is still fighting for its place in the Virgin Islands community. In its many forms, art has the power to encourage, enlighten and inspire. No one is more in need of inspiration than the children in our community. Art is often overlooked and, unfortunately, so are the needs of the children. Citizens may not question the need for a streetlight or a bridge because they use those things from time to time. Unless people experience art and witness the positive effects of it, they may never see the need for it.
The main purpose behind Youth Art Month is to increase community understanding and interest in art and art education so that we may recognize that art is necessary for the development of divergent and critical thinking skills. Children who develop these skills will become adults who possess these skills, which will ultimately result in a more elevated community.
Maria Stiles, co-chair of the Youth Art Month Regional Council, expresses the importance of art. "In these times, we have to learn how to flex, shift and redirect with grace. This is a skill that cultivating the arts blesses us with. The arts teach us to creatively problem-solve every step of the way and to transmute what feels like chaos into something innovative, beautiful and awesome."
"In addition to being a community resource, the V.I. Children's Museum aims to always inspire a lifetime love of learning, and learning isn't just for children. It's important for children and their parents to explore their interests and to develop the ones that are most important to them. Someone may never become the best in the world at something, but you can do the work to do your best," said the museum's Executive Director Chantel Hoheb. "This is our first event in the museum since we reopened at the end of September, and I'm happy to help show children that there are spaces in our community where their creativity can be admired and encouraged."
Students who are being homeschooled and students from the following organizations will be participating in this Youth Art Month Student Exhibit.
-Bertha C. Boschulte Jr. High School
-V.I. Montessori School & Peter Gruber International Academy
-Holistic Family Support Coalition Homeschool Collective
-Charlotte Amalie High School
-The University of the Virgin Islands
-V.I. Student Gallery Online
-The Art Explorium
-We Grow Food Inc.
-Addelita Cancryn Junior High School
-Ivanna Eudora Kean High School
-V.I. Council of the Arts
-The Art Exchange
-St. John School of the Arts
-Yvonne Millner-Bowsky Elementary School
-Ulla F. Muller Elementary School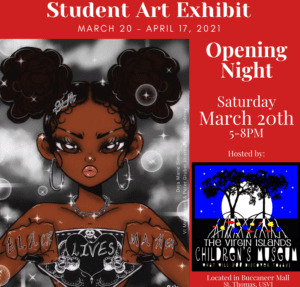 The V.I. Children's Museum has a 50 person capacity due to the COVID-19 pandemic; therefore, there will be no eating or drinking allowed inside, and masks will be required to enter the museum and enjoy the exhibit. Because of this limit, the event program will be live on Facebook so that art supporters who may not be able to make it can still experience the creativity of Virgin Islands youth. The program will include a spoken word performance, a short dance performance and a few words from Karim Callwood, who will also be releasing the first V.I. superhero comic book that he wrote and illustrated, entitled "VI Guardian Alpha."
"While the event focuses on youth art, we thought it would be extremely encouraging for students to see the possibilities within the art world. If just one child leaves the event with the thought that they can create their own comic book one day, the event would have been a success," said Hoheb.
Callwood will have coloring pages from his comic book for children to take home and he will be signing copies of his book, which he will have for sale.
Deja Maria Simon, the artist who created the piece featured on this year's St. Thomas version of the flyer, won first place in the Love & Change in the Time of Corona Art Contest and has since created her own website to sell her art. She is a wonderful example of students who are encouraged to create and express themselves.
Be sure to like the V.I. Children's Museum on Facebook and join this event. To receive updates, go to www.bit.ly/3lbPGEd.