It doesn't seem like fourteen years ago that the fledgling annual Festival was started, but since then, we have seen it steadily take root with visitors and islanders alike looking forward to it.  St. John is unique in that respect. 
Many different events have been sponsored in the past: from Puerto Rican mariachi bands, arts and crafts from Ghana and Kakuta of the Maasai from Kenya, to name just a few, bringing a variety of other cultures to this small island, widening its vista while providing a platform for displaying the special music, arts and crafts of the people of St. John and the U. S. Virgin Islands.
Although staffed by enthusiastic volunteers, the consistent sponsorship of the Virgin islands Council on the Arts, the Department of Tourism , and the local businesses has been, and still is, crucial to providing a high standard of professional artists and performers.
This year's program, centered in Franklin Powell Sr. Park, Cruz Bay, kicks-off at noon on Saturday 15th February ­— "Children's Day," — with the "Love City Pan Dragons," a children's steel pan band, followed by a children's Choral Concert, and finishing with a performance by the "Love City Leapers," a children's jump-rope team.
On Sunday at 2 p.m. there will be a Gospel Concert with choirs from local churches, followed by traditional island Quadrille Dancers.  Then, on Monday (President's Day) the very colorful and talented Caribbean Ritual Dancers, with children Moko Jumbies, performs in the Park followed by Koko and the Sunshine Band playing classic old-time scratch band songs.
To keep things lively, on Tuesday afternoon, St. John's own, first-class reggae band, the Inner Visions, will be playing in the Park followed by the South American Sambacombo Band on Wednesday to round off the Park events.
All the while, there will be a select exhibition of hand-made island crafts in both the Dept. of Tourism's little park and the main park.
A show of children's art will be on the 2nd floor of the Market Place, as in past years.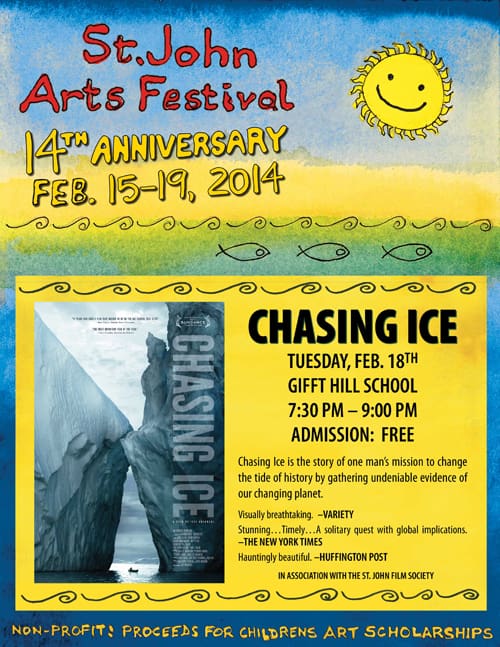 On Tuesday evening at 7.30pm at the Gifft Hill School auditorium (upper school building) there will be a special showing of the film "Chasing Ice," in association with the St. John Film Society. This film is a must-see to actually witness, in time-lapsed filming, the dramatic effects of global warming on the Artic Ice Cap.
That's just a brief sample of the program at this point.  The full program will be published in a week or so.
Enjoy this little jewel of St. John.