Youth prevailed at the Friends of the V.I. National Park fourth annual Beach-to-Beach Power Swim on Sunday morning, May 27, where 16-year-old St. Croix resident Annie Myrvang took first place with a time of 1:20:00.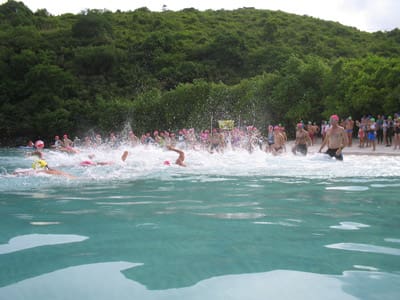 The event, where participants swim from Maho to Hawksnest beach, is a fundraiser for the Friends. This year's swim attracted 145 participants.
"It's growing in popularity," said Karen Brady of the Friends. "People know about it. It has recognition."
Many visitors are now planning their vacations around it, explained Brady, who added there were 20 to 30 stateside participants in this year's event.
Myrvang, who, along with her parents, made the swim part of a mini St. John vacation, trains with the Dolphins swim team on St. Croix.
"The swim was hard, but I had a lot of fun," said Myrvang. "I really like open water swimming. I saw a lot of pretty fish."
Conditions for the swim were close to ideal, although the surf was a bit high.
"The surf is a little higher than in years past," said Brady. "We've been so lucky. We've had nothing but perfect weather in the past years."
Twenty-seven-year-old St. Thomas resident Dave Nielsam, who has swam competitively from fourth grade through his second year in college and now works with V.I. Ecotours, took second place.
"I stayed strong the whole way," said Nielsam. "I do a lot of kayaking for my job, which is pretty much the same motions as swimming."
Forty-nine-year-old Barb Crowder, a resident of California who owns a home on St. John, took third place in this year's event.
"I just did my normal workouts in preparation, which is 3,000 to 3,500 yards four times a week, and I swim in open water when we're here on St. John," said Crowder. "I used to be a competitive swimmer, when I swam at the national level."
"Safety Is Paramount"
One of the most important aspects of the Beach-to-Beach Power Swim is safety. The Friends had three layers of protection in place, explained Brady.
"Safety is paramount when you have 145 people in the water you're responsible for," she said. "We have a kayak crew of 25 who stay with the swimmers and can provide assistance. There's a power boat in each bay, and if anyone needs further medical assistance, they can be passed off to a VINP boat."
St. John Rescue and the local radio club were also on hand, and each power boat was manned with a trained first responder.
The power swim not only brings in money for the Friends, it highlights the beauty of the VINP, explained Brady.
"It's in the Park, and it highlights two of its most special features — the water and the beaches."