Pictured above: Julius E. Sprauve School students smile for the camera. St. John Tradewinds photo. 
As you walk the streets of Cruz Bay, have you noticed how much conversation in Spanish you hear?  Have you wondered how many Spanish speakers now live on the island?
Here's a surprising fact:
Of the 285 children currently enrolled in grades K-8 at the Julius E. Sprauve School, 70 are English language learners, according to Principal Marion Lynch-Esannason.  That's just about one-quarter of the school's population.
The populations of immigrants from the Dominican Republic and from Haiti have been growing on St. John, but it's difficult to determine by how much.  The population of English language learners (ELL's) in the public schools does give some indication of the changing demographics on St. John and the territory overall.
How is the Sprauve School, St. John's only public school, coping with the influx of English language learners?  What steps are being taken by the Department of Education to address the needs of these children?  And are the problems unique to St. John?
Lynch-Esannason, who took over as principal of the Sprauve School in the fall of 2016, said the school is doing its best to meet the needs of English language learners.  She served as an assistant principal at the Cruz Bay School from 1997-1999 and has noticed that "So much has changed since then."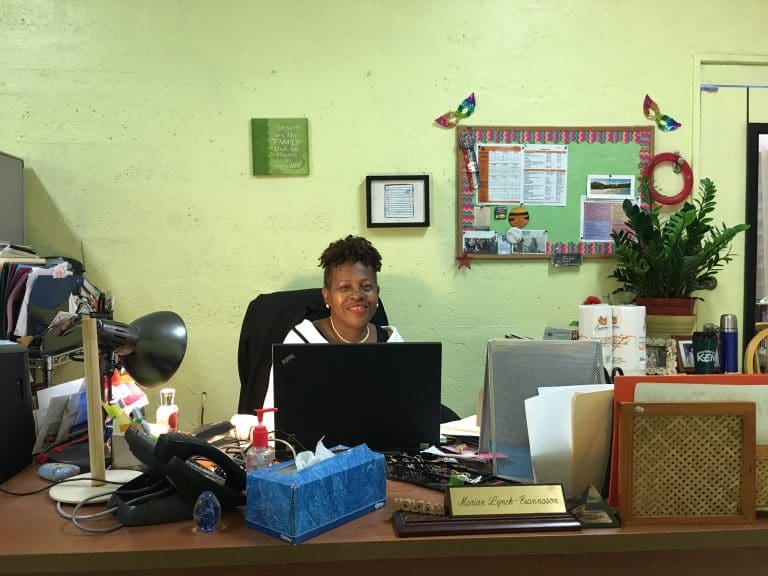 The Sprauve School now has one full-time English as a Second Language (ESL) teacher for the older students in grades 6-8.  The school also employs one full-time substitute teacher, a retiree, who works with small groups of English language learners (ELL) who are mainstreamed into regular classes from kindergarten through fifth grade.
But the situation is not ideal.  "We really need someone else," said Lynch-Esannason.  "I'd like to see a self-contained classroom for them.  To me, it works better, especially for the elementary students."
Low Teacher Salaries Affect Staffing
 The Sprauve School is not the only school looking for teachers of English as a Second Language. The Lockhart School and the Gomez School on St. Thomas, two of the largest in the district, also need ESL teachers, according to Dr. Migdalia Arthurton, District Coordinator for English Language Acquisition.
In the St. Thomas-St. John district, the population of ELL's has "jumped by about a hundred from last year to this year," Arthurton said.  She is now seeking to address the needs of 908 ELL's in the district who were registered as of March 2017 "and we're still getting children who are entering the system," she said.
The problem is finding qualified teachers who are willing to work for the salaries, which start at around $34,000 for new teachers.  ESL teachers do more than teach regular Language Arts, according to Arthurton.  "They're also teaching how to use the language.  You need someone certified.  "We've tried through Human Services to go out and recruit, but the salary is an issue, and my kids get caught in the middle."
Arthurton said the fiscal crisis in Puerto Rico may result in the closing of up to 300 schools there; teachers who are in danger of losing their jobs have expressed interest in applying for positions in the Virgin Islands, but the cost of living in the USVI scares them off.
The cost of living is driving even experienced teachers out of the profession in the USVI. One St. John native, an ESL teacher who had taught at Sprauve for five years, resigned from her job last year because she couldn't make ends meet on her salary.
"I couldn't pay my rent on the salary.  I had to teach, coach, and do after-school part-time jobs just to feel comfortable," the teacher said.  She took a full-time job with a villa management company instead.
Teachers in 2017 are still working off the 2011 salary scale, according Avery Lewis, president of AFT the St. Thomas-St. John American Federation of Teachers.  "We're way, way, way behind," he said.
Furthermore, all USVI Government employees had to take an 8% pay cut starting in 2011; shortly after that, contributions to the retirement system for some employees increased, further reducing take home pay.
Language Competency Takes Years to Acquire
Arthurton said to compensate for the shortage of ESL teachers, she tries to provide extensive professional development for mainstream teachers who are working with ELL children.
To acquire language competency, what Arthurton refers to as "social language," takes two to three years "if a child comes in with a foundation in his first language." said Arthurton. "When kids are small, they're sponges.  Developing language competency to master subject areas takes longer. The cognitive side, where they use the new language for math, science, and social studies takes five to seven years," she said.
Cultural Factors Affect Education
Lynch-Esannason said cultural factors also affect the educational process for English language learners at the Sprauve School.
"Sometimes the children leave for Christmas and don't come back for a month," she said.
She'd like to engage the ELL's parents more, but the process is tricky.  Some of the parents are not confident in their own ability to communicate in English and don't want to attend meetings.  Others are scared to come to school because of their immigration status.
"If there is an issue, they'll come in," she said.  "Some of the children have behavioral issues, and their parents feel they're being picked on.  Some of the older children are here with a mom or dad and want to be home [on their native island] with the other parent.  I feel sorry for some of them," she said.
Critical After-School Program Needs Funding
Dionne Wells-Hedrington, the Superintendent for the St. Thomas-St. John District, said that funding from the VI Department of Education has been scaled back, but individual schools within the district have taken advantage of federal grants to maintain programs that help English language learners.
Several years ago when she was a school principal on St. John, Wells-Hedrington worked with community partners to obtain funds through the 21st Century Community Learning Centers program.  This program provides funding to schools, but not to school districts.
When Wells-Hedrington was promoted to superintendent, she asked her mother, Yvonne Wells, also a former St. John school principal, to come out of retirement and direct the program.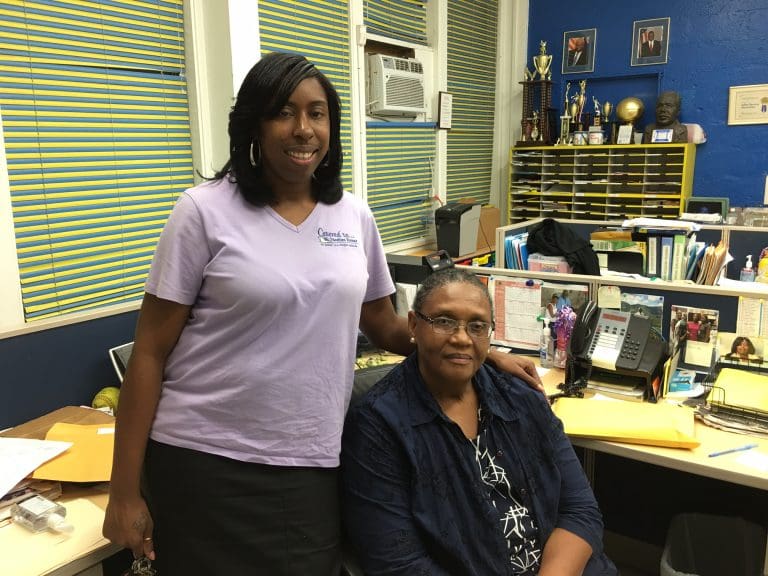 For the past three years, the ELL children at the Sprauve School have had the opportunity to get extra help after school through the 21st Century program.  But funding for this program is in question, according to Program Director Yvonne Wells.
"The federal grants office has indicated it has funding for 75% of the fourth year," said Wells.  "It was originally intended for only three years.  For the program to continue, we will have to work with the St. John Community Foundation to see if we can obtain additional funds and assist in getting the proposal to the federal office," she said.
Funding for the Sprauve School's 21st Century grant program ends for the academic year this month, but the program will start up again during summer school from July 5 through August 11.  Yvonne Wells plans to retire (for good, this time) at the end of the summer.
Wells is hoping that the teachers and administrators at the Sprauve School will get involved in efforts to extend the funding for the after-school and summer programs.  "It's very important for people within the schools to participate because we use their classrooms," she said.
The after-school program is important to all the children who participate, but especially for the English language learners.  "We see that there's a definite need to build a bridge to the Hispanic and Haitian populations," said Wells.  "These children need extra help at the start."