The CSM Robert Gallagher Memorial Chaotic Kayak Race took place in the early afternoon of July 23. Taxis and the Sadie Sea shuttled dozens of long time fans and newcomers to Oppenheimer Beach for several hours of food, drinks, raffle prizes and kayak races, with all proceeds going to benefit the efforts of Team River Runner.
Team River Runner is a well-respected organization within the community and throughout the country. Founded in 2004, this group has made annual trips to St. John with groups of wounded veterans. The group's mission statement is, "To create an environment of healthy adventure, recreation and camaraderie for healing active duty, veteran service members and their families through adaptive kayaking." With their core values of quality, inclusiveness, fun, volunteerism and natural resources, Team River Runner consistently provides substantial support to those that protect the nation, and their families.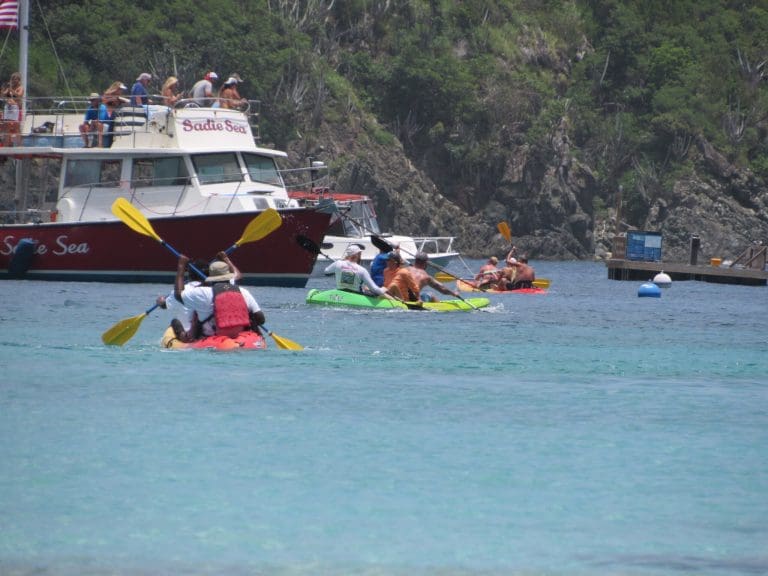 TRR member Shelton Gore had much praise for the staff, volunteers and attendees. As a member for 6 years, Shelton has a firm understanding of the amount of work and dedication it takes to organize the trips for service members. "For sure I need to thank all the staff, our volunteers, and the people who have donated. Without all the work of our team and the support of the community, the work we do would not be possible."
Shelton also expressed his satisfaction with the event itself along with the location. "The renovations they've made over here are awesome, it looks really great. We got some new teams this year and we have raised a lot of money. I have confidence that this year we will continue to raise more so we can get more veterans down here."
[adrotate group="6"]
In addition to fundraising, the Chaotic Kayak Race is also intended as a memorial for the late Command Sgt. Maj. Robert "Bob" Gallagher, who served in countries such as Panama, Kuwait, Baghdad, Somalia, Iraq, and more. Gallagher also served during Operation Iraqi Freedom, and as a platoon sergeant with Task Force Ranger during an important battle in Mogadishu, Somalia (which was later depicted in the film Black Hawk Down). Gallagher offered much help and support to Team River Runner, and the event was dedicated to him after his death in 2014.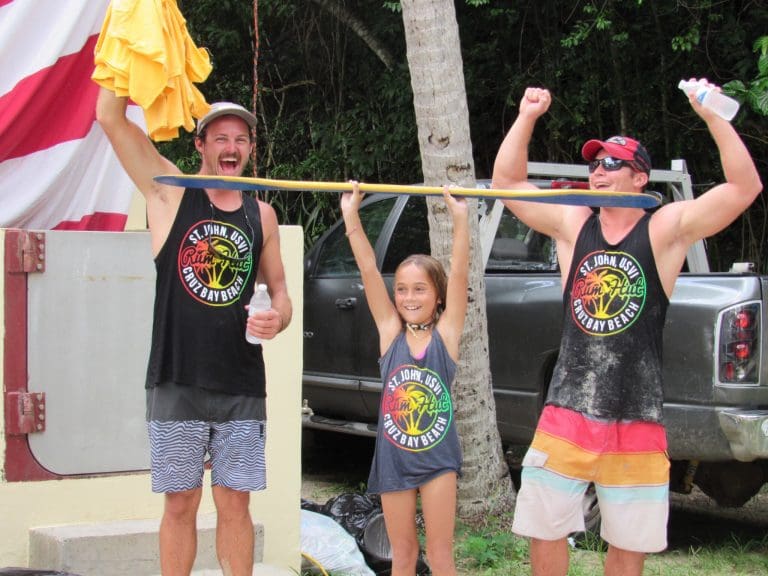 Teams for the kayak race consisted of the various businesses, bars, restaurants and hotels of the community of St. John that have provided donations to Team River Runner. Each team faced off against each other in different heats to win the esteemed winner's paddle. Participants included Cinnamon Bay Water Sports, Southern Glazer's Wine and Spirits, Arawak, Westin Resort, Longboard, Rhumb Lines, Kiote Sails, High Tide, Skinny Legs, ZoZos, Ocean Grill, Woody's, V.I. Eco Tours, Disco Sandcastle, Barefoot Cowboy, Beach Bar, 420 to Center, Indigo Grill, Drink!, Sadie Sea, News of St. John, Joe's Rum Hut, Sun Dog Cafe, Salute Charters, and Dog House Pub St. John.
By the end of that afternoon, Joe's Rum Hut came out on top as the winners of Chaotic Kayak race. Beach Bar was announced as the team that donated the most money raising a total of $7,265, and an additional M.V.P award was given to Tom Larson with Sadie Sea Charters for his continued support of Team River Runner and the Chaotic Kayak Race.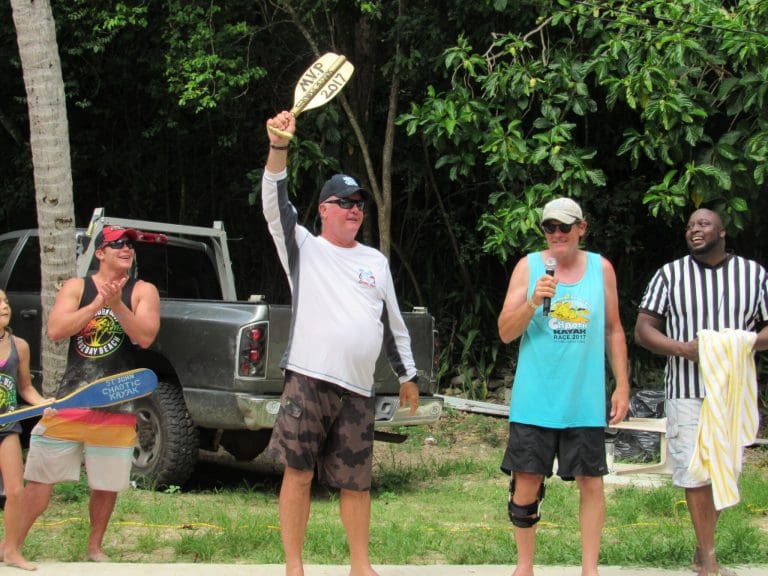 This year, Team River Runner raised $43,660 for their wounded veteran services. It was announced that the funds raised would cover at least four trips to St. John throughout the year, and that stand up paddle boarding would be added to their list of activities for veterans.
More information on Team River Runner and ways to donate can be found at https://www.teamriverrunner.org/Donate.  More information on the CSM Robert Gallagher Memorial Chaotic Kayak Race can be found on their Facebook Page.
Editor's note: Beach Bar has been correctly named the team that raised the most money for the fundraiser. Previously, Tradewinds listed Team Sadie Sea listed.