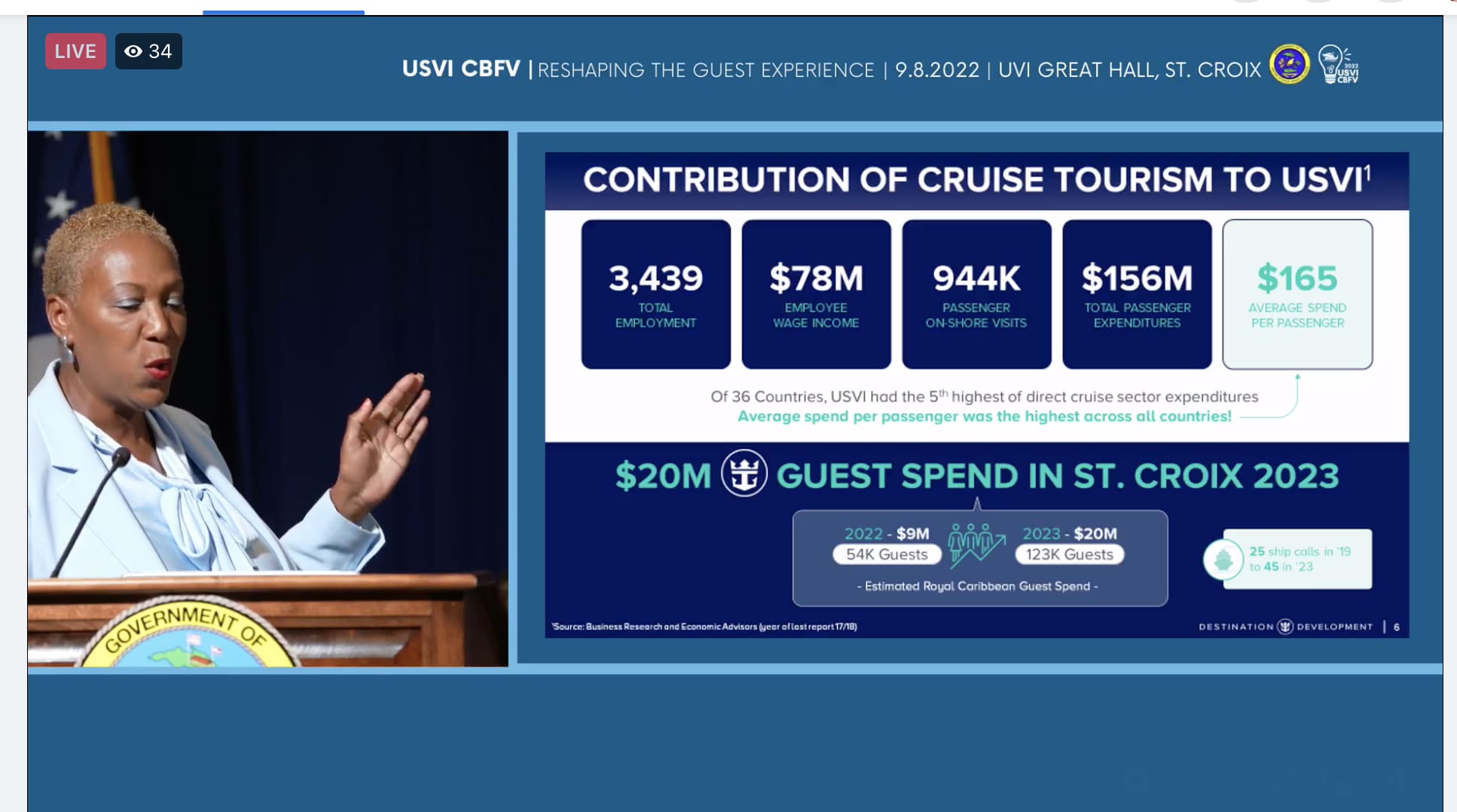 The much-heralded near-tripling of cruise passengers to St. Croix could generate $20 million in guest spending from Royal Caribbean Group ships alone, officials said Thursday. They also said the island's tourism product had a lot of room to grow.
Speaking at a Community Business Forum, Gov. Albert Bryan Jr. rattled off a long list of preparations made for the Royal Caribbean cruise boom, mentioning road paving and repairs, new restrooms and sewer pipes, new basketball courts and playgrounds and park lighting, dock work, beautification, adding free Wi-fi, general organization, and more.
"I think, finally, St. Croix is turning the corner where we have all these opportunities available to us. I hear people complain a lot, but when you think about what we've been able to do in the last couple of years, it's incredible. This isn't by accident, you know," Bryan said. "Just the amount of things happening all at once, you should get excited because I'm excited. Actually, I'm exhausted."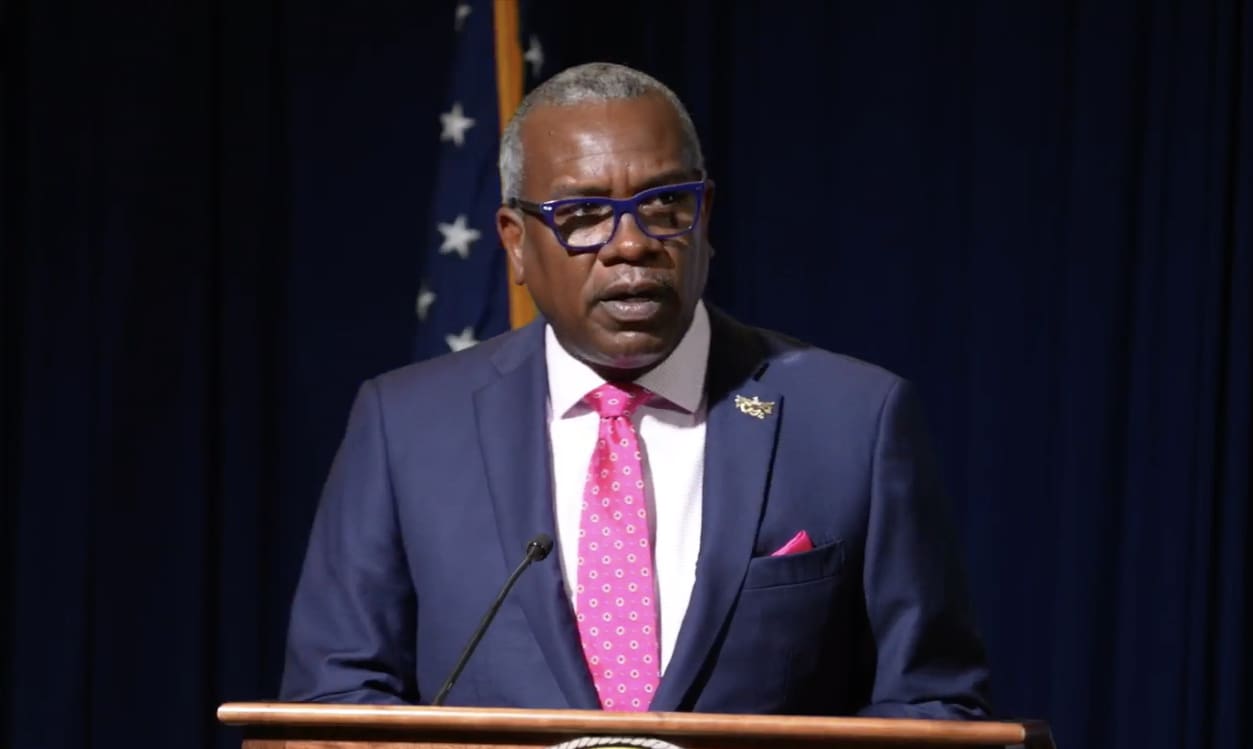 Such infrastructure and organizational improvements were key in securing increased arrivals from Royal Caribbean's five brands — Royal Caribbean International, Celebrity Cruises, Silversea, TUI Cruises, and Hapag Lloyd Cruises, said Wendy McDonald, the cruise group's Caribbean government relations vice president.
The cruise group tracks guest expectation and satisfaction for each port visited. St. Thomas ranked 8.1 out of 10 in guest appeal and St. Croix just below at 8 out of 10, said Crystal Campbell, Royal Caribbean Cruise Line's director of business integration and destination development. Both fell short on overall guest satisfaction, however, with St. Thomas ranking fifth in the Caribbean at 57 percent and St. Croix a distant 38 percent.
Campbell said not to look at the number as failures but as opportunities for improvement. She suggested enhancing transportation options, creating more tourism activities, especially cultural and historical events and culinary experiences, and getting the entire community involved through street fairs and functions at the fort.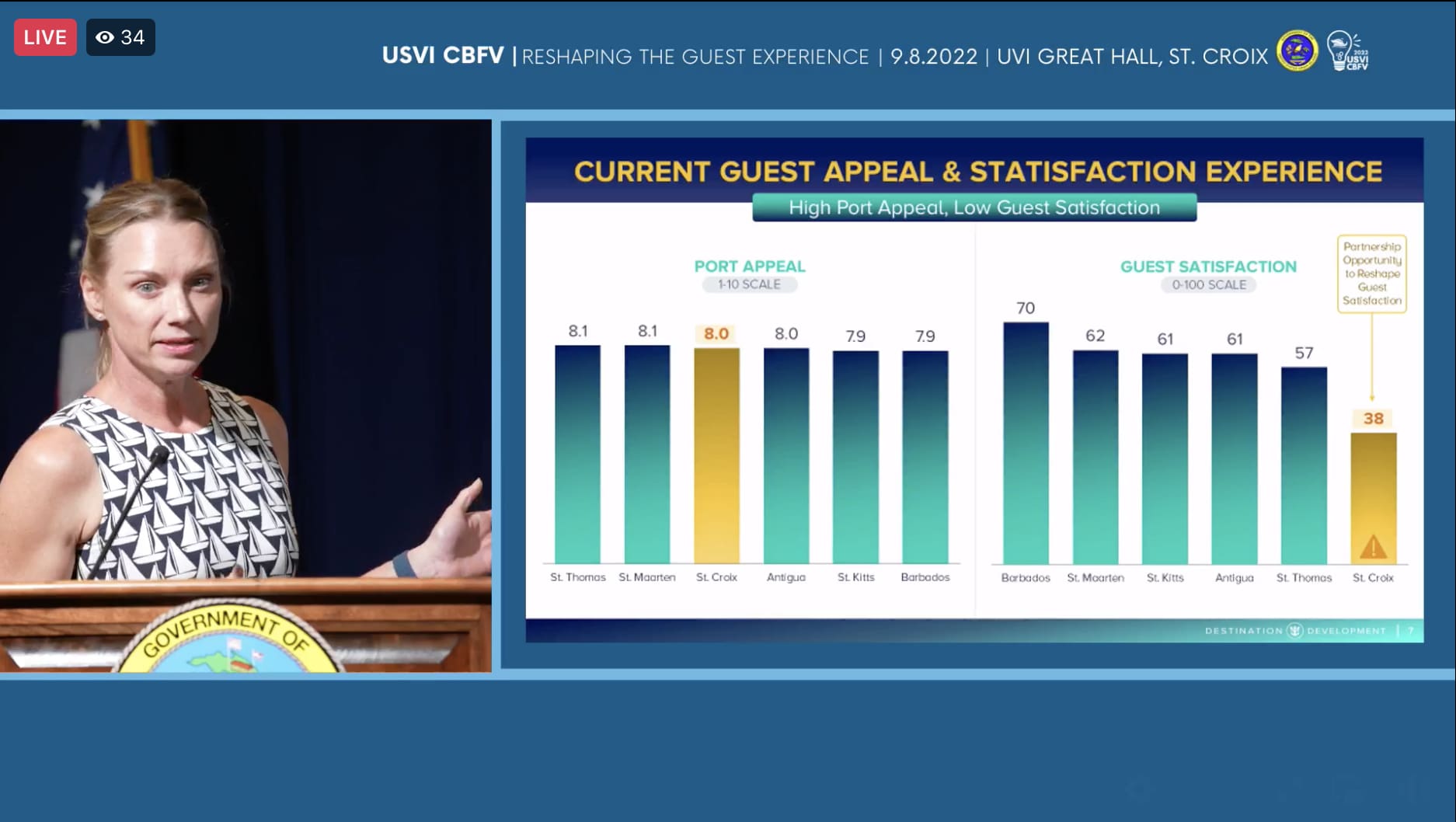 She also thought both the cruise line and the territory could do better at communicating St. Croix's unique history.
The U.S. Virgin Islands as a whole was Royal Caribbean's fifth-highest destination for per-passenger expenditures in the 2017-2018 season, the cruise executives said. Tourism Commissioner Joseph Boschulte said the sector injected more than $300 million into the local economy before the pandemic.
If St. Croix is going to further add to that total, Crucians are going to have to re-think what passenger spending means, Boschulte said.
The taxi driver or tour operator wouldn't have money to spend in a restaurant or shop if it weren't for tourism. This makes everyone in the territory directly impacted by tourist spending, Boschulte said.
Secondly, modern cruise passengers are more likely to drop money on experiences than trinkets and T-shirts. The memory-building souvenirs they buy drive return visits as well, said Melissa De La Cruz, Royal Caribbean's regional shore excursion expert.
De La Cruz said St. Croix had ample opportunity to reshape the guest experience.
"We want you to tell us the story of St. Croix through authentic, immersive experiences that bring the destination to life," she said. "Immerse our guests into the flavors of St. Croix. You guys have such a great taste here — from the rum to the pâtes to the bush tea. We're looking for tours around that."
Those tours needn't be limited to restaurants and food fairs. Day passes at resorts, small group explorations, and even intimate visits to home kitchens are potential winning tours, De La Cruz said, especially if they involve historical and cultural aspects.
Off-the-beaten-path tours emphasizing sustainability are also much sought after, she said. Kayaking, snorkeling, diving, biking, horseback riding, all-terrain-vehicle tours, and hiking are all popular.
St. Croix is vastly underdeveloped in this aspect, De La Cruz said.
Boschulte said he thinks the cruise industry will make a full recovery in 2023, with ships sailing full again rather than the roughly 70 percent capacity currently. The territory as a whole could see 450 cruise calls with 1.4 million passengers, and 2024 could surpass 2019, he said.