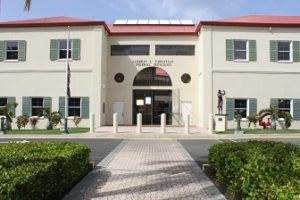 The death of a key witness and the introduction of a new judge into an ongoing federal fraud case have knocked what seemed like an open-and-shut case off a judicial fast track. These two major developments occurred within the past month in a case first filed in District Court in August.
After a series of recusals from St. Thomas federal jurists, the case of the United States vs. Potter wound up before Chief District Judge Wilma Lewis. On Dec. 22, Lewis named a Pennsylvania judge to preside over the trial of Yamini Potter.
The assignment of District Judge Timothy J. Savage occurred a month before the primary witness in the case died in January. A few days later, a lawyer for the defendant asked the court to grant additional time for filing motions and to postpone a scheduled April 5 trial date.
From the federal court on St. Croix, U.S. Magistrate George Cannon granted that request.
[adrotate group="6"]
Court documents say the investigation that led to Potter's indictment began when the relative of an alleged fraud victim visited the FBI office, seeking help. That relative – also a witness in the case – told a strange story about a former public official, a promise to restore a revoked medical license and thousands of dollars handed over to someone believed to have made that offer over the phone.
The subsequent investigation led to an Oct. 23 indictment of Potter. Investigators alleged the defendant used his phone privileges while in jail to persuade his victims that he was former Lt. Gov. Osbert Potter and on other occasions the former official's son.
He also used his jailhouse phone account to allegedly impersonate judges and the head of the V.I. Department of Justice. According to an affidavit filed by FBI Special Agent Christopher Forvour, the continuous calls led to a series of payments by the victims who met with a relative and an associate of the accused.
The FBI affidavit also noted that at the time that the alleged scheme was carried out, the defendant was in jail, being held on an unrelated offense. Investigators interviewed the former lieutenant governor and cleared him of having any knowledge or involvement in the scheme.
In court documents, the victims of Potter's alleged scheme were identified by the initials P.M., M.M. and J.H. The names associated with those sets of initials were later spelled out in a statement filed in court by Forvour, the lead investigator, on Aug. 11.
"This affidavit is made solely for the limited purpose of setting forth probable cause to believe that from on/about May 18, 2019, until July 17, 2020, Yamini Potter defrauded Dr. Paul Maynard, age 68, Milicent Maynard, age 70, and John Hodge, age 65 …"
Dr. Paul Maynard forfeited his medical license to the federal government in 2007 following a conviction for illegally prescribing pain medication. Prosecution leading to the conviction began with an indictment in 2003, charging Maynard with 170 counts of prescribing pain drugs "without a legitimate medical purpose."
He was also sentenced to seven months in prison by District Court Judge James Giles.
The relative who spoke to FBI agents in May 2020 said Maynard was attempting to sue the federal government to get his license back at the time the series of phone calls began.
U.S. Attorney Gretchen Shappert described the scheme in an August news release.
"According to the affidavit filed in this case, between May 2019 and July 2020 Potter received over $100,000 from the victims, at least one of whom is elderly, for purported legal fees associated with a lawsuit filed against the United States. Potter claimed he could assist the victims with a lawsuit to obtain a money judgment and return of one of the victim's medical licenses. Investigators located no such lawsuit anywhere in the United States. Potter is not a licensed attorney in any jurisdiction in the United States.
"Initially, Potter claimed to be the son of former Lt. Governor Osbert Potter," Shappert said. "According to court documents, Yamini Potter is not Osbert Potter's son. The affidavit alleges that Potter used this supposed familial connection to influence his victims to pay money for the alleged lawsuit and claimed that the victims could expect to recover millions of dollars. The affidavit further alleges that Potter also impersonated Osbert Potter, former federal District Judge Curtis Gomez, federal Magistrate Judge Ruth Miller and Virgin Islands Attorney General Denise George for fraudulent purposes."
The case was assigned to District Court Judge Robert Molloy after Gomez left the bench last year. Potter's lawyer filed a motion on Nov. 17, asking Molloy to recuse himself. His lawyer argued that since two of the individuals his client allegedly impersonated were Molloy's co-workers, he might pre-judge the evidence.
One week later, on Nov. 25, the St. Thomas district judge granted that request. About a month later – on Dec. 22 – Lewis named Savage as the new judge.
And one month after that, on Jan. 21, Paul Maynard died. That left the prosecution without its primary witness, but with two alleged victims remaining.
When asked how the loss of someone who could be considered a key witness could impact the outcome of Potter's pending trial, Shappert declined to comment. "It is never appropriate for us to comment on an ongoing case," she said.