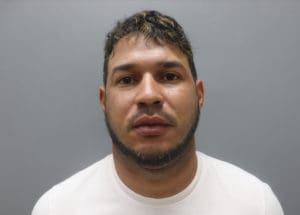 Rafael A. Ledesma German, a 31-year-old resident of Nye Nordsidevej on St. Thomas, turned himself in to police at 3:25 p.m. Tuesday and admitted to being the driver who fatally struck a man on Brookman Road Sunday, according to the V.I. Police Department.
Ledesma German turned himself in to officers of the Traffic Investigation Bureau and admitted he was the driver of the maroon Acura that struck and killed 37-year-old Royson JnoBaptiste on Brookman Road Sunday.
He was arrested and charged with leaving the scene of an accident.
Bail for Ledesma German was set at $7,500, which he could not post. He was turned over to the custody of the bureau of corrections, pending his advice of rights hearing.