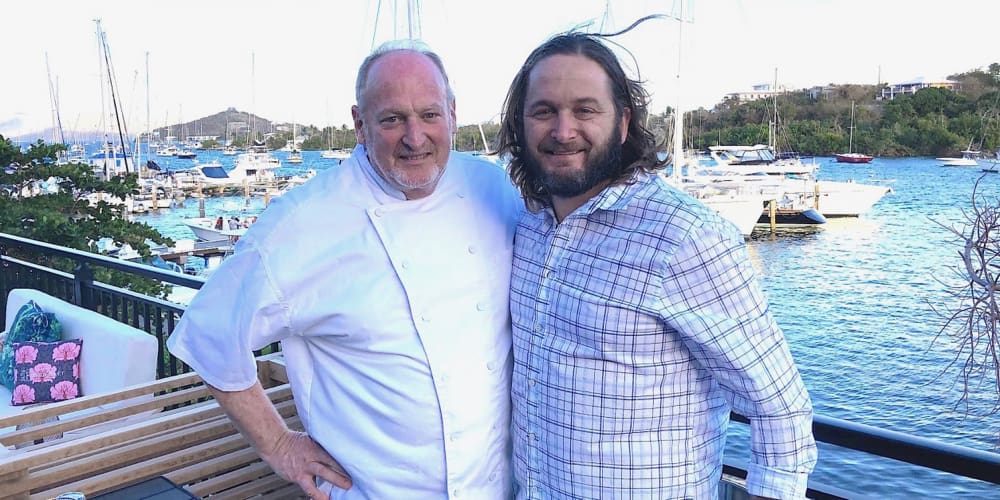 When New Orleans restaurateur Barth Melius first visited the Virgin Islands in 2016 he never expected the territory would steal his heart, or that it would inspire him to establish two St. Thomas dining spots in four years. But according to Melius, that is exactly what happened.
His first island enterprise, Bernie's Bar & Grill, opened in April 2017. The casual gathering spot is on the street level at American Yacht Harbor's marina complex.
In late March, Melius welcomed patrons to the all-new 3 Palms "Bistro Bar Balcony" – his second St. Thomas venture. Fine dining at 3 Palms is accented with French-Creole flair. The venue is just steps from Bernie's on the upper level of the marina.
"Now we have the best of both worlds in one complex," Melius said.
Reflecting on the twist of fate that brought him to the territory, he said, "It all happened last minute. I had a chance to get away somewhere warm to decompress for a few days." Because his traveling companion didn't have a passport, St. Thomas became the destination of choice.
"I found it amazingly beautiful here," he said. "I appreciate the slower pace, but the people are the reason I fell in love with this place. I was blown away by everyone greeting each another with 'good morning' and 'good night' – and the smiles. People are genuinely kind and friendly and good-natured."
Melius also was captivated by the local architecture.
"Some structures in downtown Charlotte Amalie are strikingly similar to those you see in New Orleans," he said.
Born and raised in a family of celebrated Louisiana restaurateurs, Melius also is an accomplished real estate developer.
"I enjoy bringing old buildings back to life," he said.
Within weeks of his life-altering island getaway, Melius returned to St. Thomas with a one-way plane ticket in hand. He was accompanied by a New Orleans business partner, Neill Lenaghan.
"Neill is a great manager. His wife, Madison, ended up designing the Bernie's logo for us," Melius said.
With the opening of 3 Palms "Bistro Bar Balcony," Melius has expanded his St. Thomas restaurant portfolio to include a place where patrons choose to dine in air-conditioned comfort or al fresco, on a balcony overlooking the marina. The outdoor lounge area serves as a relaxing spot for guests to sip craft cocktails while watching pleasure boats come and go.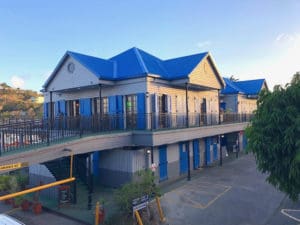 According to Melius, the outdoor lounge is a focal point constructed by skilled St. Thomas woodworkers using garapa, a durable, high-density hardwood.
"Garapa is similar to teak," said Melius. "I believe in hiring local craftspeople to build whatever we need." The restaurant's dining tables and butcher blocks also were custom-built on the island.
Sharing a bit of his self-effacing philosophy, Melius said, "Early on, I learned to surround myself with people smarter than me."
Emphasizing the importance of hiring an attentive staff, he said, "I can pay people to work, but can't pay for people to care."
On the subject of running a successful enterprise, Melius said, "I don't judge a restaurant by its star rating but by its repeat customers." With a knowing smile, he added, "Also, the number of empty plates returned to the kitchen – that's key."
Plates originating from the kitchen at 3 Palms showcase prime meats, as well as fresh seafood and quality produce from local farmers and fishermen.
"We have specialty items flown in, as well," said Melius. "My goal is to always offer the best value for money."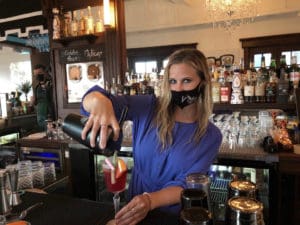 Menu selections change nightly and might include starters such as Caribbean lobster dumplings, charred octopus or oyster-artichoke soup. For the main course, a classic New Orleans crawfish étouffée, surf and turf, penne pasta and shrimp with toasted garlic and local catch of the day are possible options.
Behind the scenes at 3 Palms, veteran executive chef Robert "Bobby" Gurvich runs the show. A member of Melius' extended New Orleans family, Gurvich has decades of coast-to-coast culinary expertise. In addition to garnering a reputation for skillfully training young talent in the kitchen, he has worked with esteemed colleagues including Wolfgang Puck, Daniel Boulud and Jean-Georges Vongerichten.
"Bobby and I share a similar vision. We refuse to compromise on quality, and I believe he has made me a better restaurateur," Melius said. "Bobby believed in this project. I feel so fortunate he wanted to be part of 3 Palms."
In addition to craft cocktails and fine dining options, 3 Palms features a full bar and extensive wine list.
Melius' plans at 3 Palms include planting a sustainable garden on the grounds of the marina.
Melius believes in giving back to the community. He survived Hurricane Katrina when it ravaged New Orleans in 2005 and was grateful to have Bernie's Bar & Grill back up and running on a generator shortly after hurricanes Irma and Maria hit St. Thomas in 2017.
"Bernie's had only been open for six months, but we gave away more than 30,000 meals," he said. "I'm glad we were able to help. It's a very rewarding feeling."
3 Palms "Bistro Bar Balcony" is open for dinner seven nights a week.
Additional information is online at the 3 Palms website, on Facebook and Instagram or by calling 340-643-3429.