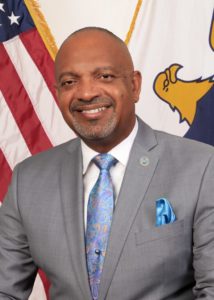 Lt. Gov. Tregenza A. Roach Esq. is also the U.S. Virgin Islands Commissioner of Insurance (Source file photo)Lt. Gov. Tregenza A. Roach Esq. advises the public that effective Dec. 27, 2021, the fee for a passport book will increase by $20. There is no fee increase for a passport card or expedited service.
The following fees (effective December 27, 2021) are only for customers submitting applications or renewals to agents in the U.S. Virgin Islands. All fees are paid to the Government of the Virgin Islands, except the optional fee for 1- 2 day delivery, which is made payable to the U.S. Department of State.
First-Time Adult Applicants (16 years and older)
Adult Passport Book — $165.00
Adult Renewals (16 years and older);
Adult Passport Book — $130.00
All Minor Applicants (Under 16) — $135.00
Submitting incorrect passport fees can delay the processing of an application. Passport applications can be found online at: travel.state.gov and can be downloaded and completed in advance to facilitate local applications. Customers can check the status of their application online or by calling the National Passport Information Center at 1-877-487-2778.
For general questions and additional information, customers may call the Passport Acceptance Facilities in the St. Thomas/St. John District at 340-774-2991 St. or at 340-773-6449 for the St. Croix District.