The island's open shores continue to see an influx of illegal immigrants coming through the porous Virgin Islands border.
In the latest incident, 33 Haitians were intercepted by V.I. Police Department officers on Friday evening, June 1, in Cruz Bay.
"Around 11 p.m. on Friday night, June 1, a citizen called the Leander Jurgen Command in regards to possible undocumented persons," said VIPD spokesperson Shawna Richards. "The citizen told police he saw the possible undocumented persons traveling in a safari-type vehicle heading towards the Cruz Bay area on Centerline Road."
"Police were dispatched to the area and made contact with the vehicle in the vicinity of Dolphin Market," Richards continued. "The taxi operator stated that around 9:15 p.m. on Friday, he received a phone call from an unknown person that there were several people at Shipwreck Landing in Coral Bay who needed a taxi."
Shipwreck To Concordia
When the taxi driver — who police did not name and apparently did not charge with any crime — arrived at Shipwreck, he was informed that there were more people in need of rides waiting at Concordia, Richards explained.
"The taxi driver stated that he subsequently made contact with two black males at Shipwreck and they said they had additional friends at Concordia who needed transportation into the town area," she said. "He picked up those individuals and while driving to the town area he was stopped by police. Police instructed him to drive the passengers to Leander Jurgen Command."
Police discovered 11 females including a female minor and 23 males of Haitian descent in the back of the safari taxi, according to Richards.
It could not be determined what the legal capacity of the caravan was.
"Contact was made with Immigration and Naturalization Services and arrangements were made to turn those undocumented persons over to an agent of the INS," she said.
No Details from VIPD
Richards did not have information regarding when the illegal immigrants were transported to St. Thomas to the INS station, where they will most likely be returned to Haiti, the poorest country in the hemisphere.
"I don't have the date when they were transported to St. Thomas," said Richards. "This is the VIPD's report and anything beyond this, I don't know."
Despite the lack of information from the VIPD, V.I. National Park officials and Department of Planning and Natural Resources enforcement officers confirmed they helped transport the illegal Haitian immigrants on Saturday morning, June 2.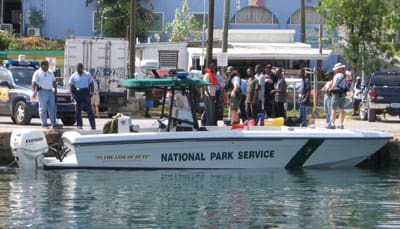 VINP, DPNR Called To Help
"I got a call from the VIPD Commissioner (James McCall) at about 7:30 a.m. on Saturday, June 2, requesting our assistance in transporting 33 undocumented Haitian nationals from St. John to St. Thomas," said DPNR's Director of Environmental Enforcement Carlos Farchette.
It remained unclear where and under what conditions the 33 Haitians spent the night Friday, June 1, on St. John.