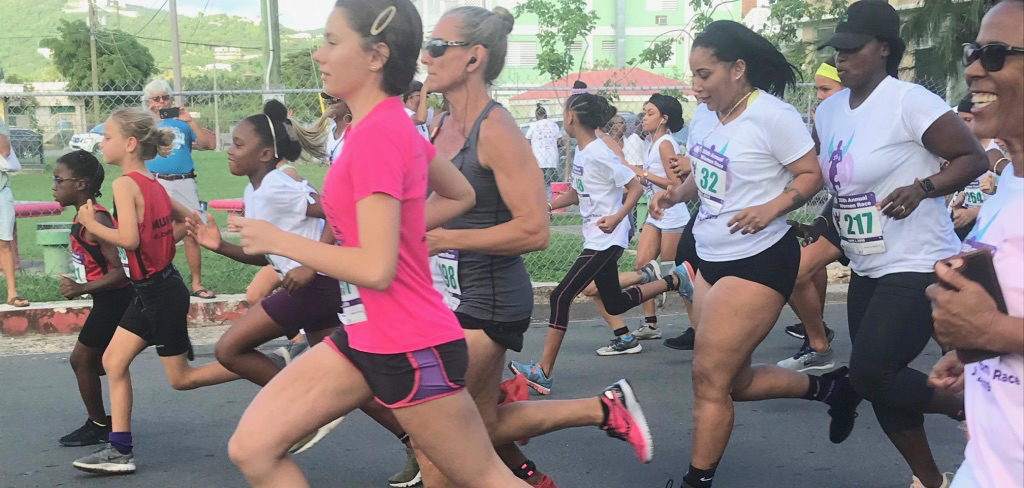 For the second year, the Women's Coalition of St. Croix will host its annual peace race virtually, the group announced recently.
"The overall response was so great and positive last year. Supporters all over the world can participate with us this year as well," said Clema Lewis, executive director of the Women's Coalition.
This year's Women Race will also be held for one week, a temporary change applied for the 2020 Race.
Only women or girls can register for the Women Race, starting Aug, 22, and throughout the week until Aug.29. Registrants must complete their two miles wherever they are during the week, and post their time online by midnight on Aug. 30.
[adrotate group="6"]
The Women Race Committee's planning for this year was done with current health and safety guidelines in mind, Carolyn Forno, the assistant director of the group, said in a statement.
"We felt that keeping the race as a one-week event and running it virtually was still necessary. Having a week to finish their time means folks can enjoy the Women Race without stress. There will be more time for teams and individuals, including moms with strollers, carriers or slings, to have fun participating," Forno said.
The annual Women Race was developed in 1984, by Mary Mingus, a co-founder of the Women's Coalition of St. Croix, and Wallace Williams, Olympic runner and long-time supporter of the nonprofit's mission. Williams is also the leader of the V.I. Pace Runners, which organizes the Women Race with the Women's Coalition.
"We're proud that this community partnership continues to bring so many of us together for healthy sport, in support of an important cause," Williams said.
The link to the virtual Women Race online registration page will be shared on all of the Women's Coalition social media outlets closer to the week of the Race in August. The registration entry fee is $20.
"The challenges brought on by the pandemic continue for so many of us. The $10 discounted registration fee will still be an option for those who cannot afford the standard registration fee," said Lavonne Wise, fundraising coordinator for the Women's Coalition. "Girls aged 13 and under can still register for $1, as well," she said.
The Women's Coalition of St. Croix's mission is to support and empower people impacted by violence. More information about the annual Women Race and about advocacy, programs and services for victims and survivors of violence is available by calling 340-773-9272, or visiting the coalition's website.
The Women's Coalition of St. Croix is on Facebook, as well as Twitter, Instagram, TikTok and YouTube.