Pictured above: Kim Nalepinski, Jennifer Sinclair and her son Lincoln Sinclair, winner of the Boys Short Course, celebrate together after the 2016 Paddle the Park event.
Photos courtesy of Yelena Rogers.[hr gap="1″]
Despite the weather forecast, smiles were bright as the sun broke through the clouds at Maho Bay this past Sunday, November 6th. Dozens of colorful standup paddle boards lined the beach, ready for action. Standing in their brightly colored jerseys adorned with the logos of more than a dozen sponsoring local businesses', forty-three competitors lined up, knee-deep in the water, one leg on their board.
By 9:30am the Friends of the Park annual "Paddle the Park" race was underway. Although a relatively new sport, standup paddle boarding has become popular around the world as a great way to exercise and enjoy life from the vantage of the sea. From Hawaii to Kuwait, people participate in events like the Friends' Paddle the Park. Of course, the breathtakingly beautiful landscape of Virgin Islands National Park is hard to beat no matter where you are in the world!
The Friends' race consists of three courses: a 1-mile Short Course from Maho Beach to the floating NPS pay station and back; the 3-mile Open Course from Maho Beach to Whistling Cay and back; and the challenging 5.5-mile Elite Course which takes the most adventurous paddlers from Maho Beach around Whistling and Cinnamon cays and back. "Paddle the Park was created for individuals and their families to come out and enjoy the Park," says Friends staff Tonia Lovejoy. "The different courses allow for anyone to participate, whether they are out to win, or just to have fun!"
[adrotate group="6"]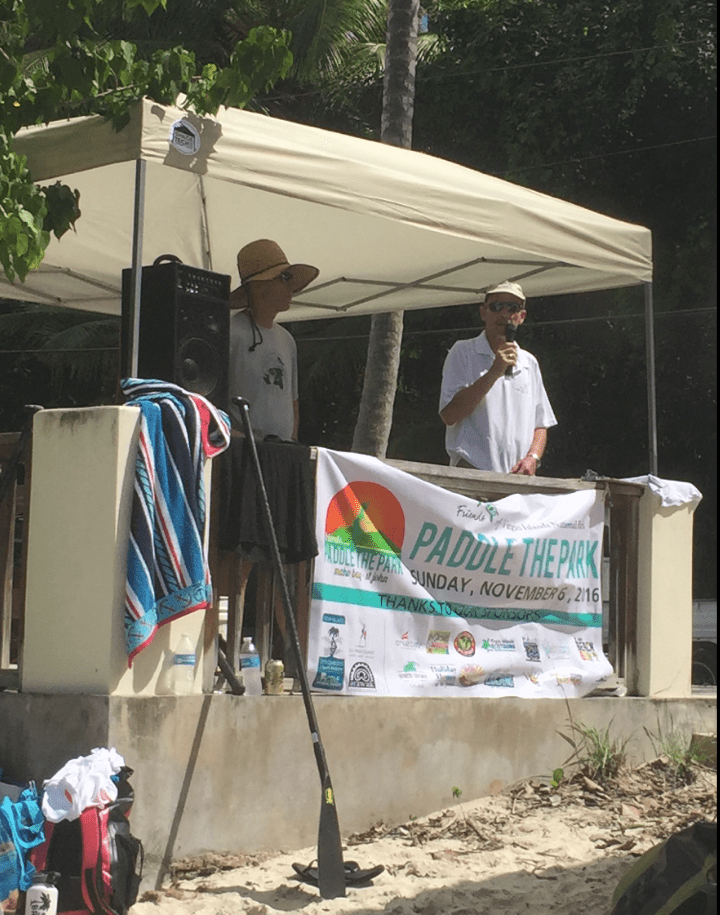 The sea was calm, and winds were light, enabling several new course records to be set this year. In the Men's Elite division, Bill Kraft took first place with a new record time of 1:00:52.  John (Nat) Ford of St. John took second, and third place went to Brian Duff of Tortola.
Isabelle Picard of St. Croix continued her domination of the Women's Elite race, coming in with a new record time of 1:08:41 (record). Saskie Lang of Tortola came in second, and Gabrielle Nelson of St. John took third.
In the Men's Open race, the British Virgin Islands had a clean sweep, with Paul D'Alosio taking first place with a time of 00:39:22. Second place went to Ewout Franse (Tortola), and Murray Laing (Tortola) nabbed third.
The Women's Open race was won by Heather Guntherberg of Virginia, who finished in 00:44:55. Rebecca Reinbold of St. John finished second, and Christine Joseph of Tortola finished third.
For the Men's Short race, Andy Rutnik of St. John took first place with a time of 00:17:16. For the Women's Short race, Patricia Osborne of New Jersey paddled her way to first place with a time of 00:18:57.
Kids (12 and under) gave a great performance, with Lincoln Sinclair of St. John paddling to a victorious first place finish with a time of 00:17:05, followed by Ben Thill of St. John. For the girls, Isabell Thill finished first with a time of 00:21:35.
All race results can be found below or at the FVINP Paddle the Park event page.
The race was followed by a buffet lunch provided by North Shore Deli along with plenty of cold beer and soft drinks courtesy of St. John Brewers.  All competitors received participation medals and goody bags. The winners in each race were presented with beautiful glass and mahogany trophies, ribbons, and special winner gift bags.
The Paddle the Park event is one of two sporting events hosted by the Friends of Virgin Islands National Park. The other sporting event is the Beach to Beach Power Swim held in May. Proceeds from the event go directly towards funding education, research, preservation and cultural programs held in Virgin Islands National Park. Visit the Friends webpage "Our Work" to learn more on how the funds raised are used to benefit the Virgin Islands National Park.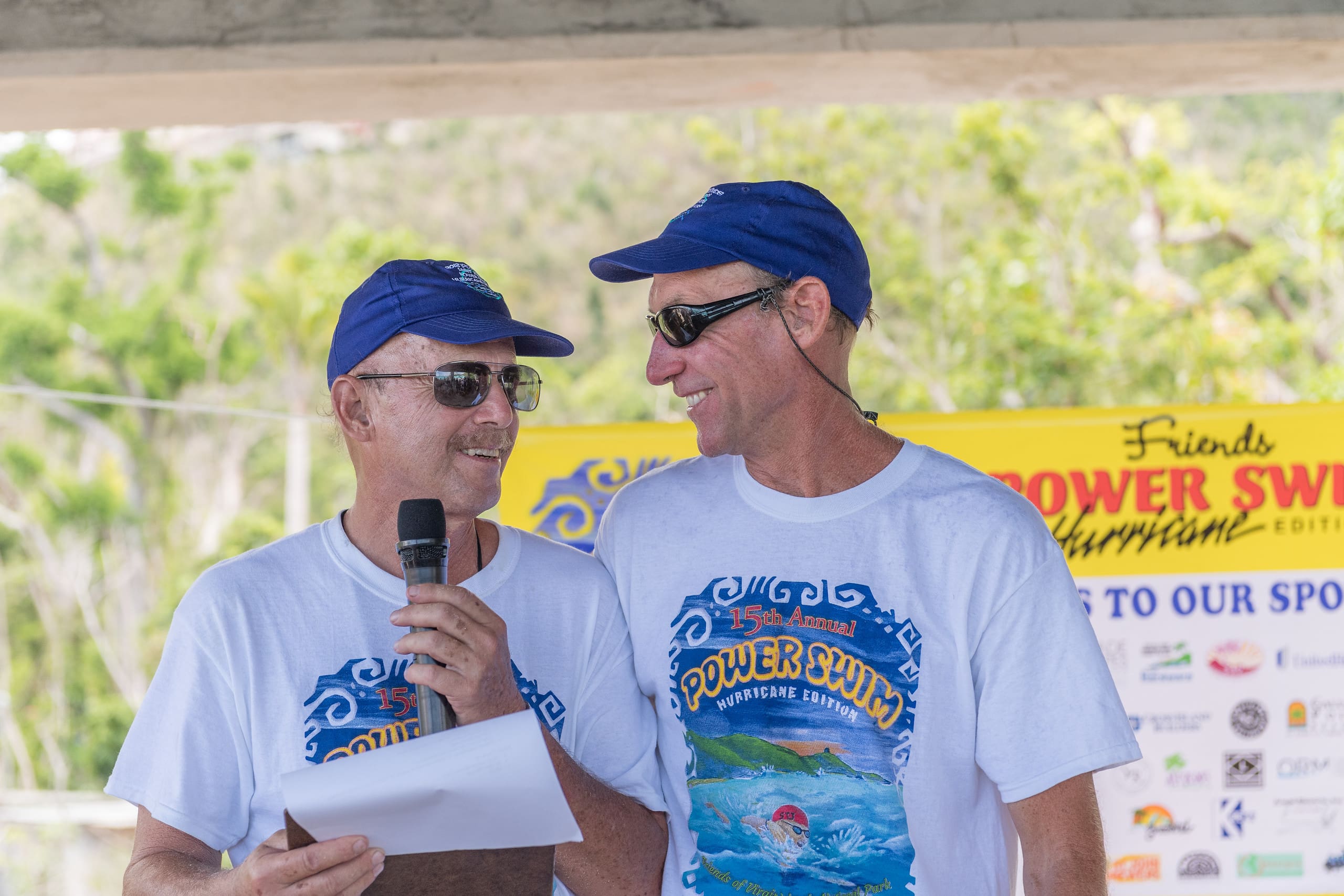 These events rely heavily on community support through volunteerism and sponsorship.
Friends would like to thank this year's volunteer crew of Brion Fitzgerald, Jayne Schaeffer, Shane McKinely, Rachel McKinely, Asya Simons, Kate Farrington, Joel Walton, Stephen Faunce, Jennifer Duarte, Genia Kobryn, Vince Alterio, Jada Jarvis and Grace Patrie.
Friends also extends great appreciation to the event's sponsors Buzz Radio, St. John Brewers, North Shore Deli, Virgin Islands Orthopaedics, USVI Department of Tourism, Arawak Expeditions, DeSigns, Holiday Homes, Cruz Bay Watersports, St. John Physical Therapy, Cruz Bay Landing, St. John Beach Bum, Jolly Dog Trading Co., 340 Real Estate, VI Ecotours and Stream2Sea Reef Safe Sunscreens.

Race results and content for this article were provided by Tonia Lovejoy, Development Director for Friends of Virgin Islands National Park.