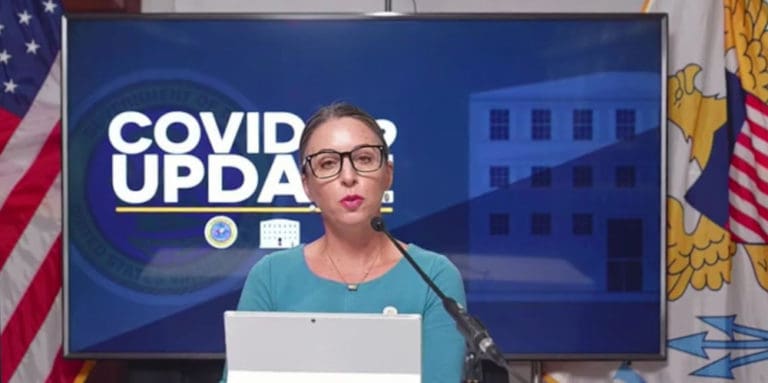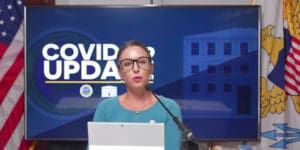 With the weekly COVID-19 positivity rate down by 50 percent and less than 100 active COVID-19 cases in the territory, Gov. Albert Bryan Jr. discussed relaxing four community COVID-19 restrictions and said the Education Department will work toward getting all public school students back to in-person learning by Jan. 10.
Specifically, Bryan said that starting at 5 p.m. Friday, alcohol sales will no longer be prohibited after 11 p.m., bars and restaurants can stay open until the closure time outlined in their business license and dancing will be allowed, though masking is required and Bryan encouraged couples to stay socially distanced from others while on the floor. Technically, clubs and cabarets are still closed, but Bryan added owners have adjusted by serving drinks, meals or hosting games, and that the loosened restrictions should also be more helpful.
Meanwhile, mass-gathering numbers for vaccinated-only events will increase to 250 people, though mixed events – with both vaccinated and non-vaccinated residents – will remain at 100. During his weekly press briefing Tuesday, Bryan said business owners or event organizers should check with the Health Department first for protocols, and that any increase in numbers is up to the discretion of the Health commissioner.
All other health protocols – mandatory masking, physical distancing and hand sanitizing – are still in effect and Bryan said that not following them will force restrictions to go back into effect.
"We are adjusting to our new normal and are in a good position, and it is a good sign that we are trending in the right direction," the governor said. "Despite the surges, this is an indicator that vaccines do work. But, we must still remember that we are in a global pandemic, so this is not an invitation for reckless and wanton behavior. The restrictions can be re-imposed if we see behavior that contributes to higher numbers."
According to Territorial Epidemiologist Dr. Esther Ellis, as of Tuesday, there were 83 active cases across the islands, with 67 on St. Croix and 16 on St. Thomas, including four patients at the Gov. Juan F. Luis Hospital. For another week, St. John's active cases remain at zero, while Schneider Regional Medical Center currently has no active patients. Territory-wide since the start of the pandemic, there have been 203,238 tests conducted, with 7,145 positives and 81 deaths.
Ellis cautioned that surges are possible as the winter holidays approach and there is an increase in travel on- and off-island. Urging residents to continue to get vaccinated, she also said COVID-19 booster shots are available for residents 18 and older, along with third doses of all three vaccines for those who qualify. The Health Department doesn't recommend mixing vaccines, but the Centers for Disease Control has deemed it safe if a certain product isn't available, she added.
More information about vaccines for children ages 5 to11 will be shared in the future, Ellis said. According to national news reports, a smaller dose of Pfizer's COVID-19 vaccine cleared its first regulatory hurdle Tuesday after a Food and Drug Administration advisory committee voted to recommend it for emergency use for those ages 5 to 11.