As St. John's North Shore Road runs near Maho Bay beach, the shoreline has an isolated and pristine feel to it. Some residents would like this northeast end of the island to remain that way, just trees and sand, a few rocks. Others have felt that area, beyond the beaches where the taxi drivers take tourists, would be a perfect place to sell refreshments.
Resident John Yob is among the latter group, and owning two acres zoned W-1 across from the beach, is planning to do just that. He is building a tiki bar out of a converted trailer and converting a VW bus into a food truck, placing them on his property across the road from the beach.
"We wanted a very distinct 1960s era vibe that I am told was evident on St John in previous decades. We had to search far and wide to find exactly what we wanted and ultimately the trailer was purchased in Maryland and the VW bus was purchased in Texas," Yob told the Source.
As well as a '60s vibe, Yob wants to be environmentally friendly.
[adrotate group="6"]
"We are working hard to stay off grid by using solar power with a Humless battery system and nine solar panels," he said, adding that his children are excited about trying out a solar-powered snow cone machine.
Along with selling food and drinks, Yob wants to give visitors an educational experience on protecting turtles, respecting national park property, and proper waste management. The educational experience will also have a component about saving coconut trees.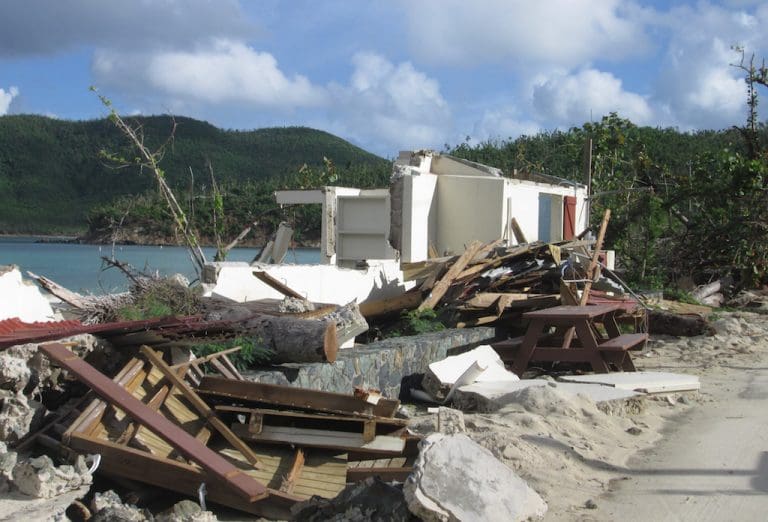 "Some of the big coconut trees survived the storm and are now growing horizontally on the property. They are a reminder of both nature's strength and resilience," he said.
As for the trees that did not survive the storm, he plans to use some to build what he calls a "Rain Box." Whenever a person brings a multi-use cup or purchases a multi-use cup from him, he will put money in the "Rain Box" and the money will eventually go to a local charity, he said.
Yob does not foresee anything big development.
"We are open to considering a couple of eco, tiny houses down the road but that isn't in the current planning."
Yob moved to St. John in 2015 and was a participant in Republican delegate fight of 2016. He purchased the property from longtime residents – the Penn family.
He wants to open soon, as the upcoming tourist season is kicking in.
"It is important to open sooner rather than later so that tourists have options to get refreshments and food near the beach," he said. "The island needs visitors to say good things about their experience when they go back home to spur much needed economic activity on the island."
W-1 zoning stands for Waterfront Pleasure and allows many different types of structures to be built.
"We are ready to invest resources in creating jobs and assisting the economic rebound that can only be facilitated by a strong tourist season," Yob said in an email to the Source.
On the west end of the beach, there stood an abandoned building for years. Beach goers often used it for shelter and for preparing food. It had looked like the ideal place to put in a restaurant. However, the storms of 2017 knocked most of it down. Clean up crews for the National Park Service knocked the rest of it down.
Original Source: https://stjohnsource.com/2018/12/20/60s-tiki-vibe-coming-to-maho-bay-beach/