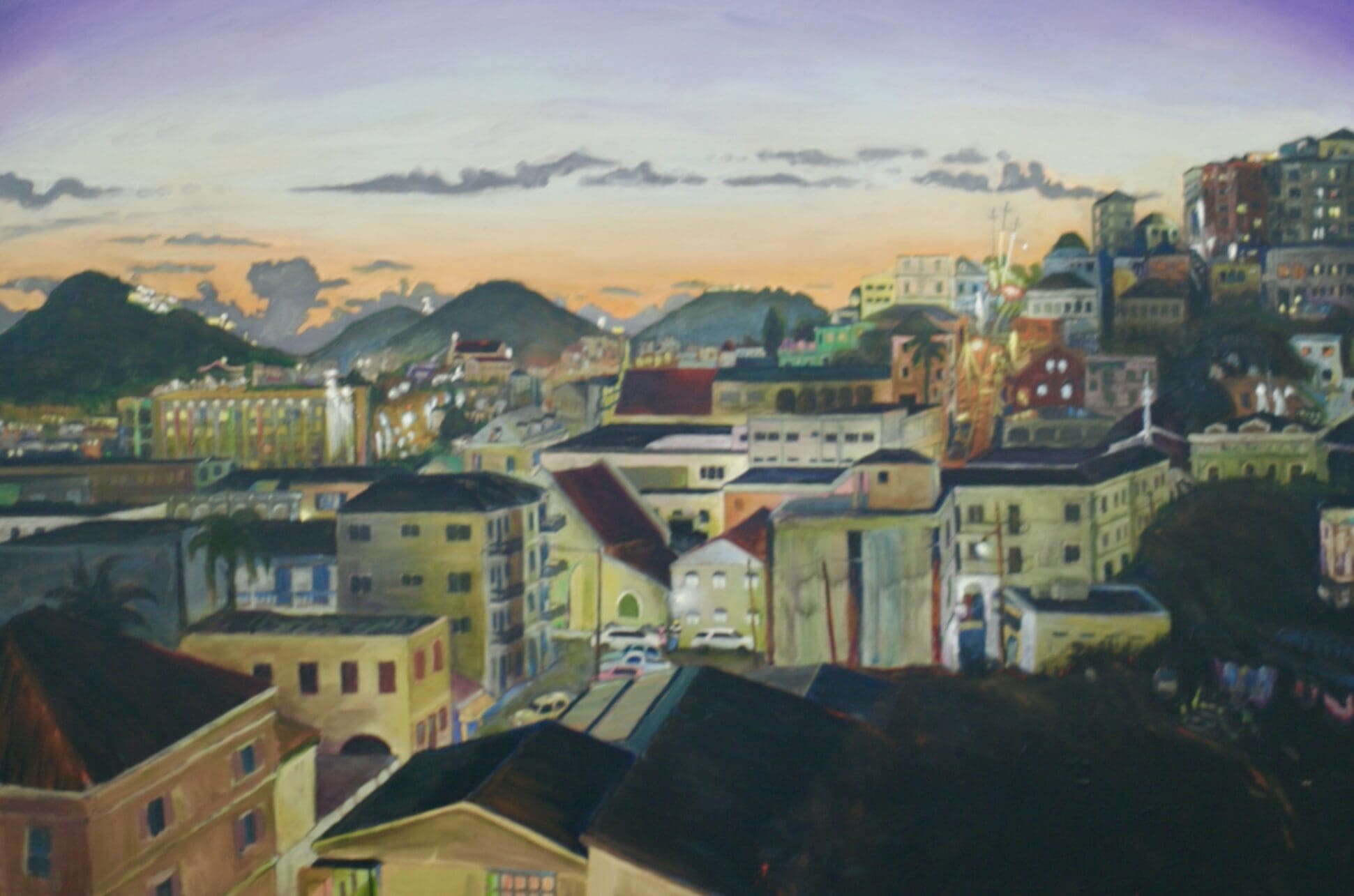 The new exhibition "St. Thomas Golgotha, Cityscapes" by Steve Counselman, opens Saturday, July 9, and features new paintings by an acclaimed Historic Charlotte Amalie based artist.
Opening reception hours are 5 p.m. to midnight, with Counselman on location at 81C throughout. Complimentary drinks served.
Charlotte Amalie based artist Steve Counselman has produced an inquisitive new collection of cityscapes featuring both familiar territory and worldly poetry. These paintings, featuring primarily sunsets over Charlotte Amalie, reflect bold creative license, spiritual homage, and tribute to a wondrous old town. This collection of fine art emotes to equal parts urban, tropical, and biblical themes.
ARTIST STATEMENT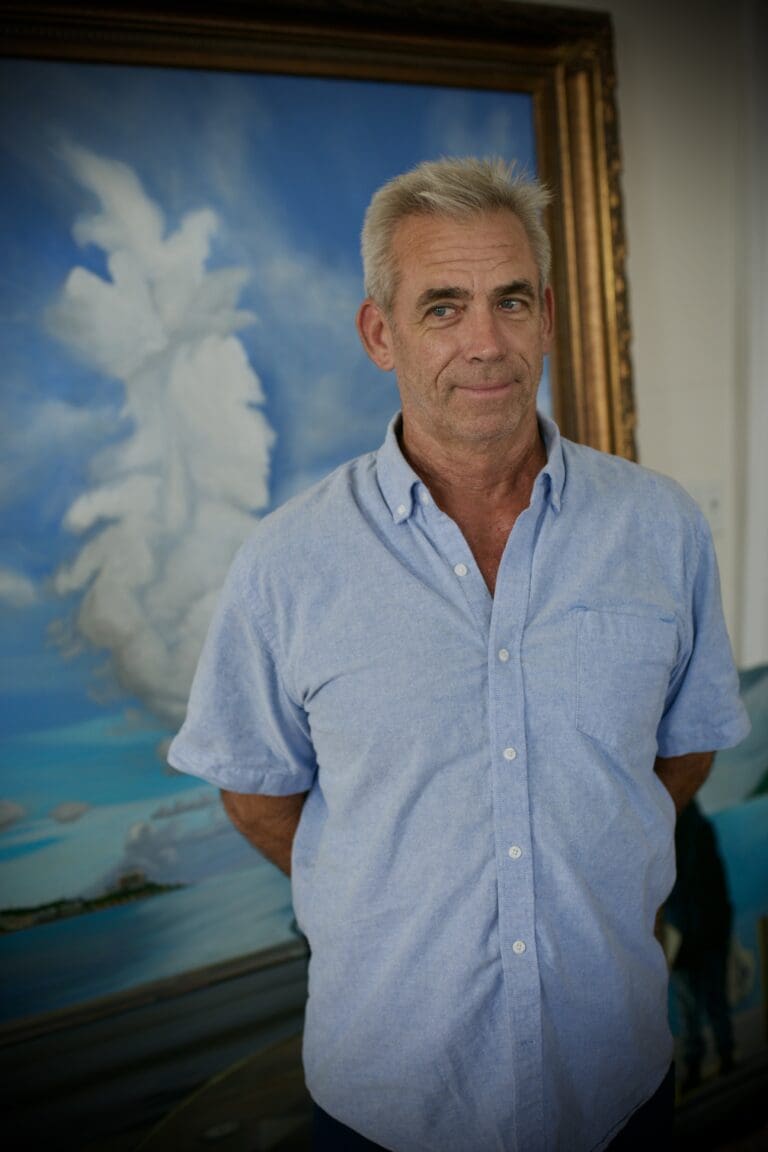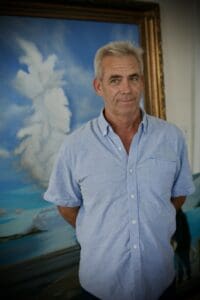 Whether or not one believes in the Divinity of Christ Jesus, one cannot deny the impact He made on humankind. The Bible teaches that the union or Spirit between God and humankind was broken with Adam and that Jesus came to restore that bond. For that Jesus was constantly harassed and forced to flee, and eventually put to death. It was Jesus who chose the time and place to sacrifice Himself by crucifixion in between two thieves. It was not "Jesus Christ Superstar" 2000 years ago. It was the brutality of the Roman conquerors along with the Jewish high priests who saw Jesus as a heretic and a threat to their dogmatic beliefs and way of life that ruled the day. According to Jewish custom, the Sabbath begins at sunset on Friday, and all work must be finished by this time. This is why the legs were broken on the two thieves, who without leg support asphyxiated. And Jesus who had already asphyxiated, was stabbed in the lungs with a spear where blood and water spilled out. For those who don't know; the crucified died of asphyxiation which is when the lungs fill up with fluids and drowning occurs.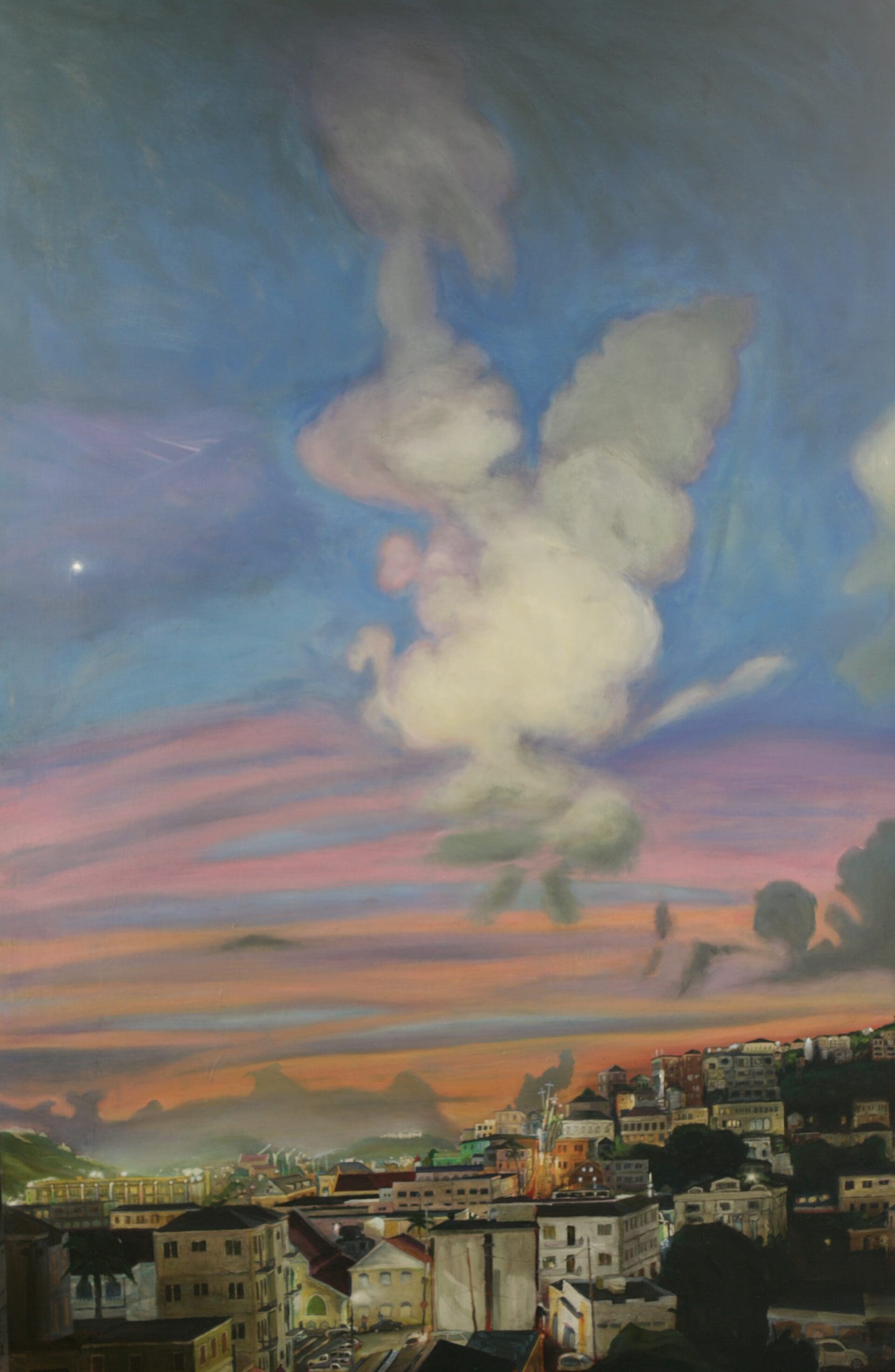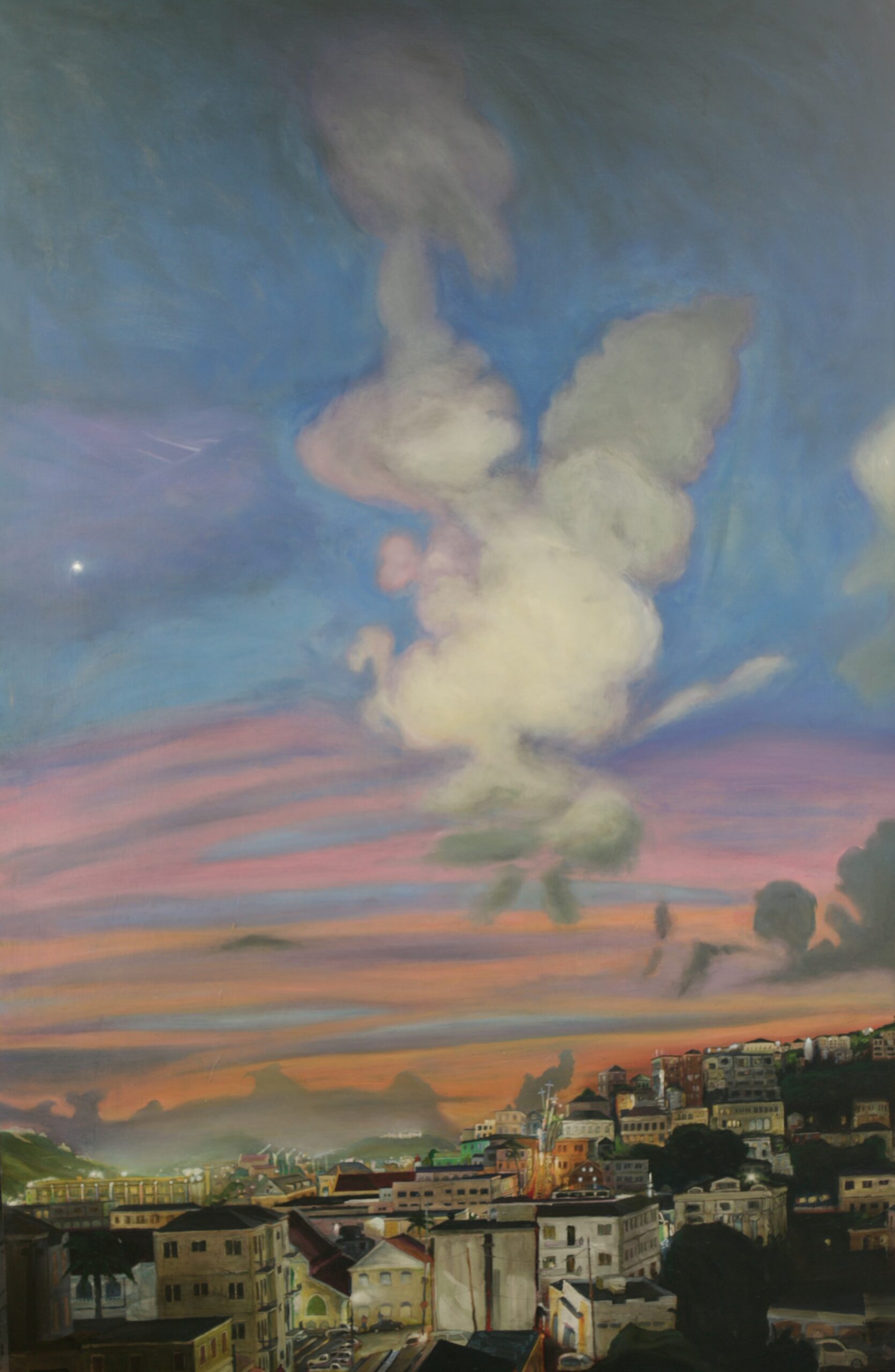 On the western rim of the geological amphitheater which surrounds the town of Charlotte Amalie where Solberg Road dead ends at Miller Manor, there, jutting into the western sky, are three telephone poles that remind me of that day on Golgotha. Sunset, when all appears peaceful and serene- as if nothing happened, just another day. And so, as a tribute to Jesus and His ultimate sacrifice I have painted these 12 paintings in an attempt to personalize His triumph over death and His ultimate promise kept. For the viewer: I have made my statement and the paintings speak for themselves now. Whatever conversation you have with them is yours alone. You have absolute license to have your own thoughts and feelings when you confront these paintings. What meanings you give and take from the paintings are yours, whether you choose to share them or not.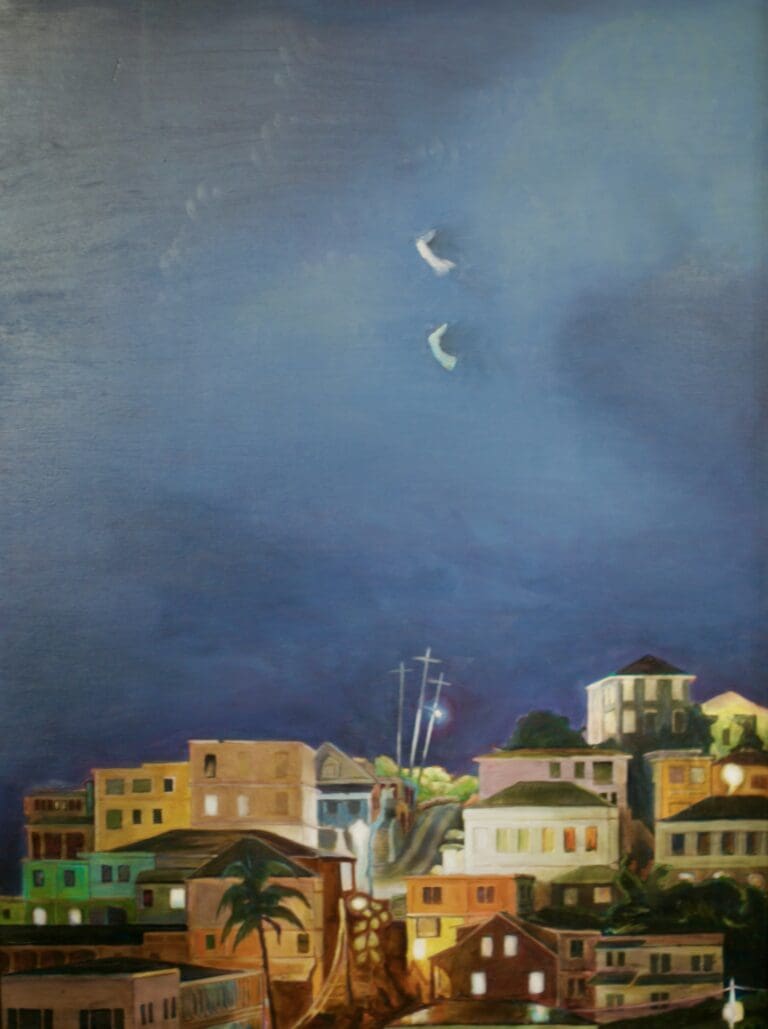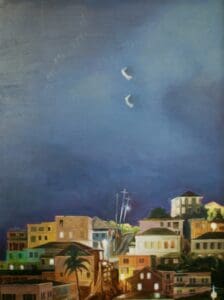 -Steve Counselman, Charlotte Amalie, June 2022.
Steve Counselman lives in the historic mansion once owned by General Santa Ana in the town of Charlotte Amalie where he derives inspiration from the people who live there as well as the myriad of townscapes and the happenings of living in town. Steve received a BFA at the University of Florida and works mainly in oils on panel, paper, and occasionally canvas and mixed media. His influences are many, both living and long dead. Presently his two favorites are George Bellows and Banksy.
81C is an event venue and art gallery in historic downtown Charlotte Amalie. The space is available for private and public pop-up event rentals and rotates art exhibitions every four-six weeks. Regular gallery open hours are every Wednesday 5-10PM and Sunday 2-8PM. Visit 81CVI.COM
Instagram & Facebook: @81CVI
Telephone (917)327-1561