Above: Team River Runner member Travis Strong approaches the 8 Tuff Miles finish line in Coral Bay. Strong is the first hand cyclist to attempt and complete the race. To Strong's left is Kate Farrington and behind him is Eric Guzman, Team River Runner members.
Photo courtesy of Amy Larson.
ST. JOHN  — Close to twelve hundred athletes took on the hills and turns of Centerline Road to show they had what it takes to go 8 Tuff Miles. Runners from North Carolina and Vermont sped across the finish line at Moravian Church Field in Coral Bay to claim wins in the men's and women's divisions.
The 21st Annual 8 Tuff Miles race was staged under a mild February sun and favorable conditions. Asheville's Shiloh Mielke, 37, turned in the fastest time along the 8.38 mile course with a time of 50 min, 16 sec. Erin Ackerman-Leist, 43, from Pawlet, Vermont finished first among female runner with a time 1 hr., 4 min., 53 seconds.  Ackerman-Leist finished 31st overall.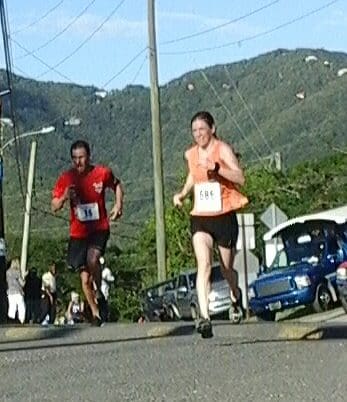 Runners, joggers and walkers set off from the National Park Visitors Center past Mongoose Junction, the Lumberyard and then uphill from the Cruz Bay Traffic Circle to kick off the race. The top 100 runners wore numbers according to how they ranked when crossing the finish line in 2016. Digital recording devices at the finish line on the Moravian Church Field in Coral Bay logged this year's run times.
"Forty different states, St. Thomas, St. John, St. Croix, Water Island, Puerto Rico, the BVI; seven different countries including the U.K., Canada, iceland, French West Indies. We've got a six year old out there and we've got 25 people, age 70 and over," said Jeff Miller, assistant race organizer.
The local field of runners appeared strong this weekend. A member of the St. Thomas Association of Roadrunners estimated 500 participants travelled from St. Thomas and Water Island to compete.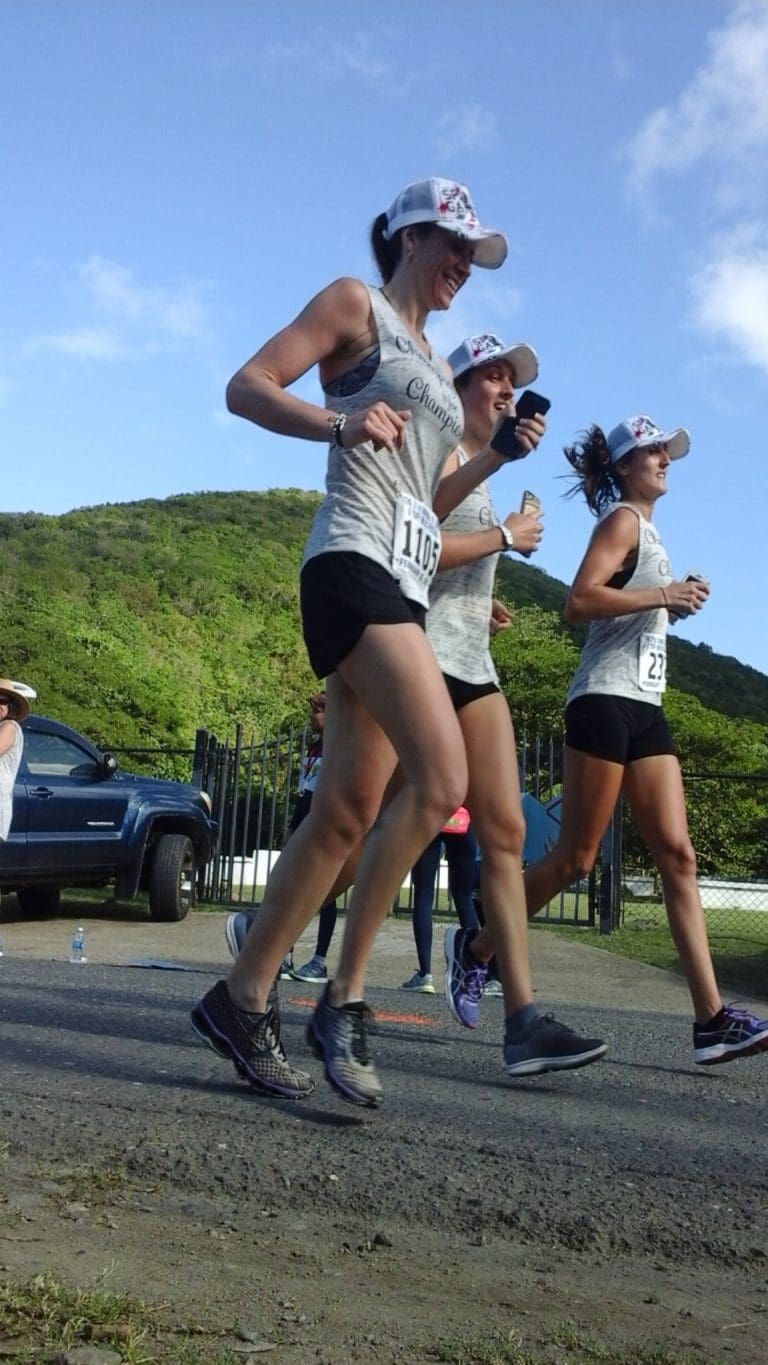 Volunteers from school groups, non-profits and St. John Rescue met race participants along the route with water stations. Banners kept the pack informed about how long along the eight tough miles they had come.
The Love City Pan Dragons livened up the starters in Cruz Bay with steel pan tunes.
The spirit of the race ran from competitive to whimsical. One group dressed up as the VI Olympic Bobsled Team dressed in their unitards with cardboard shields strapped to their arms. Each shield bore part of a slogan — U; S-Bob; V-Sled; I-Team. Each team member finished their race, then waited for the last one to arrive in Coral Bay before they linked up, forming a cardboard bobsled, slogan completed.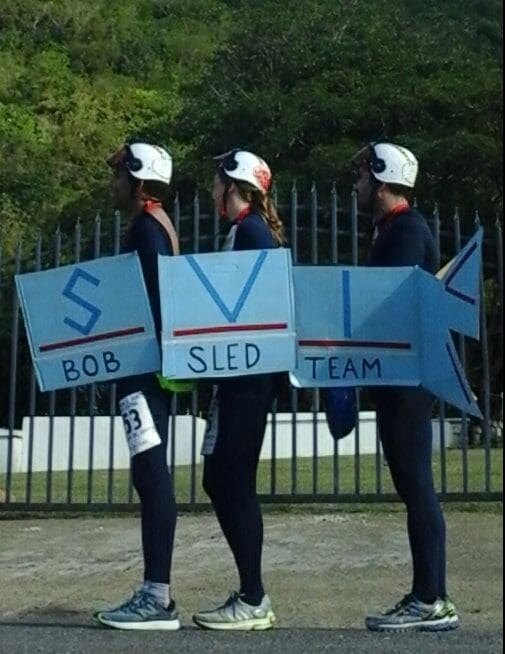 Wounded warriors from Team River Runner also raced in this year's 8 Tuff Miles, including Army vet Travis Strong, the first double amputee to cross the finish line in a custom built hand-cycle.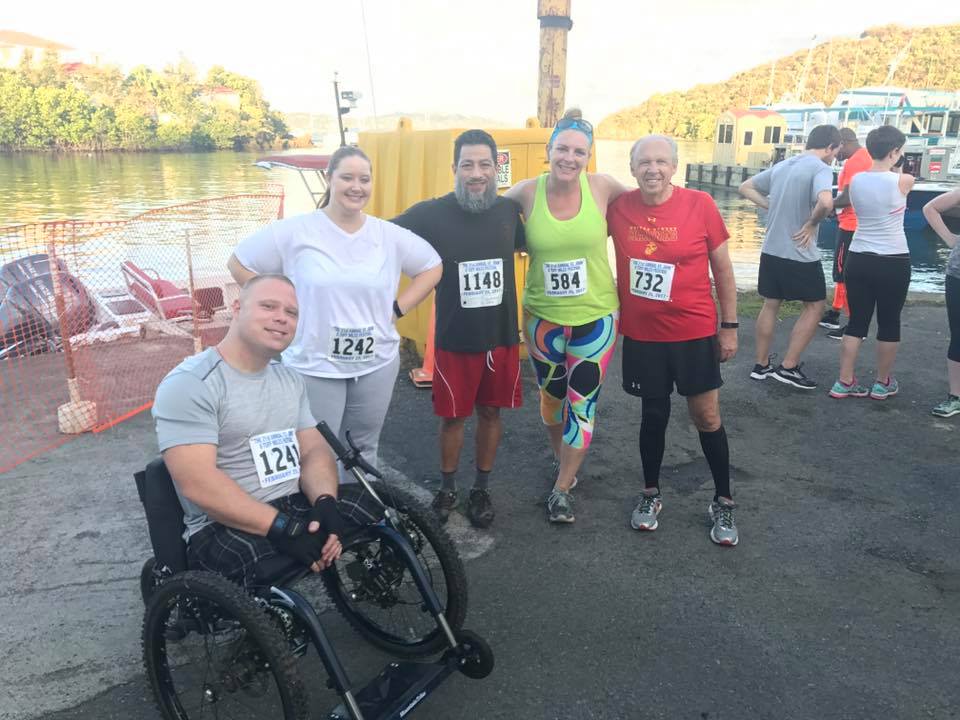 Gary Clark, team coordinator for TRR, VI said Strong and teammate Eric Guzman were the few Team River Runner members to make 8TM this year. More disabled vets would have made this trip, Clark said, but logistics did not allow.
"Many people think of us in relation to the Chaotic Kayak race, but we are on island four times a year. First the 8TM – Moe (Chabuz) of Skinny Legs fame, started running for us years ago as a fundraiser and recently we have been bringing vets to run the challenging course," Clark said.
Team River Runner will be back on island for the FVINP Beach to Beach Power Swim happening Memorial Day weekend this year. The next Chaotic Kayak Race is scheduled for July this year on St. John. 
STAR racer Shane de Gannes commonly runs first or second in events staged by the running club on St. Thomas. Last year he took on the competition from abroad, finishing second. This year, he ran sixth.  And, he said, he enjoyed the race more by running at an easier pace. "They don't call it 8 Tuff Miles for nothing. This is one of the hardest races in the Virgin Islands. This is one of the biggest races. I love this race. I love the camaraderie of it. I love all the guys in my age group that come down from the United States once a year," de Gannes said. "It's like I saw them yesterday."
St. John Olympic sailor Maumi "Mimi" Roller said running is part of her training for sailing race boats and helps with endurance. "It was actually really nice. It was pleasant, for sure," she said.
The final finishers crossed the line in about two hours. The results have been posted on the official website at www.8tuffmiles.com.