Guests at the Kamabesu Villa on Friday evening, July 20, were transported to the plains of the Southwest thanks to KatiLady Katering executive chef Edika Franco.
In the second of KatiLady's cooking demonstration series, Franco delighted the crowd with a traditional Mexican menu paired with a variety of tequila.
"What inspired this menu was the fact that it's really difficult to get anything authentic down here," said Franco. "This is my soul food. This is what I really enjoy and people are curious about making fresh salsa and good deep authentic Southwestern food."
[adrotate group="6"]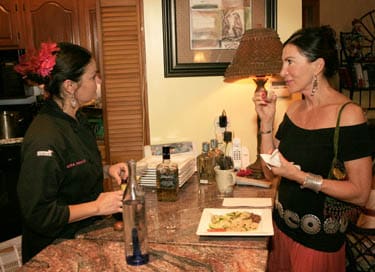 After designing the four-course menu, which consisted of a salsa trio, beef tamales, spicy green chili pollo enchiladas and a Mexican chocolate pine nut torte for dessert, pairing the fare with tequila was only natural, Franco explained.
"The tequila seemed like a natural fit and people seem interested in trying tequilas and tasting the difference between the aged tequilas and the blanco and all the different kinds," she said.
Deftly demonstrating how to bring flavors to life was no big deal — it was actually securing the ingredients which proved to be the most difficult part of the event, added Franco.
"It was a bit of a stretch to find the ingredients, but I got exactly what I wanted and I'm really happy about it," she said.
While there was no fooling around with the quality and exquisite taste of the food, Franco's easy-going attitude made the night seem like a party.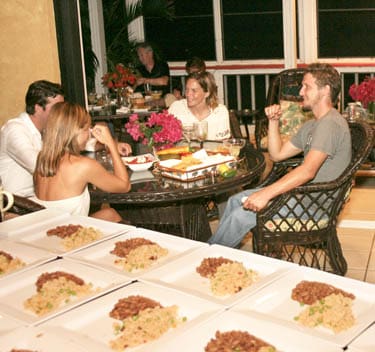 "I wanted the dinner to be more than just a tasting," said the KatiLady executive chef. "I didn't want anything stodgy about it. I played music that I liked and just wanted it to be pure fun."
"I wanted the night to be light and fun and festive and just really enjoyable for everyone," Franco said.
Judging from the guests' sated appetites and bright smiles, Franco hit the mark.
The KatiLady crew is planning future cooking demonstrations and food pairings. Call 693-8500 for more information.