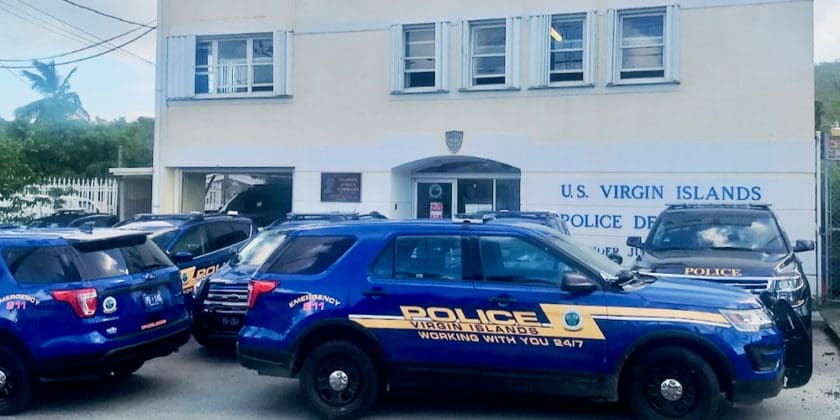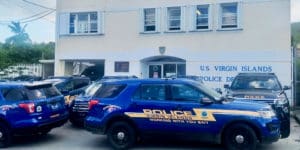 A St. John woman living on the street in Cruz Bay was arrested Tuesday after an alleged assault on a police officer. According to court documents, the officer said the suspect appears to be pregnant and has been involved in a series of increasingly violent incidents.
Officials charged Charisma Turnbull with assaulting a police officer and disturbing the peace. Turnbull was scheduled to appear at a preliminary hearing Wednesday morning in Superior Court's Magistrate Division, but a court administrator said the case was continued until Monday.
Allegations contained in a report filed with the court said Turnbull was arrested Tuesday evening after Officer Charles Gumbs, assigned to the Leander Jurgen Command in Cruz Bay, observed her throwing the contents of a beverage cup towards a passerby. The male who was targeted confronted Turnbull, the officer said, but was restrained by his companions.
The officer then intervened. "I stopped her and told her what she did was inappropriate and criminal in nature," Gumbs said. A second officer joined the admonishment. According to court documents, Turnbull then threw a punch that struck Gumbs in the face.
The two officers then subdued and arrested the suspect. Turnbull was taken to the Morris F. deCastro Clinic where medical technicians checked her for injuries. She then was transported to the Richard Callwood Command on St. Thomas, and was later detained at the Criminal Justice Complex on $1,000 bail.
At the end of the report, the arresting officer mentioned that at the time of the incident, the woman was behaving erratically and appeared to be pregnant. There was also mention of other recent incidents where Turnbull allegedly spit in the face of an elderly woman near Our Lady of Mount Carmel Catholic Church and another where she allegedly beat a homeless woman – also elderly – with a trash can during an incident in Franklin Powell.
A document filed in the case notes concerns by law enforcement that Turnbull's mental capacity may be in decline. Concerns were also expressed that if she is released from jail and allowed to return to the streets, she may either hurt someone or be hurt if the string of violence continues.
A study released by the U.S. Department of Health and Human Services titled, "Pregnancy and Mental Health of Homeless Young Women," estimates between 6 percent and 22 percent of young women living on the streets become pregnant at some time.
Health care and intervention services for homeless people in the Virgin Islands are provided through the Departments of Human Services and Health. Delivery of those services often take place at the Bureau of Corrections, after some homeless people – who may also be mentally ill – run afoul of the law.
There are also occasions where people living on the street and causing disturbances are arrested, appear before a magistrate, and are released within a day or two.
After the latest incident involving Charisma Turnbull on St. John, Human Services Commissioner Kimberly Causey-Gomez was asked how long her agency has been aware of the situation. She was also asked if Human Services knew if there was a pregnant woman living on the street in Cruz Bay. On Wednesday, the commissioner told a reporter she would have to look into the matter.
On Thursday, Causey-Gomez issued a statement, saying the specifics of Turnbull's situation could not be made public. Neither could any actions either Human Services or the Department of Health would take on Turnbull's behalf.
"The Virgin Islands Department of Human Services takes these types of cases very seriously and with utmost care to those affected. We certainly empathize with a lady who appears to have multiple challenges affecting her health and wellbeing. This type of situation is not new to the Virgin Islands or the nation and reiterates the need for collaborative efforts of not only our government entities but the non-profit community as we work together to ensure programs and services are offered to those most in need. DHS is looking into the specific details surrounding this case and of course, as you know, privacy mandates that restricts DHS from sharing detailed patient/client information with the public.
"At this time DHS is working in collaboration with the Department of Health to ensure the safety of the woman you inquired about and offer services to her," the statement said.